Press Release
National Nurses United Endorses Cathy Glasson for Governor and Pete D'Alessandro for Congress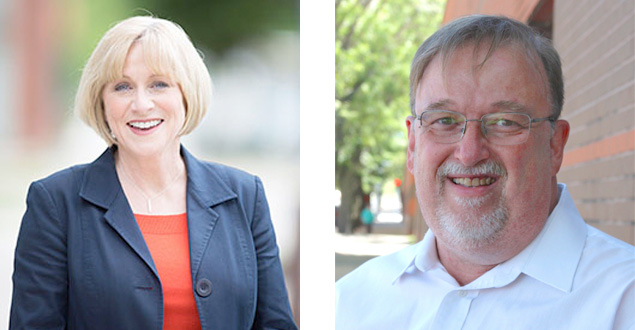 National Nurses United, the nation's largest union of registered nurses, today endorsed Cathy Glasson for Governor of Iowa and Pete D'Alessandro for Congress representing Iowa's 3rd Congressional District.
"I am excited about Cathy Glasson's candidacy for Governor because of the experience she brings to the table," said Tracy Bell, a registered nurse from Marshalltown. "Working for 20 years as an ICU nurse, Cathy is keenly aware of the challenges everyday Iowans face related to healthcare. She will fight to expand access for all Iowans through a single-payer Medicare for All system."
"We are excited to endorse Cathy Glasson for Governor of this great state because she shares nurses' values of caring, compassion, and community," added Ann Reed, a registered nurse in Des Moines. "As nurses, we see the devastating effects of a deeply flawed health care system on our patients every day. Cathy Glasson's dedication to healing Iowa and ensuring a quality standard of living is vital to our state's future."
"As an ICU nurse and healthcare union leader, I'm deeply honored to have earned the endorsement of National Nurses United in my campaign for Iowa Governor," said Cathy Glasson. "Nurses in NNU are leading the fight in our nation to make healthcare a right for all, not just a privilege for the wealthy few. They are on the frontlines for Medicare for All and they stand with me in supporting a single-payer universal plan for Iowa if Congress fails to act. Iowa can lead the way on universal healthcare, on expanding mental health treatment, and ensuring women have access to reproductive healthcare. Standing shoulder to shoulder with the 150,000 members of National Nurses United, I'm ready to fight for a bold, progressive future for Iowa."
Cathy Glasson is an Iowa registered nurse running for Governor of Iowa on a bold, progressive platform that includes support for a $15 minimum wage, a single-payer Medicare for All health care system, and standing up for the rights of working Iowans. Cathy is a fierce advocate for working families and for Iowa's future.
"National Nurses United is proud to stand with Pete D'Alessandro because he has been a leader in advocating for a Medicare for All system to ensure health care for all Iowans, fare wages for our families, meaningful steps to address the global climate crisis, and tuition-free college," said Kris Dixon, an emergency room registered nurse in Des Moines and a resident of Ankeny. "Pete's dedication to healing our state, improving lives, and building an inclusive economy that lifts all Iowans contrasts sharply with incumbent Rep. David Young's dangerous eagerness to strip health care from far too many Iowa families. It's time for a change – Pete is the kind of representative that Iowans need in Washington."
"Our campaign is proud to have the support of NNU," said D'Alesandro. "I look forward to working with our nation's largest nurse's union to expand Medicare, to insure safe work places and to guarantee collective bargaining rights throughout our country."
Pete D'Alessandro is a long-time advocate for progressive policies running for Congress in Iowa's 3rd congressional district. Pete knows that Iowa's future can only be secured by leaders willing to stand up for a fair shake for American workers, move forward on tuition-free college for Iowa students, champion Medicare for All, and lead in the fight against the global climate crisis.
National Nurses United represents 150,000 registered nurses across the United States.