Press Release
National Nurses United Endorses Ben Jealous for Governor of Maryland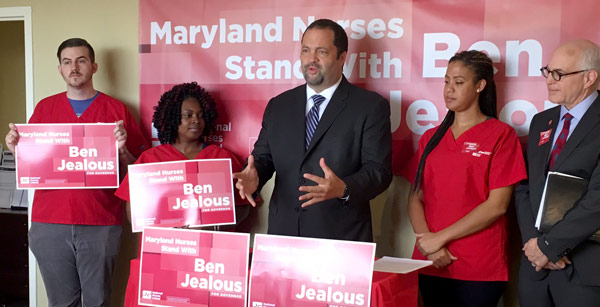 RNs Mark Endorsement by Joining Jealous for Thurs. Oct. 5 Health Care Roundtable
Silver Spring, MD – National Nurses United, the nation's largest union of registered nurses, today endorsed Ben Jealous to be the next Governor of Maryland.
"Nurses are proud to endorse former NAACP President Ben Jealous for Governor because of his inspiring vision for Maryland and his track record of activism and advocacy for social, economic, and racial justice," said Sandy Falwell, RN, a resident of Clinton, Md., and an NNU vice president.  "As nurses, we see the devastating effects of a deeply flawed healthcare system on our patients every day.  We are excited to stand with Ben Jealous because he shares nurses' vision of a single payer/Medicare for All healthcare system that provides all Marylanders with the quality care they need, and because he shares nurses' values of caring, compassion and community." 
"I'm honored to receive this endorsement from National Nurses United as we work to build a broad and diverse coalition to stop rising premiums and ensure every Marylander has healthcare," Jealous said.  "We can no longer afford to leave our healthcare in the hands of Donald Trump and congressional republicans, who have demonstrated they are willing to make the system worse if it means they can attack Barack Obama's legacy.  As Governor, I will work for a Medicare For All system in Maryland because I believe it is the best way to support families and small businesses who continue to pay more and more for a healthcare system that provides less and less each year." 
NNU registered nurses campaigned around the country alongside Jealous last year during the presidential primaries in support of Senator Bernie Sanders' candidacy.  Among other things, nurses cited Jealous' leadership as NAACP president in the successful campaigns in Maryland to end the death penalty, expand voting rights, pass marriage equality legislation, and passing the DREAM Act, as well as more recently in the successful campaign to ban fracking in Maryland.
"Larry Hogan has repeatedly turned his back on the people of Maryland who desperately need new leadership in Annapolis," said Kenneth Zinn, NNU Mid-Atlantic Regional Director.  "Ben Jealous is the bold, progressive, visionary leader Maryland needs to move forward in the 21st century.
"We are excited to work with Ben to ensure inclusive prosperity, quality healthcare, a clean environment, quality education and so much more for Marylanders," he continued.  "Nurses are eager to campaign for Ben around the state to help elect him as our next governor."
National Nurses United is the largest union of registered nurses in the United States with 150,000 members, including more than 2,500 who reside in Maryland.