Press Release
National Nurses United Applauds Judge's Decision to Strike Down Key Provisions in Trump's Anti-Union Executive Orders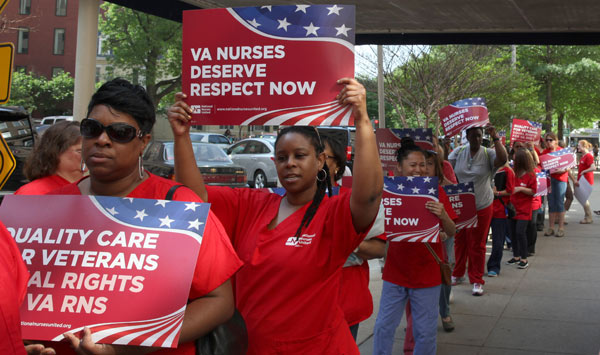 National Nurses United (NNU) applauds a federal judge's ruling that President Donald Trump violated federal law when he issued executive orders that sought to strip 2.1 million public sector workers, including Veterans Health Administration registered nurses, of their protected union rights. This ruling marks a major win for federal workers, strikes a blow to those forces pushing a blatantly anti-union agenda, and protects nurses' collective voice through the union to advocate for safe care for veterans.  
 
Judge Ketanji Brown Jackson, of the U.S. District Court for the District of Columbia, ruled on Saturday, August 25, that key provisions in Trump's set of executive orders "exceeded his authority."
 
"We care for patients who are suffering from PTSD, or other service related injuries. We know these veterans depend on us to speak up for them, and we take that role as patient advocate very seriously," says Beejay Richardson Robin, RN, a veteran herself.  "Our voice can mean the difference between life and death for our vets. Our collective voice through the union is critical to advocate for safe patient care for veterans. This ruling pushes back against those who are trying to silence us."
 
In her decision, Judge Jackson wrote the President is not authorized to issue executive orders that "eviscerate the right to bargain collectively as envisioned" by the federal labor-management relations statute.
 
NNU would like to thank the coalition of federal unions that brought these lawsuits against the Trump administration and forced the courts to take action in response to this broad overreach of federal law.
 
"This is a great win for all public sector workers, including our nurses and their patients," said Irma Westmoreland, RN, and NNU board member. "We are grateful that Judge Jackson recognized the egregious violation of presidential power and that she ruled in favor of the workers, and unions in recognizing the legal rights and protections of both as guaranteed by Congress."
   
Since the President issued the executive orders on May 25, the federal government has begun to implement the new rules. As the court has now prohibited key provisions of the executive orders, NNU demands the Trump Administration immediately reverse course and restore the protections guaranteed by all previously negotiated contracts.
 
The executive orders sought, among other things, to cut "official time," the time in which union representatives assist employees with labor-management issues such as filing grievances or appealing disciplinary actions. Judge Jackson wrote the provision to slash official time "exacerbates management's advantages over labor and hampers unions' ability to engage effectively in future collective bargaining, contrary to the clearly articulated goals" of federal law.
 
The judge also struck down the executive orders rules limiting unions to negotiate over key workplace issues including the number of workers to be hired, and what types of technology can be used on the job.
 
Overall, Judge Jackson issued a broad rebuke of the executive orders writing, "this court agrees that many of the challenged order provisions impermissibly infringe upon the right to good-faith bargaining" established by federal law.
 
NNU is pleased the federal court has ruled in favor of worker protections and vows to fight against the continued attacks on the rights of nurses to speak collectively in advocating for the highest level of care for veterans. The efforts by a few to privatize the Veteran Administration and silence the workers who provide the vital services and care for veterans will be met with resistance every step of the way.