Press Release
National Nurses United Applauds Introduction of Maryland Single-Payer Bill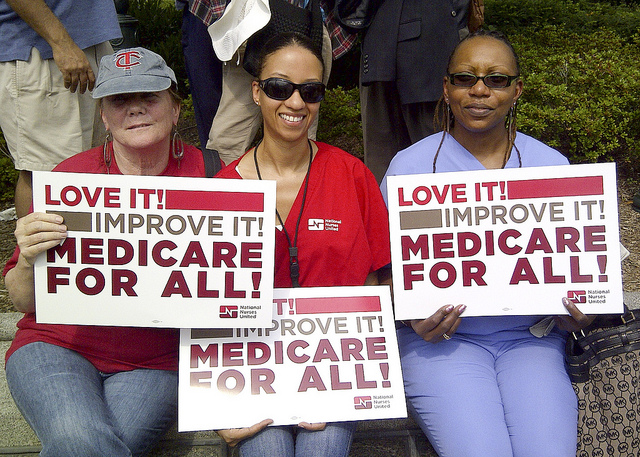 National Nurses United, the nation's largest union of registered nurses, today applauded the introduction this week of Medicare-for-all, single-payer health care legislation in the Maryland General Assembly.
The Healthy Maryland Act of 2018 was introduced Monday by Sen. Paul Pinsky in the Senate, where the bill, SB 1002, will be heard March 7. Del. Erek Barron introduced the Healthy Maryland Act of 2008 in the House of Delegates last night.
This bill will establish the Healthy Maryland program to provide comprehensive, universal healthcare to all residents of Maryland utilizing "single-payer" financing, effective cost controls, and progressive taxation.
All residents of Maryland, regardless of where they work, will be automatically enrolled in the program, and receive benefits on a non-discriminatory basis and without regard to pre-existing conditions.  All medical benefits currently provided under public programs, and benefits comparable or better than those available under employer-sponsored plans, shall be provided including dental, vision, and prescription drugs, without any co-insurance, deductible or co-payments.
"With hundreds of thousands of Marylanders still uninsured, and far too many more struggling with medical bills, Maryland desperately needs guaranteed healthcare for all," said Melody Jones, a registered nurse in Maryland and a member of National Nurses United.
"Registered Nurses see the fallout of this broken system at the bedside in the hospital every day.  We know that a more humane, comprehensive health system based on patient care and need, rather than ability to pay, is possible," said Jones.  The Healthy Maryland Act offers everyone in our state real hope for quality, therapeutic care, and we commend Sen. Pinsky and Del. Barron for showing leadership in introducing the bill."
"The United States," said Sen. Pinsky, "remains the only industrialized nation that does not have universal health care, which is vital because health costs continue to skyrocket while millions of Americans remain without health insurance.  Our health system should be based on public well-being, not on the balance sheet of large insurance companies."   "I introduced the Healthy Maryland Act to provide health care services to all residents of Maryland under a single payer system.  I am committed to real health care reform and will continue to provide leadership on this issue," Pinsky said.
Inspired by the rising interest among Marylanders and people across the nation for guaranteed healthcare for all, Senator Pinsky introduced the bill with the following Senate co-sponsors: Joan Carter Conway, Guy Guzzone, Roger Manno, Will Smith, Ronald Young, and Craig Zucker.
In addition to lead sponsor Delegate Barron, the following Delegates co-sponsored the House bill: Curt Anderson, Angela Angel, Charles Barkley, Al Carr, Kathleen Dumais, Eric Ebersole, Diana Fennell, Barbara Frush, Angela Gibson, Ana Sol Gutierrez, Antonio Hayes, Anne Healey, Shelly Hettleman, Carolyn Howard, Michael Jackson, Marc Korman, Ben Kramer, Stephen Lafferty, Clarence Lam, Eric Luedtke, David Moon, Maricé Morales, Nick Mosby, Edith Patterson, Joseline Peña-Melnyk, Andrew Platt, Kirill Reznik, Shane Robinson, Jimmy Tarlau, Frank Turner, Kris Valderrama, Jeff Waldstreicher, Alonzo Washington, Mary Washington, Jheanelle Wilkins, and Karen Young.
"Too many Marylanders do not have access to quality health care.  We must guarantee that all Marylanders have the right to see a doctor and seek medical treatment no matter what their economic status," said Del. Barron.  "I am excited to work with National Nurses United to cover all Marylanders and achieve health care justice in our state through the Healthy Maryland Act."
"It's no secret that Marylanders are unhappy with the current health system – and they have every right to be," said Ken Zinn, NNU Mid-Atlantic Director and a Maryland resident.  "Nearly 400,000 of our neighbors have no health insurance at all, premiums have skyrocketed, pharmaceutical costs continue to increase dramatically, and thousands that do have health insurance are unable to access health care because they cannot afford the costs of deductibles and co-payments. Far too many people still go without healthcare when they need it, insurance companies still deny needed care because they don't want to cut into their profits, and more and more costs are shifted to patients every day. Nurses are supporting the Healthy Maryland Act to solve these problems and move our state forward," Zinn said.
NNU is joined by Our Revolution Maryland, UFCW Local 400, SEIU 32BJ, SEIU Local 500, Food & Water Watch, UFCW Local 1994, 1199 SEIU United Healthcare Workers East, UNITE HERE Local 7, Progressive Democrats of America, Labor Campaign for Single Payer, Progressive Maryland, and the Maryland Chapter of the National Lawyers Guild in endorsing the Healthy Maryland Act to ensure that all Marylanders get the health care they need without giving up other necessities or risking bankruptcy.