Press Release
National Nurses Statement on Trump's Threat to Send Federal Troops to More Major U.S. Cities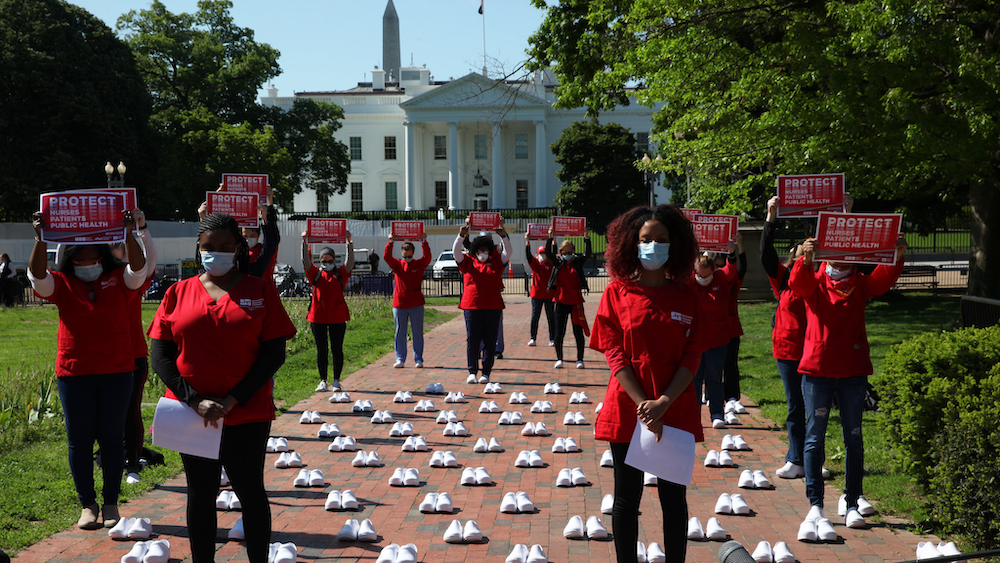 With the coronavirus pandemic continuing to surge and a worsening economic crisis, the registered nurses of National Nurses United (NNU) today condemned President Trump's threat to dispatch federal troops to more major U.S. cities to arrest and assault protesters.
In the wake of the widely criticized use of federal agents in Portland, Oregon, Trump on Monday said he was looking at expanding these attacks on our communities to New York, Chicago, Detroit, Baltimore, Philadelphia, and Oakland, all cities with Democratic leaders, and, not coincidentally, large Black populations.
"Nurses think holistically and know that our uprisings are the result of extreme social, racial, and economic injustice—exposed now in even sharper relief with the COVID-19 pandemic," said NNU President Deborah Burger, RN. "Nurses' first reaction is to address the root problem and alleviate suffering with compassion and care, not to use the military to attack, punish, and oppress our patients!"
Some 140,000 people in the United States have now died of COVID-19 amidst federal inaction, and tens of millions are without work, unable to meet rent, mortgage, and health bills. In addition to brutalization and death at the hands of police, Black, Indigenous, people of color (BIPOC) have disproportionately suffered under COVID-19, with double and up to three or four times the infection and death rates of whites in some states. Also, more essential workers are BIPOC and more workers from this group have lost their jobs and benefits. Nurses say this structural racism amounts to a national public health crisis.
"Our communities have great needs for federal help, investment, and intervention, not armed assaults," said Burger. "We need caring and compassion, not confrontation. We need federal leadership on national safety standards for the pandemic, including stopping the push to dangerous reopening plans that are worsening the virus spread, not a war on our cities.
"We need to spend our resources on personal protective equipment for our frontline caregivers and patients, not on riot police or troops to terrorize people or put more patients in our already burdened hospitals," Burger said.
In just days, the federal financial assistance provided to millions of families is set to expire, with no action yet on extending the critically needed support, while the priority of the Trump Administration and Republican-led Senate "appears to be giving more handouts to corporate interests," said Burger.
In California, one of the states targeted, it was reported Monday that one-third of state residents will not be able to pay their August rent bills. In the Chicago metropolitan area, more than 450,000 people lost their jobs from May 2019 to May 2020. Millions with employer-based health insurance have lost their safety net for when they need health care, and face an uncertain future for when regular employment will resume with the highest jobless rates in 90 years.
With Black families and communities disproportionately harmed by the pandemic and the economic crisis, and historically low savings to survive long periods of unemployment and less able to pay for medical emergencies, housing costs, and other basic needs, "it is especially troubling to see the targeting of cities with large Black populations. They need support, not to be the scapegoat for the president's reelection campaign," Burger added.
Burger called on President Trump to withdraw the military threat, withdraw federal agents from their incendiary role in Portland, and to support the HEROES Act passed by the U.S. House of Representatives in May that would grant immediate economic support to the country's families.