Press Release
National Nurses Condemn Statements by Trump, Meadows To Dismiss Covid-19 Deaths, Downplay Toll of Pandemic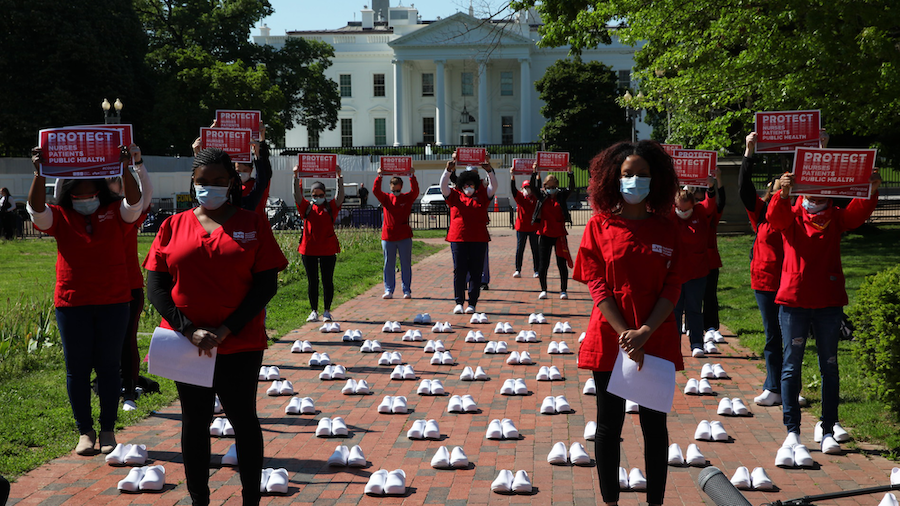 National Nurses United (NNU) today sharply criticized what nurses called "desperate" statements by President Trump and his Chief of Staff Mark Meadows this weekend intended to deflect and dismiss public outrage of the mounting toll of the Covid-19 pandemic.
In a campaign rally Saturday, Trump reasserted an unfounded conspiracy theory that "doctors get more money and hospitals get more money" by inflating the calamitous death reports of patients dying from Covid-19. Earlier today, Meadows piled on, insisting "we are not going to control the pandemic."
Both statements are "especially reckless and dangerous in encouraging Americans to ignore the safety measures so essential to saving lives," said NNU President Zenei Cortez, RN.
"This is a reminder why nurses are actively campaigning to elect Joe Biden as president," she continued. In contrast with Trump, "the former vice president has stood with nurses to insist and ensure all the agencies of the federal government are mobilized to fully invoke the Defense Production Act in producing and distributing the safety equipment nurses need, and to promote all the proper safety measures that will protect all nurses, all patients, and all our communities."
"Nothing has more symbolized this administration's unconscionable, failed response to this global calamity than President Trump's insensitivity and callous indifference to the suffering of the more than 220,000 Americans who have died from Covid-19, and the pain for their families devastated by that loss, and the statement by his Chief of Staff abandoning efforts to mitigate this crisis," Cortez said.
"For more than eight months, registered nurses and other health care workers have been putting their lives, their coworkers, and their own families in jeopardy by caring for grievously ill patients, often gasping for breath, and dying from Covid-19," Cortez said.
"Some 2,000 frontline health care workers, including at least 230 nurses, have died too, often working with little or no optimal personal protective equipment and proper hospital safety protocols."
"All those of those casualties have come while they have endured virtually no support from the federal government and a president who consistently dismisses the severity of this deadly pandemic and encourages his supporters to ignore and flout common-sense safety measures that are putting more people at risk, more people in the hospitals, and resulting in more people dying."
"With the current massive surge in Covid-19 infection rates and hospitalizations across the country, the president should be expressing compassion. And he and his administration should be marshalling the authority of the federal government to mitigate the spread of the virus, and making sure caregivers have all the resources we need to protect the lives of our patients and ourselves."
The tragic toll on nurses and health care workers in general, and the disparate impact on nurses of color, was recently documented in "Sins of Omission," a comprehensive report from NNU. You can read it here.