Press Release
National Labor Relations Board Moves Forward with Charges Against Barstow Community Hospital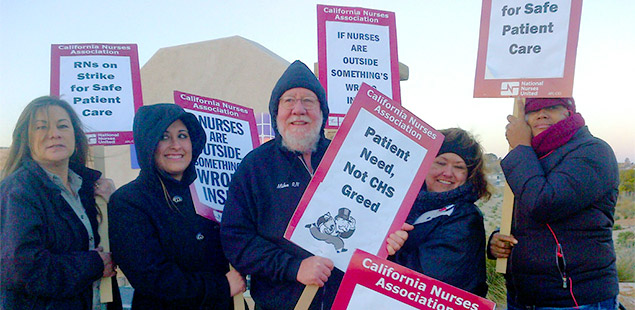 "BHC/Quorum's disrespect for federal law has a direct negative impact on the quality of patient care at Barstow Community Hospital."
The National Labor Relations Board (NLRB) has again found merit with charges brought by registered nurses against Barstow Community Hospital and its corporate parent Quorum, for policies that have harmed the hospital's ability to staff the hospital safely.
One of the hospital's most serious problems, say nurses, is high turnover, which has ranged on average from twenty five to fifty percent in various units throughout the hospital over the last five years.  In 2017 the turnover rate in Med-Surg, the hospital's largest department, was forty percent, while nearly a third of the RNs in the ER were new hires.
"BHC/Quorum's disrespect for federal law has a direct negative impact on the quality of patient care at Barstow Community Hospital," said John Harrell, RN. "BHC's behavior continues to cause a high turnover rate – twenty five per cent of our most experienced RNs left in the past year. Nurses are fighting for policies that will reverse this downward spiral and strengthen the hospital's ability to recruit and retain nurses."
The latest NLRB finding comes on the heels of a separate NLRB complaint issued against BCH/Quorum in December over ER procedures, and alleging that BCH has "been failing to bargain collectively and in good faith" with registered nurses. BCH will face a trial in front of an Administrative Law Judge in Los Angeles to answer those charges in the coming months.
"When BCH nurses make proposals to end the turnover crisis at our hospital, we're advocating for our patients and this whole community and its sad that it takes Federal injunctions and multiple NLRB trials to force BHC/Quorum to listen to nurses," said Jennifer Olguin, RN, ICU. "If BCH thinks that they can silence our strong patient advocacy through high turnover they are mistaken. Our patient advocacy is not wavering. New RNs keep stepping up to say its time to stop the revolving door and invest in recruitment and retentions of experienced RNs," said Jennifer Olguin, RN, ICU.
Quorum, the company that is operating BHC, was created when Community Health Systems "spun off" dozens of mostly small-town hospitals, including BCH, in 2015. Since 2012, when RNs at five CHS hospitals voted to join National Nurses Organizing Committee, RNs have filed over 50 Unfair Labor Practice Charges with the National Labor Relations Board (NLRB), and Federal Judges have issued four rare 10(j) Injunctions against the hospitals, including Barstow Community Hospital.
Quorum is attempting a fire-sale of hospitals to pay down debts, having recently sold seven hospitals and shut down Affinity Medical Center in Massillon, Ohio, blaming operating losses.  The corporation ended the third quarter of 2017 with a net loss of $29.2 million on revenues of $499.3 million, compared to the same period of 2016, when the company posted a net loss of $7 million on revenues of $543.9 million.
The California Nurses Association has 100,000 members statewide and is affiliated with National Nurses United, the largest and fastest growing union of RNs in the nation. CNA/NNU has won landmark health and safety protections for nurses and patients in the areas of staffing, safe patient handling, infectious disease and workplace violence protection.