Press Release
MountainView Hospital Nurses to Picket Wednesday, Call on HCA to Invest in RN Staff and Patient Care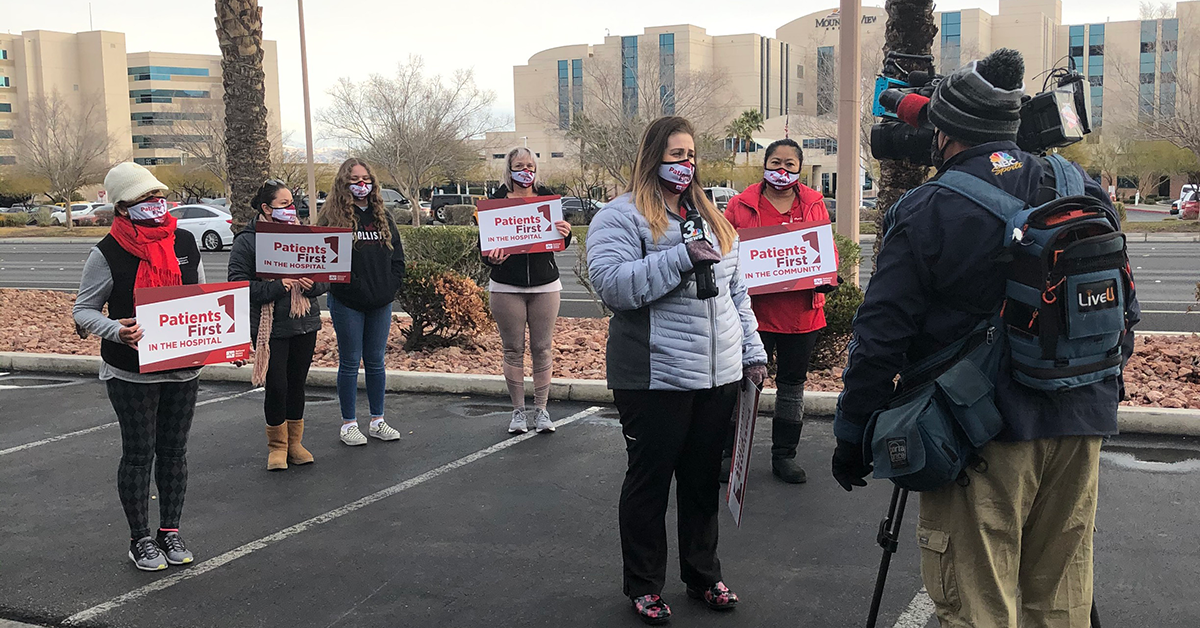 Registered nurses will hold an informational picket on Wednesday morning Aug. 4, at HCA's MountainView Hospital in Las Vegas to express ongoing concerns about safe staffing and improvements they say the hospital needs to make to retain experienced RNs and recruit new nurses, announced National Nurses Organizing Committee-Nevada/National Nurses United (NNOC/NNU) today.
    What: Socially distanced Informational Picket by MountainView Hospital RNs
    When:  Wednesday, Aug. 4, 7:00 a.m. to 9:30 a.m.
    Where: MountainView Hospital, 3100 N. Tenaya Way, Las Vegas, NV 89128.
MountainView RNs will gather to alert the public about persistent safe staffing problems, including what they say are hospital management's consistent failure to adhere to its own staffing standards.
"MountainView has had time to prepare for this Covid surge, and here we are yet again short staffed, and patient care is jeopardized," said MountainView RN Melissa Hansvick. "MountainView continues to make decisions that spread already thin resources thinner. It is these types of decisions that put patient safety at risk and calls on nurses to work in unsafe conditions. MountainView must step up and put patient and nurse safety at the forefront of healthcare."
Economic security for the nurses is also important to ensure the hospital retains long-term, experienced RNs, and is able to best recruit new RNs, nurses say.
"More than a year and a half into this pandemic, MountainView continues to use excuses to explain away their unsafe practices. Our community deserves better. When you come to a hospital run by the country's largest and most profitable healthcare corporation, you expect top-of-the-line patient care," said Nicole Taylor RN. "That is not what you get when you come to MountainView."
"Instead," she continued, "you will find nurses stretched to their limits, inadequate resources, and an administration that says nurses have risen to the challenge instead of telling you the truth, which is that the hospital continues to burden already exhausted nurses. We call on MountainView to increase safety standards and protect patients and the nurses who take care of them."  
The RNs and hospital officials are currently engaged in negotiations on a new collective bargaining contract. "HCA and administrators here called us heroes and said that they cared for us like family, but their treatment of caregivers did not reflect that. This bargaining represents an opportunity for the hospital to demonstrate their respect for the sacrifices that we made during the pandemic," Taylor said.
The nurses note that HCA, the largest hospital corporation in the United States, has more than enough resources to address their concerns. Last year alone, HCA reported $3.8 billion in profits. In the first quarter of 2021, HCA has made $1.4 billion in profits.
National Nurses Organizing Committee represents 944 nurses at MountainView Hospital. NNOC is an affiliate of NNU, the largest union of RNs in the United States, representing more than 175,000 nurses across the country.