Press Release
HCA RNs in Florida and Texas to Hold Public Actions to Voice Alarm on Patient Safety Concerns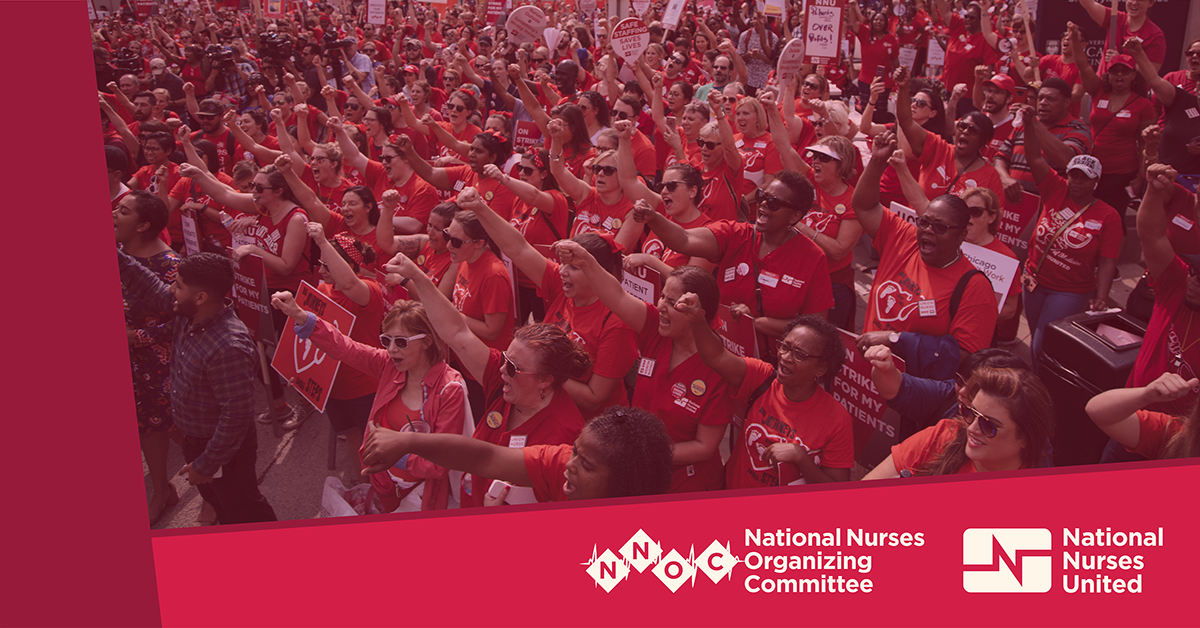 Registered nurses at four Florida HCA hospitals and one in Texas will hold socially distanced public actions Monday, June 21 to alert the public to ongoing, persistent problems with safe staffing and growing problems with retention at HCA facilities.
Socially Distant Actions (with local staff contact) Monday, June 21
Florida
Fawcett Memorial Hospital, socially distanced informational picket
6:00 a.m. - 8:30 a.m., 21298 Olean Blvd, Port Charlotte, Fla.  
Doctors Hospital of Sarasota, socially distanced informational picket
6:00 p.m. – 8:00 p.m., 5731 Bee Ridge Rd., Sarasota, Fla.
Oak Hill Hospital, socially distanced informational picket
7:30 a.m. – 9:30 a.m., 11375 Cortez Blvd, Brooksville, Fla.  
Osceola Regional Medical Center, socially distanced informational picket
8:00 a.m. – 10:00 a.m., 700 Oak St., Kissimmee, Fla.  
Texas
Bay Area Medical Center, socially distanced action
6:30 p.m., 1650 Rodd Field Rd., Corpus Christi, Tex.
Nurses from other HCA hospitals in Kansas, Missouri, Nevada, and North Carolina, held similar actions last week. All the nurses are represented by National Nurses Organizing Committee, an affiliate of National Nurses United, the nation's largest union of RNs.
At hospitals from coast to coast, the RNs have experienced consistent problems with HCA administrators violating their own staffing guidelines and cutting support staff, which has led to often dangerously short RN staffing for patients.
At Doctors Hospital of Sarasota in Florida, for example, management violated its staffing guidelines by 61 percent from October to December, the RNs say.
"With each additional patient, we have increasingly less time to devote the focused, individualized care our patients need, and the risk of serious complications increases," said Kim Smith, an RN at Corpus Christi Medical Center in Corpus Christi, Tex.
The RNs will also voice concerns about proper relief staffing so that nurses are able to take meal and rest breaks, and other improvements to ensure the ability to retain experienced RNs at the bedside and recruit new nurses. 
High turnover rates pose serious risk to patients
Turnover at HCA's Mission Hospital, N.C., for example has topped 30 percent in the past year, RNs note. Similar turnover rates are seen throughout the HCA system.
At Fawcett Memorial Hospital in Port Charlotte, Fla., 170 RNs have left since January 2020, a turnover of nearly two-thirds of the nurse workforce.
"The loss of every RN is a calamity for our community," said Fawcett RN Cynthia Butler. "That is invaluable professional experience and clinical expertise, many of whom have developed longtime knowledge of our patients. It is also an enormous and costly burden to recruit new RNs and ensure they receive the proper training to safely care for our patients."
At all the facilities, the RNs are in talks with HCA management for a new collective bargaining contract. The current agreements expired on May 31 for Florida facilities, and expires on June 30 for Texas.
Conditions could be greatly improved, nurses say, by common contract proposals that include stronger enforcement measures for safe staffing standards, additional resource RNs with proper clinical expertise and current bedside experience to provide for breaks, and economic improvements sufficient to recruit new nurses and retain experienced RNs.
This past year was the most difficult year in the professional lives of the RNs. Yet they stayed at the bedside caring for gravely ill patients amidst the most dangerous global pandemic in a century, during which many HCA RNs were also infected, and some died. Nurses say it is long past time for HCA to show respect for its frontline caregivers. 
The nurses note that HCA, the largest hospital corporation in the United States, has more than enough resources to address their concerns. Last year alone, HCA reported $3.8 billion in profits. In the first quarter of 2021, HCA made $1.4 billion in profits. 
NNU affiliates represent 12,000 HCA RNs at 20 HCA hospitals from California to Florida. Overall, NNU represents 175,000 RNs.