Press Release
MNA and NNU Renew Call for Halt of COVID-19 Mask Decontamination Processes After UMass Scientist Questions Safety of Re-Used Masks Due to Lack of Rigorous Testing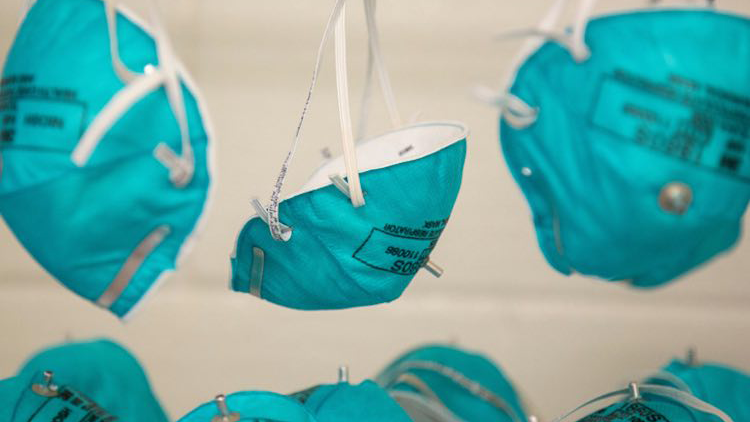 Richard Peltier, the UMass Associate Professor who received a federal grant for mask decontamination testing, reports the approach, method and reliability of testing lacks scientific rigor
CANTON, Mass. – The Massachusetts Nurses Association (MNA) and National Nurses United (NNU) have renewed their calls for an immediate halt to COVID-19 mask decontamination processes because the testing of decontaminated masks fails to meet established scientific standards.
MNA and NNU received new information about the Mass General Brigham/Battelle method of testing decontaminated masks from a presentation shared internally with MGB staff. Richard Peltier, a University of Massachusetts Amherst Associate Professor who received a National Science Foundation grant to research whether face masks can be safely reused by COVID-19 pandemic medical workers after repeated sterilizations, reviewed this information, as well as the underlying report, posted at the MGB Center for COVID Innovation website on vaporized hydrogen peroxide effects on five respirators. 
"For an N95 decontamination method to be safe and effective, it must meet three criteria, (1) it must effectively inactivate the pathogen, (2) it must not degrade the performance of the respirator including filtration, structural integrity, and face seal, and (3) it must not introduce an additional hazard to the worker wearing the respirator," said Jane Thomason, the Lead Industrial Hygienist with NNU. "We have not seen any decontamination method meet these three criteria; in fact, several methods currently in use may be harmful by one or more criteria. Decontamination and reuse of N95 respirators endangers the health and safety of nurses and other healthcare workers."
Peltier of UMass has been independently testing masks that have been decontaminated via ultraviolet radiation and different types of hydrogen peroxide through his NSF grant.
"We would celebrate if these respirators continued to perform as designed after decontamination," Peltier said. "But without data, we just don't know. In my opinion, there is no doubt of the many open questions to decontaminated masks, but I fear there are some who simply do not want to know the answers to the questions we are asking.
"As an environmental health scientist, it's disheartening when groups choose to disregard independent scientific inquiry, especially when the stakes are so high," Peltier said. "Clinicians are driven mainly by data – of a patient's lab values or an X-ray or a dosage of medicine.  Why is it that so few want to be driven by data on whether these respirators are safe?"
"N95 respirators used by clinical workers are surprisingly complicated safety devices and are really meant to be disposable – under ordinary circumstances, you'd use it once and toss it in the trash," Peltier said. "But these are not ordinary times and hospitals are grasping at solutions to find ways to extend their limited supplies to keep workers safe."
Thomason, of NNU, said, "Instead of seeking safer alternatives, hospitals and our state and federal governments have rushed to embrace untested, dangerous decontamination and reuse policies. Hospitals have largely ignored more protective, safely reusable respirators such as powered air-purifying and elastomeric respirators, and our state and federal governments have refused to mandate increased production of N95 respirators and other PPE."
Peltier added, "Unfortunately, respirator decontamination was rush-approved by the FDA with no further safety testing to measure whether these respirators continue to work as they were designed. In fact, none of these respirators were designed to be reprocessed at all. At the same time, there are many different decontamination methods being used by clinical centers across the US, and we just do not know whether these masks continue to protect wearers adequately. Of the limited data that is available, almost all of it comes from the decontaminating companies themselves, or the hospital groups that have signed on to use these services."
The MNA and NNU have taken leadership positions in Massachusetts and nationally in opposing the use of these products due to the risks to the health and safety of nurses and other healthcare workers who are caring for patients. In a position statement released to the public on April 29, the MNA called for the halt of decontamination of masks, and that nurses and healthcare professionals have the right to consent or refuse to use decontaminated masks. The statement drew on information published by NNU exposing the dangers.
"We nurses know from real-life experience that N95 respirators cannot be safely reused or 'decontaminated,'" said Zenei Cortez, president of NNU, the largest union and professional association of registered nurses in U.S. history with 150,000 members. "Our nurses report that the reprocessed masks they've encountered have horrible odors, are deformed in critical areas like the face piece and the nose bridge, and that the straps have lost their elasticity. And, no surprise, our hospitals are not conducting fit tests with reprocessed masks. There's no way a reprocessed mask will perform like a new one. And how do we know that we aren't simply trading one danger for another by breathing in these chemicals? NNU nurses say, 'No way!'"
 
On June 7, the U.S. Food & Drug Administration (FDA) reversed its position on the use of certain N95 masks that have been decontaminated, bolstering the longstanding opposition to these unproven and potentially dangerous practices by MNA and NNU.
"Government officials and healthcare executives wasted time and resources and put frontline workers at risk chasing the unproven and dangerous dream of mask decontamination," RN and MNA President Donna Kelly-Williams said. "Nurses and healthcare professionals caring for patients during this pandemic knew all along that these processes lacked rigorous evidence, could damage N95 masks and may create lasting health problems. Every frontline healthcare worker should have a new N95 mask to protect them against exposure and limit the spread of COVID-19."
Brockton Nurses Sound Alarm about PPE Re-Use Problems
Nurses at Signature Healthcare Brockton Hospital recently went public with concerns about having to use substandard personal protective equipment (PPE) in a city considered to be a hotspot for COVID-19 exposure. The nurses sent a letter to CEO Kim Holland stating their concerns. In an interview with CBS Boston addressing the nurses' concerns, Holland admitted, "We haven't had time to do long term studies on reprocessing" COVID-19 masks.
"While our management repeatedly claims they have an appropriate supply of PPE, they refuse to provide our nurses with access to it," said Nicole Tanner, RN, a critical care nurse at the hospital and co-chair of the nurses local bargaining unit with the MNA. "Every day we are forced to reuse N95 respirators, or in many cases, are refused access to N95 respirators due to policy positions in direct violation of long-established infection control protocols. Every day we are forced to use N95 respirators supposedly decontaminated by an unproven process that leaves them soiled, ill fitting, and that pose a danger to every nurse who wears them because of management's failure to secure appropriate equipment."
In the letter to Holland, the nurses highlighted the complaints by nurses with mask reuse, reporting, "staff are complaining of dizziness, headaches and nausea with use of the chemically and UV cleaned masks."
MassNurses.org│Facebook.com/MassNurses│Twitter.com/MassNurses│Instagram.com/MassNurses
---
Founded in 1903, the Massachusetts Nurses Association is the largest union of registered nurses in the Commonwealth of Massachusetts. Its 23,000 members advance the nursing profession by fostering high standards of nursing practice, promoting the economic and general welfare of nurses in the workplace, projecting a positive and realistic view of nursing, and by lobbying the Legislature and regulatory agencies on health care issues affecting nurses and the public.