Press Release
Mission RNs to Seek Health and Safety Protections As Negotiations Open for First Union Contract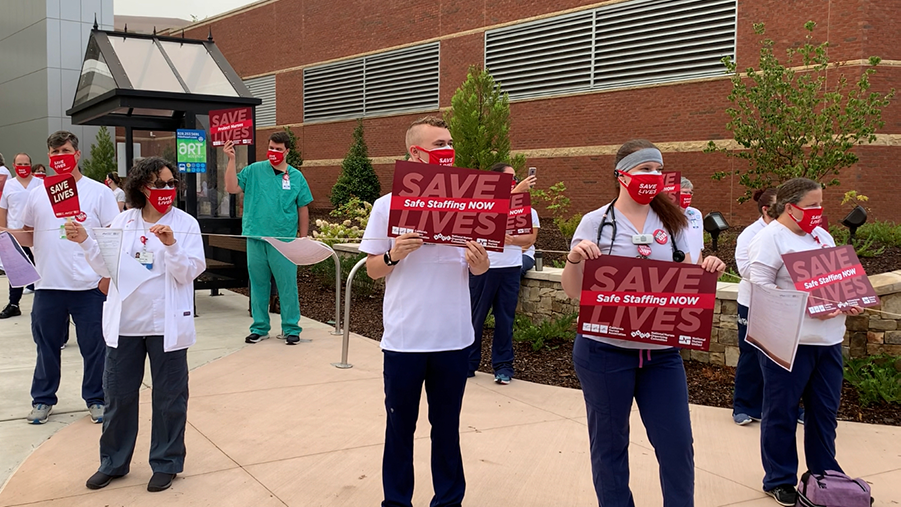 Four months after voting by 70 percent to form a union, registered nurses at HCA's Mission Hospital in Asheville, NC will begin negotiations with hospital management today for a first collective bargaining contract, announced National Nurses Organizing Committee-North Carolina/National Nurses United (NNOC-NC/NNU).
Contract negotiations will include a focus on key issues of health and safety protections for nurses and patients. Health and safety language, the nurses emphasize, is especially critical at a time when the Covid-19 pandemic is surging in the state, as it is across the nation. NNOC-NC, which represents 1,800 RNs at Mission, is an affiliate of NNU, the largest U.S. union of registered nurses.
Among the contract proposals the Mission RNs will present are ensuring provision of optimal personal protective equipment (PPE), safe staffing assignments to minimize the threat of contagion and the spread of infectious disease, and other safety protocols.
"We need better health and safety protections now more than ever," said Claire Siegel, RN at Mission Hospital and a member of the bargaining team. "During this pandemic, things like access to fit-tested N-95 respirators should be a given, but we are having to fight for that."
"As nurses, we are patient advocates above all else, so it is critical for us to have in our first contract a strong voice in staffing decisions to ensure safer staffing levels at Mission," said Amy Waters, RN at Mission and a member of the bargaining team.
Many of these and other concerns would also be addressed in a proposed infectious disease task force to monitor preparedness and facility response to the current coronavirus pandemic as well as other epidemics and infectious disease outbreaks that affect the hospital.
Additionally, the RNs intend to press for contract language to require the hospital to prevent workplace violence, which has been an increasing concern for Mission nurses. Workplace violence poses as threat to not just nurses, but to all hospital staff, as well as patients, their family members, and visitors.
NNU has won contract provisions on workplace violence prevention as well as infectious disease control at a number of hospitals across the country.
These and other contract issues on ensuring nurses an enhanced voice in patient care conditions, economic standards, employee health coverage and retirement security, and fair disciplinary protections are part of ensuring the hospital's ability to retain experienced RNs and recruit new nurses.
Mission RNs say they are fully committed to working with the hospital to improve its relations with the Asheville community and beyond that have been eroded in the two years since HCA's acquisition of the hospital.
"The Asheville community supported us as we organized our union, and now, it's our time to show our community that it is a top priority as we negotiate our first contract," said Susan Fischer, RN at Mission and a member of the bargaining team.