Press Release
Mission nurses to hold socially distanced action to demand safe staffing for safe patient care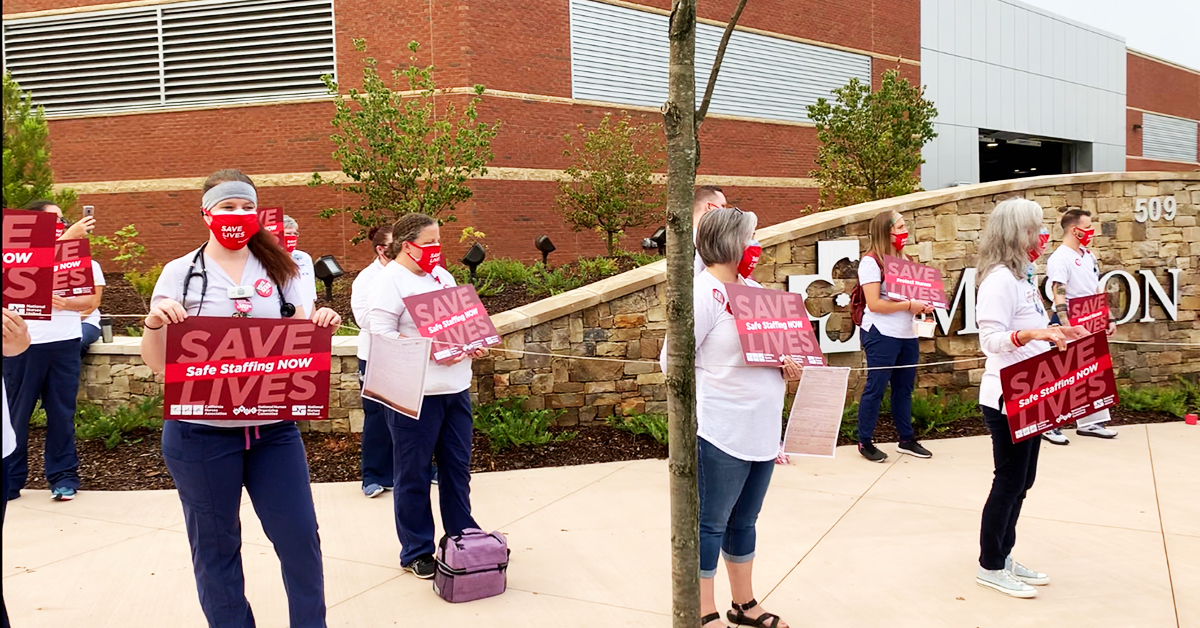 Registered nurses at Mission Hospital in Asheville, N.C. will hold a socially distanced action Thursday, Oct. 21, 2021 at 8 a.m. to demand the hospital address chronic short-staffing issues that nurses say put patients and RNs at risk.
Nurses say the failure of Mission Hospital to invest in hiring enough nursing staff is especially egregious considering that the hospital's parent company HCA is bringing in record profits—with nearly $3 billion in profit already this year. Nurses emphasize that these profits were earned by cutting corners on patient care and hospital staffing during the deadly Covid-19 pandemic.
"We are still in the midst of the worst pandemic in a century, and nurses are here to hold HCA accountable for prioritizing safe patient care over profits," said Mission registered nurse Elle Kruta.
What: 

   Mission Hospital nurses hold socially distanced action for safe staffing

When:

   Thursday, Oct. 21, 2021, 8 a.m.

Where: 

Mission Hospital, 509 Biltmore Ave. Asheville, N.C. 28801
In the past two years since HCA purchased Mission Hospital, nurses say they have noticed significant changes in the way that care is provided at Mission. Short staffing has become a daily occurrence, say nurses, and RNs are being asked to do more with less and to work with no meal or rest breaks. Since September, nurses have reported more than 50 serious staffing issues, some life-threatening, including:
In the orthopedics unit, nurses report taking up to seven patients at one time even though the unit's staffing plan calls for nurses to take five patients. This puts joint-replacement patients at increased risk of falling and serious complications.
In the neurology unit, nurses reported to their manager that patients could not be bathed or fed and that patient treatments and assessments were delayed due to improper staffing. Their manager responded by attempting to conceal the situation from patients on the unit, not by attempting to find additional staff.
In a cardiac unit, a nurse had 10 patients while one patient had multiple seizures.
In the cardiac intensive care unit, nurses have been required to take three critically ill heart patients even though their unit staffing plan calls for nurses to take two patients. This led to delayed medications and interventions.
In one unit, a nurse reported that a patient was left wandering in the hallway after hospital management was unwilling to provide staff for one-on-one care.
After ongoing inaction from management, RNs say they are taking their concerns public and asking the community to stand with them in their call for change.
"HCA's massive profits and cost cutting come at a human cost here in Asheville. Study after study has shown that when nurses are overwhelmed with too many patients at once, there's an increased chance of medical errors. Our patients deserve better, and HCA has the resources to do better," said Mission RN Raelynn Russell.
National Nurses United is the largest and fastest-growing union of registered nurses in the United States with more than 175,000 members nationwide.