Press Release
RNs at Mission Hospital in Asheville, NC demand safe staffing to ensure optimal patient care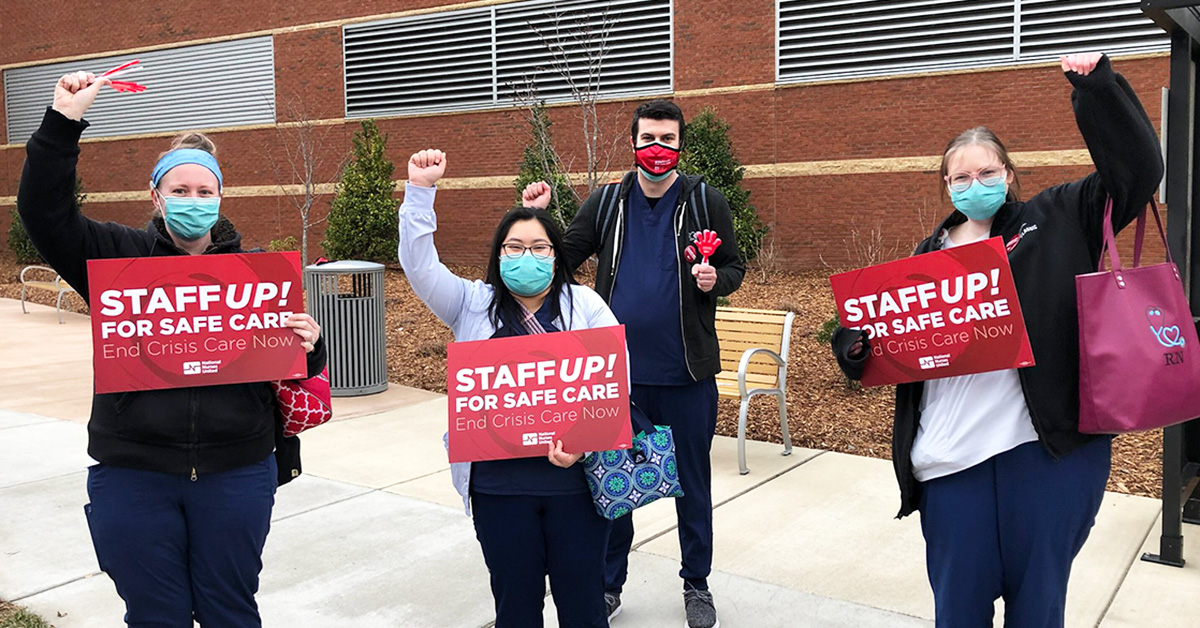 Nurses say HCA must put patients before profits  
Registered nurses at HCA's Mission Hospital in Asheville, N.C., will hold a speak-out on Thursday, April 21 to demand that HCA ensure safe patient staffing in all units across the hospital, announced National Nurses Organizing Committee/National Nurses United (NNOC/NNU) today.
"We have an obligation to our patients to provide the highest quality of care possible and we can only do that when we have enough nurses and professional staff on every unit and on every shift," said Hannah Drummond, a registered nurse at Mission Hospital. "Right now, our nurses are being forced to care for too many sick patients at one time, without adequate support staff. This lack of staff means that patients are forced to wait to get care, to get pain medications, or to get help walking to the restroom. These delays can lead to infections, bed sores, falls, and other negative outcomes. This is not fair to our patients, all of whom deserve to be treated as if they were a member of our own family."
Who:

Registered nurses at Mission Hospital

What:

Speak-out to demand safe patient staffing at Mission Hospital

When:

Thursday, April 21 8:00 a.m. to 9 a.m.

Where:

Mission Hospital at corner of Hospital Dr. and Biltmore Ave., Asheville, N.C.
Nurses say that over the past two years they have seen an exodus of nurses from Mission Hospital because of the poor working conditions created by HCA management's decisions. These poor working conditions lead to moral injury and moral distress, and have created a crisis in retention and recruitment at the hospital.
"Nurses become nurses because they want to be there to provide high-quality medical care and emotional support as their patients heal or struggle with illness and disease," said Jeanne Mould, RN at Mission Hospital. "But you can't provide that care when you are literally running from room to room just hoping you will not miss something important. We need time to breathe, time to spend with a grieving family member, or to educate a scared patient. The time to provide this support is not a luxury, but is a necessity for our patients' health and it is integral in keeping nurses at the bedside."
As HCA has refused to increase core staffing, management is now demanding that nurses work in units without the experience, support, or competencies needed to provide the care that is essential to specific patient populations.
"It is not right or safe to expect a telemetry nurse, who is highly trained to provide care to cardiac patients, to be abruptly reassigned without training, to an ICU unit or to the emergency room," said Drummond. "Forcing a nurse to work with patients without the appropriate training is a recipe for disaster and moral distress. However, HCA employs this unsafe practice because management refuses to hire more nurses. It is time for that to change and for HCA to put our patients before profits."
NNOC/NNU represents 1,400 nurses at Mission Hospital.
National Nurses Organizing Committee is a national union and professional organization for registered nurses, advance practice nurses, and RN organizations. NNOC is affiliated with National Nurses United, the largest and fastest-growing union and professional association of registered nurses in the United States with more than 175,000 members nationwide.