Press Release
Mission Hospital nurses to hold a rally over HCA's failure to protect patients and nurses from assaults and other unsafe working conditions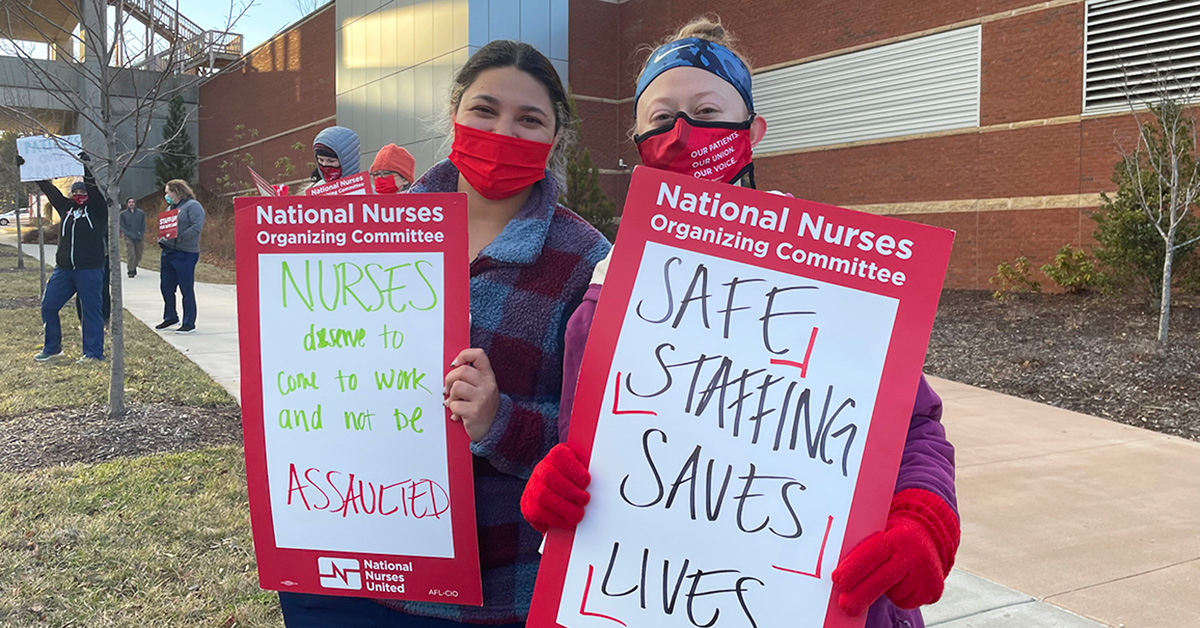 RNs to protest unsafe staffing, workplace violence, and broken equipment
Registered nurses at Mission Hospital, in Asheville, N.C., will hold a rally on Monday, April 10, to highlight their patient safety concerns, including increased incidents of workplace violence, broken hospital equipment, and unsafe staffing levels, announced National Nurses Organizing Committee/National Nurses United (NNOC/NNU) today.
"HCA is at it again with prioritizing profits over patient care," said Hannah Drummond, RN in the emergency department at Mission Hospital. "As an emergency room nurse, it is unacceptable to have patients waiting more than 12 hours to receive care. Instead of increasing staffing in the Emergency Department to reduce wait times, HCA cut staff and sent nurses home. This is unconscionable. HCA doesn't value our patients and the community we serve."
Whenever nurses have an unsafe staffing assignment that may lead to negative patient outcomes, the RNs document it in an Assignment Despite Objection (ADO) form and submit it to hospital management. In a recent ADO, a nurse reported that more than 25 patients had to wait in the waiting room for an entire day before being seen by a nurse.   
Who:

RNs at Mission Hospital

What:

Rally for patient safety and safe staffing

When:

Monday, April 10, 8:00 a.m.

Where:

Mission Hospital, 509 Biltmore Ave, Asheville, NC, 28801, on the corner of Hospital Dr. and Biltmore Ave.
"During my tenure as a cardiovascular intensive care unit (CVICU) nurse at Mission Hospital, I have seen the quality of care diminish so rapidly," said Katlin Myers, CVICU RN. "The cardiovascular ICU has some of the most vulnerable patients, yet we are consistently given more patients than nurses can safely handle. HCA must put our patients first."
In another recent ADO submitted to the hospital, a cardiovascular nurse documented an unsafe staffing assignment that resulted in a patient soiling themselves in bed. With appropriate staffing levels, patients would not be waiting so long for nurses to assist them to the restroom, preventing such incidents from occurring.
Unsafe staffing is also affecting nurses who work at Copestone, the acute inpatient psychiatric care units owned by HCA. Nurses on the night shift face frequent incidents of workplace violence, including physical attacks.
"Our patients in behavioral health deserve the highest quality of care HCA can provide, but when we are working short staffed, it makes the units dangerous for all health care workers," said Susan Pitcher, RN in the Copestone adolescent unit. "Meds are delayed, meals are delayed, and care is delayed. HCA should reprioritize its record profits and put its resources into protecting our patients and staff."
Copestone nurses documented numerous unsafe staffing assignments that resulted in delayed safety rounds and missed care — patients who did not receive the additional assessments they needed. Nurses say management's response was that nurses should "try things out as is" and "let the hospital know if the dangerous working conditions become unmanageable."
In addition to unsafe staffing and workplace violence, nurses have contended with broken equipment for months. For example, the modules on some ICU beds that help manage critical patients are not working. Vein finder lights that assist nurses to find veins so they can easily insert an IV are either broken or missing. Despite nurses reporting these ongoing problems to the chief nursing officer, they have not been fixed. Repairs to the ICU beds have been extremely slow.
National Nurses Organizing Committee represents nearly 1,500 registered nurses at Mission Hospital.
---
National Nurses Organizing Committee is an affiliate of National Nurses United, the largest and fastest-growing union and professional association of registered nurses in the United States with nearly 225,000 members nationwide.