Press Release
Millinocket Regional Hospital Nurses Vote Overwhelmingly to Authorize One-Day Strike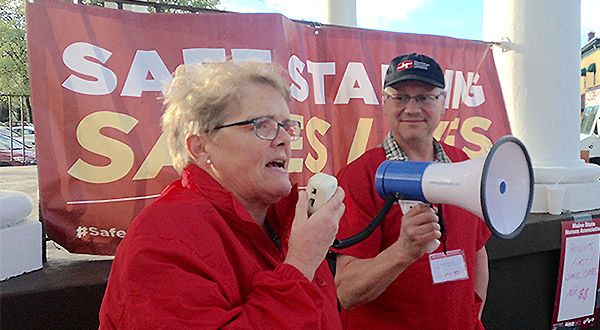 Registered nurses at Millinocket Regional Hospital (MRH) have voted by an overwhelming majority to authorize their nurse bargaining team to call a one-day strike, should hospital management continue refusing to address nurses' ongoing patient safety concerns—including a variety of safe staffing issues—and attempting to silence nurses, the Maine State Nurses Association/National Nurses Organizing Committee (MSNA/NNOC) announced today. No date has been set for a possible strike, which Millinocket RNs hope can be avoided.
"Our place is at the bedside," said Monique Babineau, RN. "We want our current and future patients to know that we are fighting for their safety, despite management's retaliation against us for doing so. We will always go the extra mile to take care of our patients."
Patient safety and unsafe staffing concerns have been the number one priority of the RNs since the new hospital administration was put in place two years ago, say nurses. RNs have been demanding that the hospital's staffing matrix enable the provision of all of services dictated by the Department of Health and Human Services. The current matrix does not provide appropriate coverage to all patients in the event of a code (when a patient goes into cardiac or respiratory arrest), a rapid response situation, or other complicated admissions where the majority of staff needs to respond and leaves the remaining patients vulnerable.  Other short staffing issues have also lead to concerns over staff and visitor safety.
Nurses, represented by the MSNA/NNOC have been in contract negotiations since March to address these serious patient safety concerns. Rather than work to rectify the issues, say nurses, management has threatened to illegally increase the cost of health benefit premiums to nurses only, beginning August 1, while the rest of the employees would not have an increase. To date, two registered nurses out of 33 bedside RNs at the hospital have put in their notice, due to this threat.
A federal mediator attended the last negotiation session on Monday, July 17, 2017 where no agreement was reached. Nurses held an informational picket on July 31 to get the word out to the community about patient safety concerns, as they continue to stand strong together and advocate for hospital administration to address safe staffing issues.
"Millinocket Regional Hospital was built by working people in this community to care for the ill and the vulnerable. This is our community hospital and nurses are not going to remain silent while the new administration attempts to provide care with inadequate staff and resources," said Babineau.
MSNA represents over 2000 bedside nurses throughout Maine. NNU is the largest union of registered nurses in the country, with over 150,000 members nationwide.