Press Release
MedStar Washington Nurses Demand Optimal PPE and Denounce as Unsafe the Battelle So-called "Decontamination" Process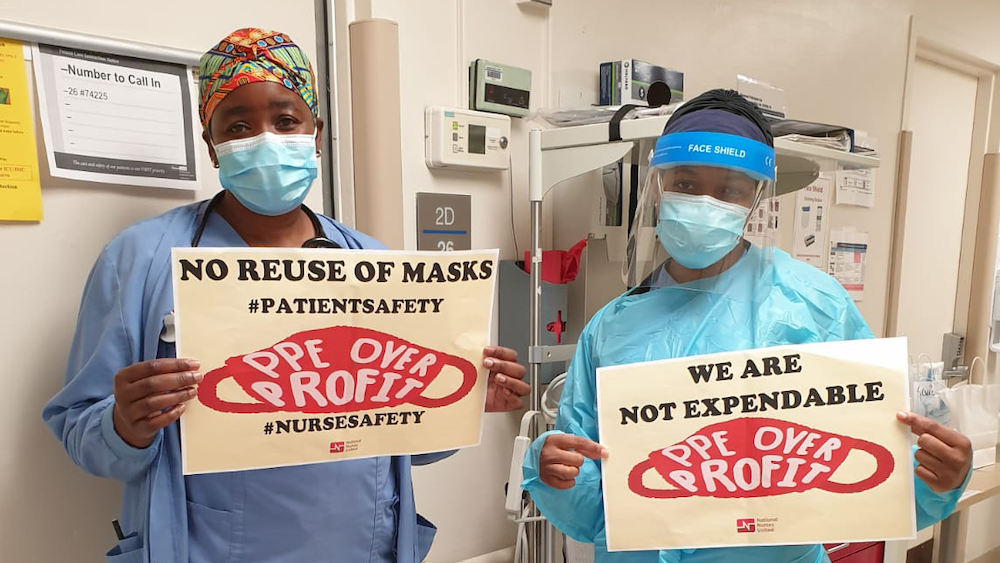 Nurses charge lack of testing and substandard PPE puts patient safety and public health at risk
Registered nurses at MedStar Washington Hospital Center (MWHC) will hold a press conference Thursday, July 23 to demand that optimal PPE be provided to the RNs and that the hospital abandons the Battelle so-called "decontamination" process for N95 respirators which leads to the use of unsanitary and soiled masks, announced National Nurses United today (NNU). The hospital is also not meeting the testing needs of its staff and has other infection control deficiencies, said nurses.
When nurses are not properly protected by optimal PPE and infection control practices, they can fall ill and aren't able to care for patients. Worse yet, they can become a source for spreading the disease to other patients, coworkers, families, and communities.
"I feel like we are being experimented on when we are told to use these processed N95s," said Erica Jones, RN. She notes that when she was forced to reuse a processed, soiled N95 respirator mask, she suffered several asthma attacks. "I started wheezing, coughing, I had shortness of breath, and chest tightness. I had to use my inhaler five times; usually I don't use it at all."
What: RNs Demand MWHC end use of Battelle so-called "decontamination" process for PPE  
When: Thursday, July 23, 10 a.m. ET
Where: MedStar Washington Hospital Center
              Corner of 1st,, NW and Irving Street, NW,  Washington, D.C.
This event will be livestreamed on National Nurses United's Facebook page.
NNU has examined the available evidence and warns that "decontaminating" and reusing N95 filtering facepiece respirators is unsafe.
"There is no scientific evidence that any decontamination method is both safe and effective," testified Bonnie Castillo, RN and executive director of NNU before federal lawmakers. "But the FDA pushed through emergency use authorization to bypass normal safety regulations and the Pentagon awarded a $415 million federal contract to Battelle to use nurses as guinea pigs on these untested systems."
Nurses at MWHC report that processed masks are often soiled with make-up, or other spots, appear dingy, misshapen, and smell of chemicals. Nurses say they have had to argue with managers to get new PPE and are often forced to care for patients without optimal PPE.
There have been numerous reports of nurses not being fit-tested for their N95 respirators and not having access to N95s of the appropriate size. The hospital recently announced a pilot program that would have nurses reuse their PPE for an entire week.
To date, more than 50 nurses at MWHC have contracted COVID-19. In April, 54-year-old Helen Gbodi, RN died after she became ill caring for an infected patient at MWHC.
Yuhana Gidey, RN was one of at least six other nurses in her unit who became ill with COVID after they cared for an infected patient without the proper PPE. She says the moment she heard she was positive, she immediately began to worry for her patients and her family.
"I don't understand why Washington Hospital is not doing everything it can to get us the PPE we need," said Stephanie Sims, a registered nurse in the neonatal intensive care unit. "We are being asked to risk our well-being, and the well-being of our communities when it is not necessary. We know how to protect ourselves from infectious disease. Certainly, it makes no sense to abandon long-held infectious disease controls in the midst of a pandemic that has claimed the lives of 603,000 people across the world."
In addition, nurses say the hospital is not offering nurses testing unless they are showing symptoms of illness. They are calling on the hospital to offer testing to any health care worker who is asking for a test and they point to studies that indicate peak infectiousness with COVID-19 occurs during the pre-symptomatic phase.
"Without access to on-demand testing, we increase the potential for exposing our coworkers, our patients, and our communities," said Gidey.
"I feel like I genuinely have lost faith in Washington Hospital administrators," said Jones. "Throughout this pandemic, the administrators have ignored emails, ignored requests for information and requests to meet. You know they are reading what we are sending, but they are not giving us the courtesy of a reply."