Press Release
Medicare for All bill applauded by National Nurses United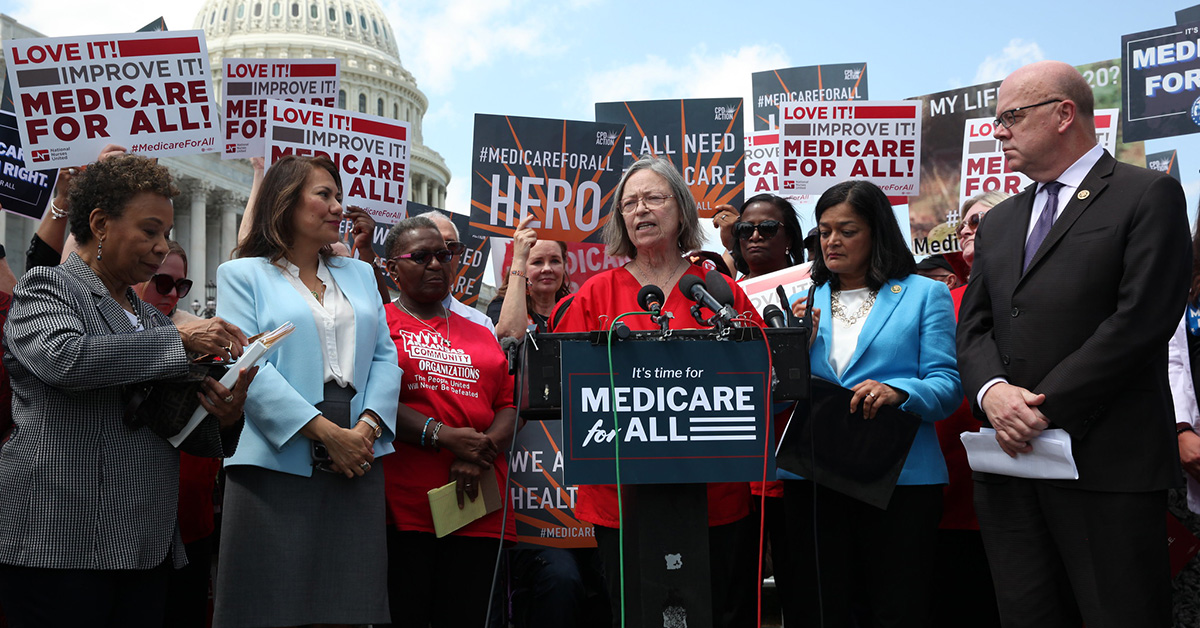 Today Sen. Bernie Sanders, Rep. Pramila Jayapal, and Rep. Debbie Dingell introduced Medicare for All legislation in Congress
Nurses across the country applaud the reintroduction of Medicare for All legislation in Congress today by Sen. Bernie Sanders (I-Vt.) in the U.S. Senate and Rep. Pramila Jayapal (D-Wash.) and Rep. Debbie Dingell (D-Mich.) in the U.S. House of Representatives. The bill has 112 original cosponsors in the House and 14 original cosponsors in the Senate. National Nurses United (NNU), the nation's largest union and professional organization for registered nurses, has long supported Medicare for All in order to achieve guaranteed health care for every person living in the United States.
Last night Nancy Hagans, RN and a member of NNU's council of presidents, spoke at the Medicare for All town hall hosted by Sen. Bernie Sanders and Rep. Jayapal at the U.S. Capitol Visitor Center in Washington, D.C.
"In my 35 years working as a nurse, I've seen a lot of patients suffer because they didn't have health insurance," said Hagans at the Medicare for All town hall. "I've seen a lot of patients who have health insurance, but who couldn't afford the costs of high deductibles and copays, so they didn't get the care they needed. I've seen a lot of people forced to choose between taking their medications and putting food on the table. The current system discriminates based on your ability to pay, what kind of job you have, or if you have a job at all. It's a disgrace. As a nurse for more than three decades, I know without any doubt — we must have Medicare for All"
"The American people understand, as I do, that health care is a human right, not a privilege," said Sanders, Chairman of the Senate Health, Education, Labor, and Pensions Committee. "It is not acceptable to me, nor to the American people, that over 85 million people today are either uninsured or underinsured. As we speak, there are millions of people who would like to go to a doctor but cannot afford to do so. That is an outrage. In America, your health and your longevity should not be dependent on your bank account or your stock portfolio. After all the lives that we lost to this terrible pandemic, it is clearer now, perhaps more than it has ever been before that we must act to end the international embarrassment of the United States being the only major country on earth to not guarantee health care to all."
"We live in a country where millions of people ration lifesaving medication or skip necessary trips to the doctor because of cost," said Jayapal. "Sadly, the number of people struggling to afford care continues to skyrocket as millions of people lose their current health insurance as pandemic-era programs end. Breaking a bone or getting sick shouldn't be a reason that people in the richest country in the world go broke. There is a solution to this health crisis — a popular one that guarantees health care to every person as a human right and finally puts people over profits and care over corporations. That solution is Medicare for All — everyone in, nobody out. I'm so proud to fight for this legislation to finally ensure that all people can get the care they need and the care they deserve."
"Every American has the right to health care, period. If you're sick, you should be able to go to the doctor without being worried about the cost of treatment or prescription medicine. The United States is the only industrialized nation in the world that doesn't guarantee all its citizens access to health care," said Dingell. "The Covid-19 pandemic didn't create the flaws in our health care system, but it brought to light many of the shortcomings that have caused unnecessary and preventable hardship for countless American families for decades. We've been fighting this fight since the 1940s, when my father-in-law helped author the first universal health care bill. It's time to get this done."
"The primary responsibility of registered nurses is to protect the health and well-being of our patients," said Deborah Burger, RN and a member of NNU's council of presidents. "We strive to provide safe, therapeutic care at the bedside, but this is made increasingly difficult by our country's broken health care system. Under our current system, the basic health needs of tens of millions of people go unmet, while large insurance, hospital and pharmaceutical corporations soak up billions of health care dollars. As a result, the system doesn't work. Congress must pass the Medicare for All Act, and finally guarantee health care as a right to everyone."
---
National Nurses United is the largest and fastest-growing union and professional association of registered nurses in the United States with nearly 225,000 members nationwide.