Press Release
Maine Union Members Gather in Support of Bernie Sanders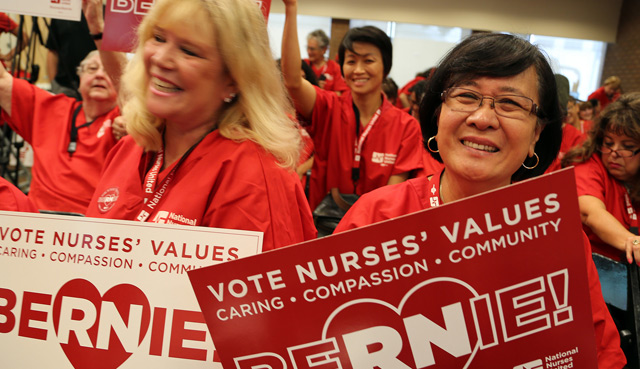 On Saturday, January 23, union members will gather in Portland in support of Senator Bernie Sanders for president of the United States.  Hosted by National Nurses United (NNU) and the International Brotherhood of Electrical Workers (IBEW) Local 2327, whose organizations have endorsed Sanders, the meeting is open to all union members.
"Bernie Sanders is one hundred percent in alignment with what matters most to workers.  Bernie has the best track record of all the presidential candidates in voting for and advocating for legislation that is pro-worker and pro-union. He actively supports labor unions, our right to organize and fight for a better for ourselves and our families," said Peter Keefe, President of IBEW Local 2327.
Union members say their support for Sanders lies in his championing of issues that matter most to working people: healthcare for all, jobs at a living wages, fighting income inequality, education opportunities, environmental justice and racial justice. Specifically, Sanders has been outspoken in his strong opposition to the Trans Pacific Partnership (TPP) and believes in holding Wall Street accountable with a vision for economic justice—including free tuition for all four-year public colleges funded by a Robin Hood Tax on Wall Street.
What: Maine Union Members Gather in Support of Bernie Sanders
When: January 23, 3 p.m.
Where: Irish Heritage Center, 34 Grey Street, Portland, ME 04102
"Caring, compassion, and community. These are the values at the heart of registered nursing. This is true at the bedside, as nurses advocate for patients and families—and also beyond the walls of the hospital, as RNs call for economic justice in the name of public health. National Nurses United, which represents 186,000 nurses nationwide, seeks to uphold that positive vision for the health of this country by endorsing Senator Bernie Sanders for president," said Liz Faraci, RN and member of the Maine State Nurses Association/National Nurses Organizing Committee/National Nurses Unites (MSNA/NNOC/NNU).
Speakers will include National Nurses United Political Director Ken Zinn, State Senate Candidate and former Senate President Troy Jackson, and staff from the Bernie Sanders campaign.