Press Release
Maine RNs Hold Vigil for Safe Staffing Wednesday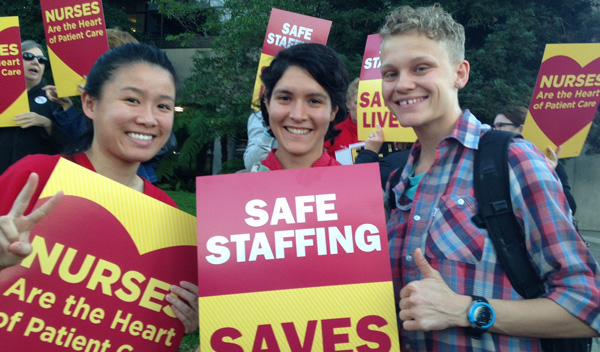 This Wednesday, members of the Maine State Nurses Association/National Nurses United will hold a vigil in support of safe staffing at Maine Coast Memorial Hospital.    
Nurses and professional staff at Maine Coast Memorial Hospital have been seeking provisions in the contract that would protect safe, effective and therapeutic patient care.  MSNA/NNOC has proposed that MCMH guarantee safe staffing through minimum nurse-to-patient ratios throughout the hospital. 
Safe staffing greatly reduces the number of medication errors, hospital acquired infections, bedsores and falls.  Safe nurse-to-patient ratios also save lives. A study, published by the influential policy journal, Health Services Research, was conducted by University of Pennsylvania researchers led by Linda Aiken, RN, Ph.D., director of the Center for Health Outcomes and Policy Research at the University of Pennsylvania School of Nursing.  The study shows that minimum nurse-to-patient ratios reduce patient mortality rates, assure nurses more time to spend with patients and promote retention of experienced RNs. http://www.calnurses.org/media-center/press-releases/2010/april/the-evidence-is-in-california-rn-to-patient-ratios-save-lives.html
What: Maine Registered Nurses Vigil for Safe Staffing
When: Wednesday, May 11, 4-6pm
Where: Corner of High and Maine Street (the green), Ellsworth (Route 1)
"We want to incorporate specific staffing levels into the new contract; staffing levels that reflect scientifically proven levels of patient safety. The MCMH administration opposes this. It doesn't want to be held accountable for putting safe levels of staff on every shift of every unit each and every day. We are held accountable for every patient interaction, every word we document, and every drug we administer, yet, our administration seeks to avoid accountability for safe staffing," said Bruce Becque, RN at MCMH.
 "We are publicizing this issue due to our overflowing frustration. Our professional training includes assessment and clinically-proven resolution of problems. However, our collective assessment of this problem - frequent unsafe staffing - has fallen on the deaf ears of our lead administrators. We believe that our administration is not fulfilling our Mission Statement of "Improving our communities with excellence in healthcare," said Becque.
MCMH, which is now affiliated with Eastern Maine Health Systems, has not agreed to these safety provisions.