Press Release
By Huge 57% Margin, RNs at Maine's Largest Hospital Vote to Form First Ever Union with Maine State Nurses Association/NNU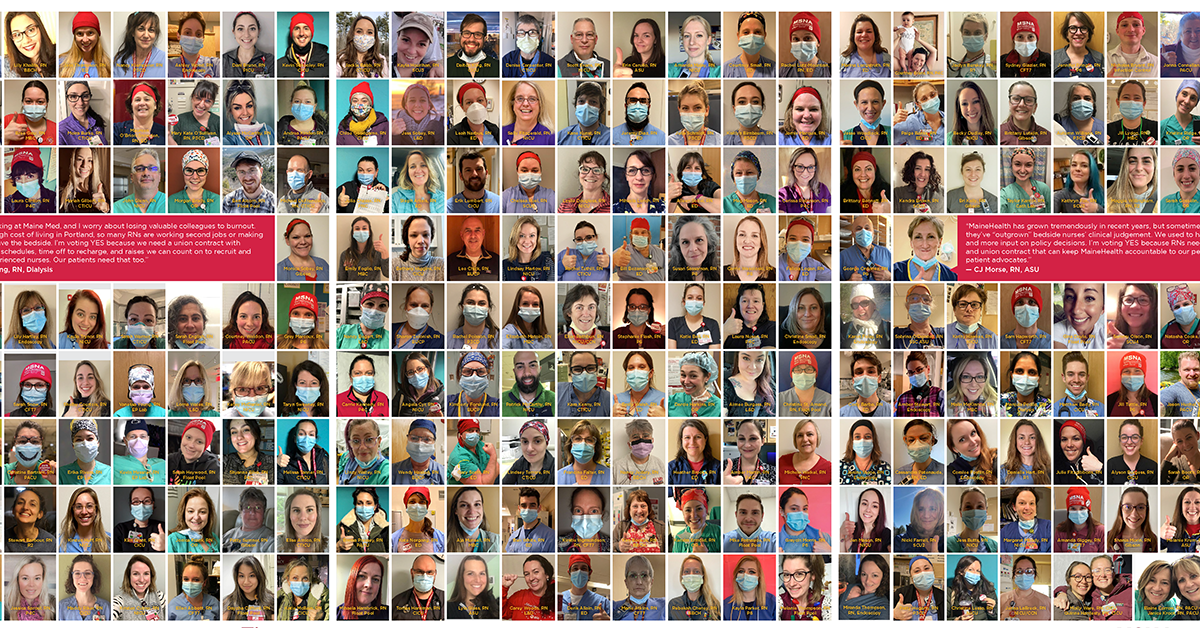 By a huge 57 percent margin, registered nurses at Maine's largest hospital, Maine Medical Center (MMC) are joining the Maine State Nurses Association/National Nurses United.
The Maine Med RNs voted 1,001 to 750 in a mail ballot election counted by the National Labor Relations Board, to form their first ever union. MSNA will now represent 2,000 RNs at Maine Med, the Scarborough Surgery Center and the MMC Brighton Campus in Portland.
"It's a new day for nurses and patients across Maine," said MSNA President Cokie Giles, RN. "I am thrilled for my colleagues at Maine Med and for their resolve to win a collective voice for their patients and their community. And I look forward to working with you for a future of high-quality patient care for all Maine residents."
Giles, who is also a vice president of NNU, called on Maine Med's administration to "respect the democratic vote of the RNs, and begin working with them to negotiate its first collective bargaining agreement that would be in the best interests of the hospital, the nurses, and the community."
"This is a dream come true, to bring us the unified strength we need to improve patient care conditions and workplace standards at Maine Med," said Maine Med Mother Baby RN Jackie Fournier.
NNU Executive Director Bonnie Castillo, RN praised the RNs. "Your courage to stand up and speak out for your patients and community in the face of the most serious threat to your own health and safety amid the worst global pandemic in a century has inspired nurses across the country. We could not be more impressed with your accomplishment."
"We are proud to welcome Maine Med nurses to the NNU family," said NNU President Jean Ross, RN. "Your votes, your voices today will be heard by nurses coast to coast. Like your NNU colleagues in recent months in North Carolina and North Dakota, you have sent an unmistakable signal that nurses can win for their patients, their families, and their colleagues anywhere."
The RNs cited growing concerns about inadequate staffing, mandatory scheduling that requires nurses to rotate between working days and nights that they say leads to burnout and fatigue, lack of meal and break relief, assignments to work in units for which they do not have clinical experience and proper orientation, and other workplace improvements and standards.
Noting how the nurses lost another attempt to form a union two decades ago, Float Pool RN Julia Koger said that, since then "we've fallen behind on staffing, working conditions, and other benefits. This has only contributed to worsening retention. Meanwhile, nurses at union hospitals have been able to protect what they have and bargain for improvements. Nurses and patients at Maine Med deserve nothing less than that same right to bargain collectively."
"MaineHealth has grown tremendously in recent years, but sometimes it feels like they've 'outgrown' bedside nurses' clinical judgement," said Maine Med Ambulatory Surgical Unit RN CJ Morse. "With a union and a union contract, RNs will have a real voice and we can hold MaineHealth accountable to our perspective as patient advocates."
"As registered nurses, we can't do our jobs properly without support from CNAs, techs, housekeeping, and so many others," said Schola Mwangi-Walker, RN in the Inpatient Medical Psychiatry Unit. "Having a union will empower us to be strong advocates for all frontline staff at Maine Med. My previous hospital was a union hospital, and we always had the ability to advocate for our staff."
Maine Med RNs also expressed thanks to Gov. Janet Mills, Senate President Troy Jackson, Rep. Michael Sylvester, the Maine State AFL-CIO, and many patients and community members for their words of encouragement during the campaign. "Your incredible support touched our hearts and encouraged us. It gave us hope for what we could achieve for our patients, ourselves, our colleagues, and was a model for all nurses in Maine," said Emergency Department RN Michelle Burke.
In mid-March, Jackson sent a letter to hospital officials signed by more than 60 other state lawmakers, criticizing the aggressive harassment of the nurses by hospital managers and high-priced Florida anti-union consultants.
In a commentary in the Portland Press Herald March 19, Jackson wrote, "Like most workers looking to organize, the nurses aren't asking for much. All they want is fair wages, better hours, safe working conditions and a seat at the table. They're not alone. Workers across Maine and the U.S. are joining or forming unions because of the pandemic… It's about having the power to speak out when things get tough and push back against policies that lead to burnout and high turnover rates. This is especially true for health care."
Under the banner "Friends of Maine Med Nurses" community supporters issued their own public letter in March. "Nurses give their all. They are the constant at Maine Med. They are the backbone… Nurses stand up for us and our loved ones, they answer our questions, they heal our kids, they explain procedures or medicines we struggle to understand, and they become part of our families … They put patients first, but too often they are not given the respect they deserve. Nurses advocate for us. The stronger our nurses feel, the better our health care will be."
With the huge organizing win at Maine Medical Center coming on the heels of the organizing victory for 1,800 nurses in North Carolina in September, and other recent union wins, NNU reinforced its role as one of the fastest growing unions in the U.S. Overall, NNU represents more than 170,000 RNs from coast to coast.