Press Release
Los Angeles nurses demand Nursing Executive Officer accountability to protect patients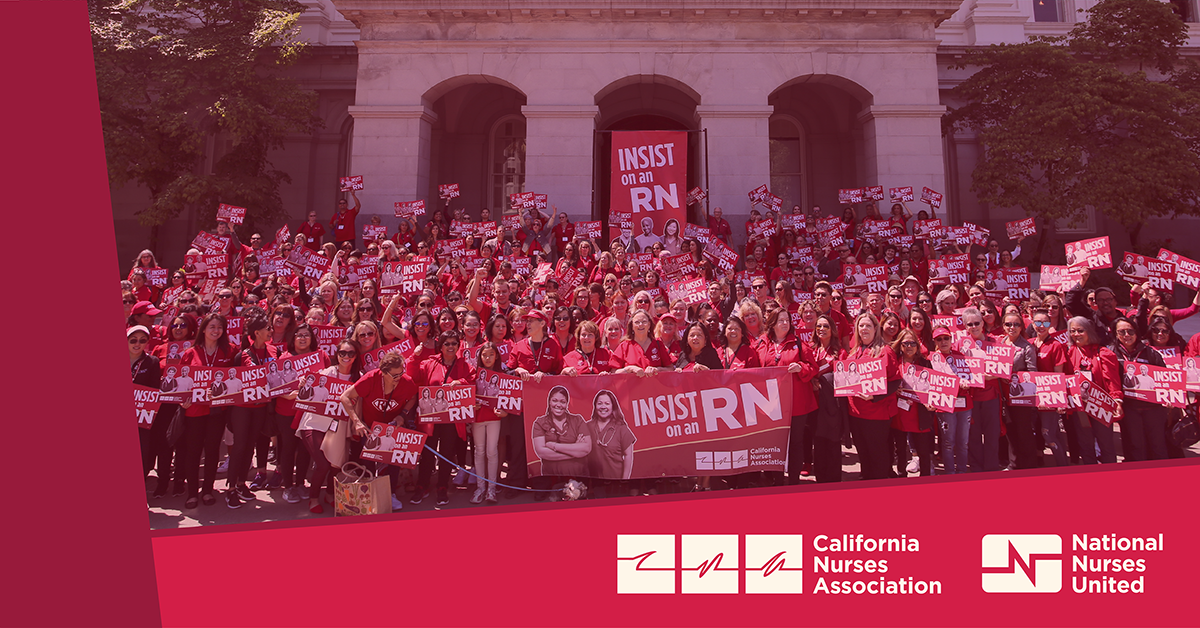 RNs at California Hospital Medical Center are speaking out about management's refusal to address concerns about patient care and the reduction of care services.
Registered nurses who work at Dignity Health's California Hospital Medical Center (CHMC) in Los Angeles, Calif., will hold a rally and speak-out on Monday, Nov. 6, to demand accountability and immediate course correction of the Chief Nursing Executive Officer (CNEO), announced California Nurses Association/National Nurses United (CNA/NNU) today. The problems created by the current management of CHMC are not new, but nurses say they have now reached a boiling point as they grapple with a staffing crisis that results in long delays for patients, even longer delays for emergency room admission, and delayed and missed care across the hospital.
Over the past year, CHMC employees have been meeting with senior management about their refusal to implement necessary changes to improve patient safety and working conditions as well as their abusive behavior and toxic work environment. The RNs say they have received no support from the current management team and have delivered a petition of no confidence in the CNEO to management. Now, they are prepared to speak out publicly.
"At every turn, we have told our leaders that we want to be able to provide safe care to our patients because their care matters," said Gabriella Ortega, RN in the facility's postpartum unit. "We want the conditions to safely care for them and are tired of the corporate greed we encounter daily that makes providing safe care extremely challenging."
Who: Nurses from California Hospital Medical Center
What: Rally and speak-out
When: Monday, Nov. 6, at 6:30 a.m. to 8:30 a.m.
Where: California Hospital Medical Center, 1401 S. Grand Ave., Los Angeles, (in front of Hospital, on Grand)
"This is my community, and we deserve access to safe and high-quality healthcare," said Heather Henry, RN in the CHMC emergency room.
As a result of chronic mismanagement, nurses say the medical-surgical and telemetry units operate with little to no ancillary support and an over-reliance on travel RNs to staff the units, a temporary solution to the staffing crisis. The emergency room holds some patients for over 24 hours as patients must wait for an available RN for hospital admission, a direct result of management's staffing crisis. Labor and delivery health services are operating at a fraction of the staffing they once were, with labor and delivery unit staffing being only one-third of what it used to be, including the loss of midwifery care.
Rather than taking proactive steps to ensure a safe workplace, nurses say CHMC management has shirked their responsibility by telling RNs to simply do more with less. CHMC management has also invested in virtual monitoring services in place of certified nursing assistants, shifting care models to save money instead of investing in safely staffing the hospital.
A petition of no confidence signed by an overwhelming majority of RNs in the medical center and delivered to CHMC management on Wednesday, Aug. 23, stated: "The CNEO plays a critical role with: ensuring patient safety by providing all appropriate nursing personnel, resources, and education; articulating and implementing a clear vision for nursing; forging strong employee and employer relations; and ensuring employee retention by way of employee satisfaction. We have lost confidence that our CNEO can meet and consistently achieve these goals."
---
California Nurses Association/National Nurses United is the largest and fastest-growing union and professional association of registered nurses in the nation with 100,000 members in more than 200 facilities throughout California and nearly 225,000 RNs nationwide.