Press Release
Los Angeles County public hearing Wednesday—Emergency Services Commission Amid pandemic, nurses to urge LA County to press Alecto, UCLA to keep Olympia Medical Center open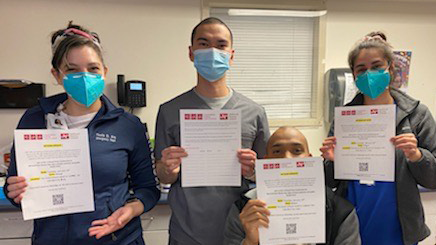 At a public hearing by the Los Angeles County Emergency Services Commission (EMS) Wednesday morning, registered nurses will call on Los Angeles County officials to step up pressure on Alecto Health Services and UCLA Health to keep Olympia Medical Center open at least for the duration of the Covid-19 pandemic, with no break in service, announced California Nurses Association/National Nurses United today.
Alecto, a private corporation, is planning to close Olympia by March 31. UCLA has purchased the property but has not committed to maintaining the hospital as a full-service acute care facility despite the ongoing pandemic surge that has devastated Los Angeles County.
The EMS public hearing, which is required by law, is scheduled Wednesday morning from 10:30 a.m. to 12:30 p.m. It is open to the public via Zoom, according to a county announcement, at https://zoom.us/j/97629206925?pwd=dWc0YllxcmUrdkNwc1hsNzBuZmdLQT09
Zoom dial-in: 1-669-900-9128 ~ Meeting ID: 976 2920 6925 ~ Passcode: 938574
RN members of the California Nurses Association intend to speak at the hearing and call on the county to exhaust all avenues—political, economic, and legal—to insist the hospital be fully maintained to protect public health and safety.
"Alecto is jeopardizing the health and safety of tens of thousands of people with this unconscionable decision to close Olympia when people are dying of Covid every day in Los Angeles," said CNA President Zenei Triunfo-Cortez, RN
"Unless UCLA directly intervenes to keep the hospital open, either by funding Alecto to continue operation, or assuming full operation of the facility itself, UC will share in responsibility, and complicity, for the closure," Trinfo-Cortez added.
The surge is far from over with at least 8,000 deaths in Los Angeles County just since Halloween. Olympia has continued to care for dozens of Covid-19 patients, after recording more than 25,000 emergency room visits in 2019.
"The idea of closing a hospital in Los Angeles in the middle of this pandemic is incredibly unsafe, shortsighted and morally reprehensible, said UCLA Emergency Department RN Marcia Santini. "Los Angeles County is the epicenter of this pandemic. "We are seeing patients getting sicker and dying at a devastating rate.
"How could UCLA as a world class health care institution possibly think that leaving our most vulnerable population at this most desperate of times without care and services be a part of their plan for improving community care?" asked Santini. "As nurses, we do our absolute best to provide excellence of care for our patients and our communities – we demand that UCLA management do the same."
In a Jan. 11 letter to Olympia's CEO Matt Williams, LA County EMS Director Cathy Chidester wrote that "the voluntary closure of OMC during this crisis is irresponsible and will cause further hardship on the healthcare system" and called for a delay of the closure "for a minimum of six months."
Closure will have a have a disproportionate impact on low income and patients of color, nurses note. According to Medicare cost reports, about 60 percent of Olympia's admitted patients were covered by Medicare, and almost 30 percent covered by Medi-Cal. Some 40 percent of admitted patients were Black, and some 63 percent of patients were over the age of 60.
Under state law, prior to closure of emergency services, public agencies are required to receive a report on the full impact of a closure, including community access to emergency care, and how that downgrade or closure will affect emergency services provided by other entities.
"If we close, it's going to overwhelm all the surrounding hospitals that are already struggling to care for all these patients," said Jorge Burruel, an intensive care unit RN at Olympia who has spoken with nurses at many nearby hospitals. "The ERs are full. There is not enough staff. The quality and timeliness of care is going to diminish. Olympia needs to stay open."