Press Release
Labor Day - Celebrating Nurse Victories Across the Country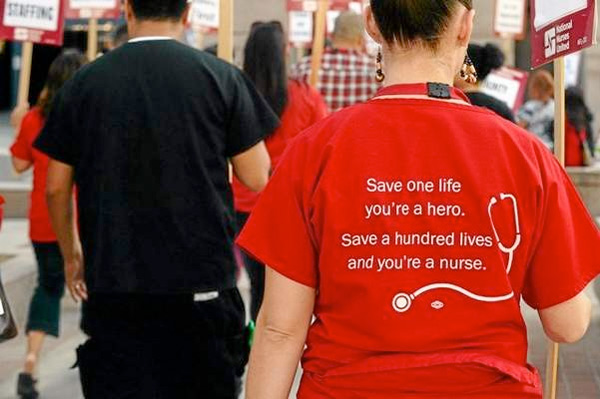 From California to Maine, RNs are gaining greater power at work
The Labor Day holiday has sadly become more about blow-out mattress sales and backyard barbecues than the original intent of recognizing the contributions of workers and labor unions in the United States. But nurses – the country's most trusted profession – are on the move and making news! The 150,000 RNs and health care workers of National Nurses United (NNU), the largest union and professional association of registered nurses in the country, have racked up a long string of labor accomplishments and victories from just this past year to celebrate. These include victories by NNU affiliates, such as the Minnesota Nurses Association (MNA) and California Nurses Association/National Nurses Organizing Committee.
Some of the nurses at these hospitals won their union elections in just a matter of weeks! Three of these facilities are located in so-called right-to-work states, where it is challenging for workers to unionize, and others are in areas of the country considered politically conservative and traditionally anti-union.
Talk to nurses and other health care workers about what it's like to work in the health care industry without union protections and what they hope to accomplish or have already accomplished now that they have a greater say in their workplace as union members.
Since January 2018, thousands of nurses and hospital workers at nearly a dozen facilities from around the country, including California, Arizona, Illinois, Maine, and North Dakota (affiliated with MNA) have successfully unionized. Here are a few of their responses to joining the union:
 "This is a great day for nurses as we will now have a real voice in making decision on how we care for our patients. Finally, our voices will be heard." –Shelly Perks, RN at Methodist Hospital of Southern California in Arcadia, Calif.
"I am so excited that we will now be able to advocate much more effectively for our patients."–Fawn Slade, RN at St. Joseph's Hospital in Tucson, Ariz.
"This victory is especially noteworthy because North Dakota has anti-union laws that discourage unionizing." –Lauren Buol, RN at CHI St. Alexius Medical Center in Bismarck, ND
"We are so proud to now be a part of this union with RNs and coworkers, and to have the power to stand up for ourselves, our patients and our community, just like they do."
–Katelyn Peakall, a radiology technologist at Calais Regional Hospital in Calais, Maine
To arrange an interview with a nurse, contact Chuleenan Svetvilas, 510-631-5337, Martha Wallner, 510-693-9155. For North Dakota, contact Rick Fuentes, 612-741-0662.
NNU has scored these wins in an era when both the Trump administration's hostile National Labor Relations Board and the U.S. Supreme Court via the 2018 Janus vs. AFSCME decision are openly attacking not only efforts by workers to unionize, but also existing unions.
On top of that, nurses are leading the grassroots fight to win Medicare for All to guarantee that every patient receives health care in the United States. Nurses are on the front lines and know that our health care system is failing. As political candidates continue to debate how to improve health care in this country, nurses are taking action by organizing strong RN unions to advocate for patients and fighting for health care as a human right.
National Nurses United is the largest and fastest-growing union and professional association of registered nurses in the United States with more than 150,000 members nationwide. NNU plays a leadership role in safeguarding the health and safety of RNs and their patients and has won landmark legislation in the areas of staffing, safe patient handling, infectious disease, and workplace violence prevention.