Press Release
Labor Board Sanctions Holy Cross Hospital for Multiple Violations of Nurses' Rights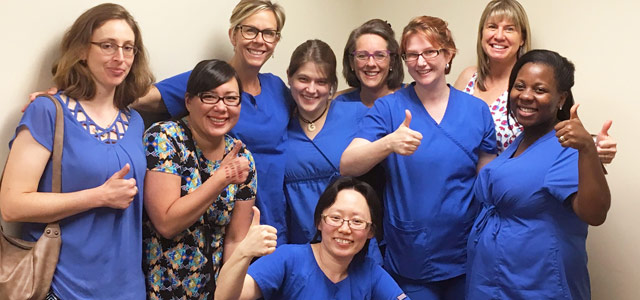 In a sweeping decision issued Friday, the National Labor Relations Board has ordered Holy Cross Hospital in Silver Spring, Md to "cease and desist" a broad range of attacks on the nurses' rights to discuss and seek union representation.
Administrative Law Judge Michael Rosas ruled that the hospital "engaged in at least eight instances of unlawful threats, coercion, and interrogation in violation" of federal law. The hospital was also found to have maintained unlawful policies prohibiting nurses from discussing union representation.
The decision follows a trial in Baltimore May 18-19 on unfair labor charges submitted by the National Nurses Organizing Committee/National Nurses United.
"We're thrilled with this ruling. It proves that Holy Cross Hospital management interfered with our right to advocate for patient safety. Now we can move forward to organize without fear and freely talk with nurses," said Nina Scott, an intensive care unit RN at Holy Cross.
Among key Rosas' findings, he determined that Holy Cross illegally committed:
"Threats of more onerous working conditions and/or loss of benefits" for Holy Cross RNs seeking NNOC/NNU representation.
"Coercive interference with protected, concerted activities," such as the hospital use of security officers to confront and intimidate RNs seeking to talk to their colleagues about a union representation campaign.
"Interrogation (by hospital managers to RNs) about protected, concerted activities" in a manner intended to harass and discourage employees from demonstrating "union sympathies."
"Surveillance and impression of surveillance of union activity" including photographing RNs participating in union activity.
This was not the first time Holy Cross has violated basic rights for RNs. Last month, the hospital had to return to work, with full back pay and accrued time off, an oncology RN, Edith Saffa, who was illegally fired in April for patient advocacy and support of the NNOC/NNU campaign.
The Holy Cross RNs have received wide community support in their efforts to raise their collective voices to improve patient care at the hospital.
Numerous members of the Maryland General Assembly, representing three-quarters of the Montgomery County legislative delegation, wrote Holy Cross Hospital to express appreciation and respect for the hard work of the nurses as both caregivers and patient advocates, and to urge management to "respect the rights of the registered nurses to organize" and decide whether or not to affiliate with the union "free from interference, harassment or intimidation."
Holy Cross Hospital, the eighth largest employer in Montgomery County, Md., is owned by, Trinity Health, one of the largest Catholic hospital corporations in the United States.