Press Release
Labor Board Finds Merit to Third Allegation That Johns Hopkins Violated Federal Law in Restricting Rights of RNs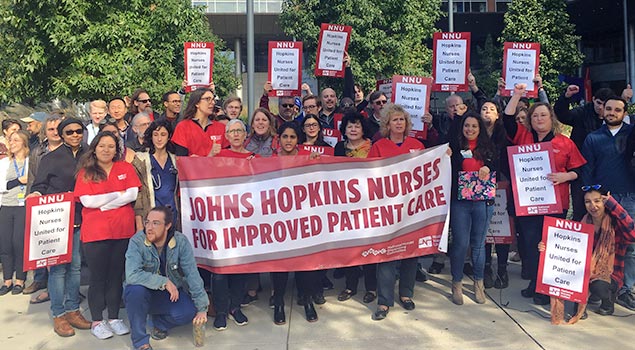 The National Labor Relations Board (NLRB) has determined there is merit to a third allegation that Johns Hopkins Hospital in Baltimore is violating federal labor law in restricting the rights of its registered nurses who are seeking union representation, the National Nurses Organizing Committee/National Nurses United (NNOC/NNU) announced today.
The new charge comes on the heels of two previous allegations of labor law violation that were found to have merit and are currently being investigated by Baltimore-based NLRB region 5. To date, the allegations found to have merit are:
The creation of the impression of surveillance and unlawful interrogation (most recent),
Promulgating and/or enforcing a rule barring off-duty RNs access to break rooms, outside patient care areas, in connection with union activity, and
Prohibiting Hopkins RNs from talking about the union at work, while permitting other non-work conversations.
If Johns Hopkins officials refuse to agree to a settlement, the NLRB will issue a formal complaint against the hospital.
"We urge the hospital to live up to its own reputation by supporting nurses in our right to become even better patient advocates by forming a union," said Janet Orlin, RN, Leukemia IMC. "The merit finding on this third allegation validates what RNs have been saying. Nurses are simply exercising our legal right to seek union representation, and management is acting unethically or unlawfully in trying to stop us. On behalf of our patients, we call on Johns Hopkins to do better."
Regarding this most recent charge, NNOC said the Johns Hopkins management has created the impression of surveillance of protected union activity, which nurses say can have a chilling effect on organizing to improve patient care and staffing, as well upgrade substandard economic standards and workplace conditions.
"Nurses are organizing to better advocate for our patients, which is our legal right, and also, our moral right," said Derek Jannarone, RN, Comprehensive Transplant Unit. "It's unconscionable that management has spent so much money on professional union busters, trying to prevent nurses from strengthening our collective voice. Instead of investing millions in union busting, Johns Hopkins should be investing in patient care."
Johns Hopkins nurses held a press briefing on October 31, about the initial allegations found to have merit, regarding the hospital engaging in illegal interference with RNs rights under federal labor law, according to NNOC. The hospital is waging an aggressive campaign, spending millions of dollars, NNOC alleges, on anti-union efforts, that appear to violate legally protected workplace rights.
Inadequate conditions and other standards, compared to other nationally recognized university hospitals, have led to high turnover and eroded patient care protections and employee morale, say Johns Hopkins RNs.
"Nurses are organizing because a collective voice is what enables us to better advocate for safe staffing, for patient protections, for recruiting and retaining experienced RNs for the community served by Johns Hopkin," said Madeleine Barab, RN, Cardiovascular Progressive Care Unit. "So these actions by Johns Hopkins management are not just disappointing for us nurses, but they are a disappointment to the wider community, and to all the patients who benefit from our care."
"Johns Hopkins RNs are not going to be deterred. Nurses deal with stressful life and death situations every day; by nature, we are strong. But my colleagues and I should not have to be faced with intimidation and misinformation at work," said Holly Bracher, RN, Medical Progressive Care Unit. "Our concern is simply providing the highest quality of patient care, and we call on the hospital to support its nurses, not to try to divide and intimidate us, as we organize a strong union to best provide that care."
National Nurses United is the largest nurses' union and professional association in the U.S., representing 150,000 registered nurses.