Press Release
Kaiser, Sutter Santa Rosa RNs Help Evacuate Wildfire Patients, While Also Facing Personal Losses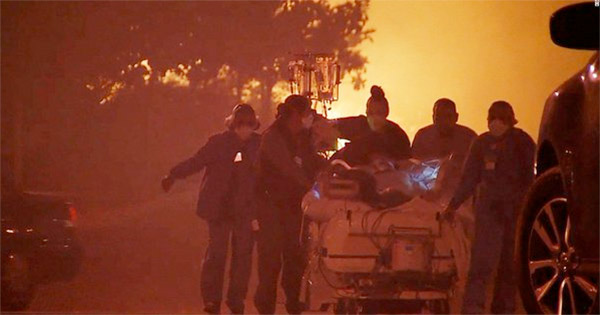 RNs Concerned About Available Burn Units Post-Closures
As a series of wildfires raged in Napa and Sonoma counties Monday, registered nurses at Kaiser Santa Rosa and Sutter Santa Rosa found themselves in the position of both first responder, helping to evacuate patients, and disaster victim, with 15 RNs having also lost their homes—as RNs at surrounding hospitals, and volunteer nurses from as far away as San Jose, stepped up to help provide care.
At the same time, nurses are concerned about adequate availability of burn units in the immediate Bay Area, following many closures over the past 15 years, to treat fire victims, said the California Nurses Association/National Nurses United (CNA/NNU).
One of the best burn units in the region was at the Doctor's San Pablo hospital, which closed even before the hospital did in 2015. St. Francis Hospital in San Francisco is the only specialized local burn unit today in the immediate area, with just 16 beds, "hardly sufficient when a disaster of this magnitude hits," said Deborah Burger, a Kaiser Santa Rosa RN who is also co-president of CNA and NNU.
"There are no current burn units in at Kaiser, Sutter or the University of California San Francisco medical centers. This is where the regional consolidation of services the hospital industry so touts simply doesn't work," Burger said.
As of Monday afternoon, 80 patients had been evacuated from Sutter Santa Rosa and 130 patients from Kaiser Santa Rosa, with many of the Kaiser patients taken to Kaiser San Rafael. 
"In the face of this disaster, with RNs also being personally impacted, we're so proud of the heroic nurses who helped in the process of evacuating patients to surrounding hospitals," said Burger.  "And we also know our nurses at those surrounding hospitals banded together and worked extra hard to care for their colleagues' patients."
The Registered Nurse Response Network (RNRN), a disaster relief project of National Nurses United, is currently monitoring the wildfires, with a potential of sending in additional volunteer nurses from surrounding areas to help. NNU's RNRN already has already sent 50 volunteer RNs to Puerto Rico to provide disaster aid there following Hurricane Maria.
Kaiser Santa Rosa ICU RN Julayne Smithson was among the CNA RNs responding to the fires, as well as suffering personal loss .  "The hospital was filling with smoke for about two hours before we finally evacuated; it was quite the disaster," said Smithson, who was featured in a video widely shared online, evacuating an ICU patient, with fire looming in the background. Smithson, who recently moved to Santa Rosa from Indiana, lost a new home she had just purchased a few weeks ago.
"I worked all night, and then this morning, everything was so chaotic, and I didn't have anywhere to go. So I went to Santa Rosa to volunteer," said Smithson. "I worked there until 2 p.m, and then one of the managers let me into her home.  I'm going to go back and work the night shift."
"This level of disaster is a new one for us," said Kaiser San Rafael RN Beatrice Immoos, who was on shift when buses and ambulances began arriving with evacuated Santa Rosa patients. "It was very emotional, but there was a lot of resolve. Every day, nurses are always working with the common goal of taking care of our patients, and in a disaster, it's just even more hands on deck of working to get them the best treatment."
According to Immoos, a number of Kaiser Santa Rosa nurses, like Smithson, came to the San Rafael facility themselves—both to volunteer, and also because they had lost their homes and workplaces and had nowhere else to turn.
"Because we are like family, [Kaiser San Rafael nurses] are helping to put up our Santa Rosa colleagues, with room and board," said Immoos, explaining that nurses who were not scheduled and nurses from other cities also stepped up to help. "Many nurses have been coming in off shift, nurses are staying over to make sure we're getting adequate coverage. It was so touching to see nurses come all the way from San Jose to help us. I can't thank them enough.  Nurses help one another, and that was very obvious today."
Nurses also served a reminder about the correlation of the intensity of the wildfire disaster to the escalating climate crisis. Climate change has resulted in higher spring and summer temperatures, dry areas becoming drier, and once wildfires are started, they become more intense and longer burning, as the Union of Concerned Scientists has warned.
"As nurses, we look to the affects of climate change and how that's going to change the intensity of storms, the intensity of weather patterns and fires like this," said Burger.
With increased frequency and severity of disasters, it's really going to change how we're able to deliver care," said Burger, noting that the RN Response Network has already been busy just in the past month, deploying nurses to hurricane stricken Texas and Puerto Rico—and now potentially to Napa and Sonoma Counties.
"We must of course provide immediate response to protect patients, and all area residents in the face of disasters like this," said Burger. "But nurses will continue to urge elected officials to end policies of climate denial and act, for the health and safety of patients, and our planet."