Press Release
Kaiser RNs/NPs Ratify New Accord, Cite Safe Staffing Gains, Protection of RN Standards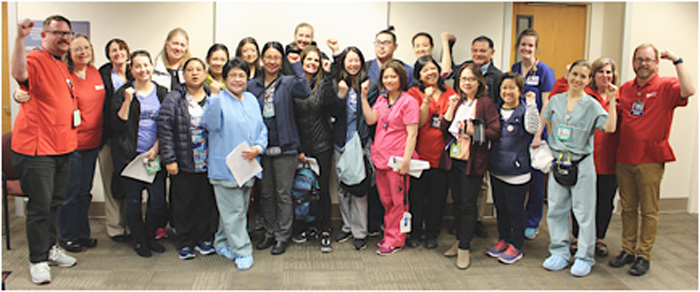 In a series of membership meetings held throughout Northern and Central California, Registered Nurses and Nurse Practitioners have voted overwhelmingly to ratify a new five-year collective bargaining contract that they say will improve patient care staffing protections, as well as securing existing RN health and pension coverage.
The new agreement covers 19,000 RNs and NPs who work at 21 Kaiser Permanente medical centers and dozens of medical clinics and office buildings in Northern and Central California. The California Nurses Association/National Nurses United represents them.
Approval of the accord, achieved in March, concludes nine months of bargaining and collective actions, including rallies, informational leafleting and a 99% strike authorization vote in February.
"Protecting the economic security of our future RNs is essential to defending the health of everyone who will be a patient today and tomorrow," CNA Executive Director Bonnie Castillo said. "This agreement gives us a strong foundation for health security for Kaiser nurses and patients for the next five years in a turbulent time of health care in our state and nation."
Under the new contract, Kaiser has agreed to hire 150 new RNs, 106 of them within the next 90 days, to assure safe and proper staffing as Kaiser transitions to a new computerized patient classification system.
"We made very positive strides towards safer care by achieving the addition of new RN resource positions as part of this agreement," said Diane McClure, Kaiser South Sacramento RN. "We know that the care of our patients will benefit with the addition of these nurses who can supplement the current staffing levels with an extra set of hands to help in busy and difficult situations."
In response to nurse unity, Kaiser also agreed to withdraw demands for several onerous reductions in nurses' pensions and medical benefits, as well as major wage cuts for new RN and NP hires in the Sacramento region and California's Central Valley that would have implemented a divisive four-tier wage system.
"There was never a doubt that we would remain united against a wage proposal that would promote workplace divisions between current nurses and new RN graduates, and would have undermined future nurse recruitment efforts at a time when our RN workforce is aging," said Kaiser Santa Rosa RN and CNA-Co-President Deborah Burger.
The RNs and NPs also won the inclusion of Kaiser Patient Care Coordinator RNs, who coordinate care planning for patients after they are discharged, into the system wide contract with other Kaiser RNs and NPs.
After the previously non-union PCCs voted to join CNA in January, 2017, Kaiser fought their representation rights and incorporation into the protections won by other Kaiser RNs and NPs for months.
"This new contract includes the newly-represented Patient Care Coordinators, who now have the job protections and advocacy tools that come from being part of CNA, noted Zenei Cortez, Kaiser South San Francisco RN, CNA co-president, and chair of the nurse negotiating team.  "With that, all Kaiser nurses will be better able to advocate for our patients from admission to discharge, resulting in better care and safer outcomes."