Press Release
Johns Hopkins Nurses File Unfair Labor Practice Charge Alleging Hospital is Violating Federal Law by Interfering with Nurses' Right to Communicate Freely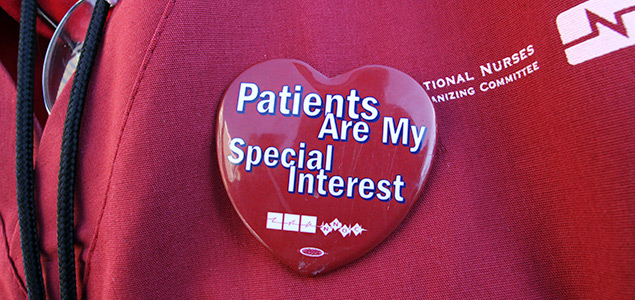 Baltimore, Maryland - Registered Nurses at the Johns Hopkins Hospital have charged the hospital with violating federal labor law by impeding nurses' legal right to discuss the benefits of unionization. The nurses charge they have been blocked from exercising their guaranteed legal rights to organize with National Nurses Organizing Committee/National Nurses United (NNOC/NNU) at Johns Hopkins Hospital.
"We are organizing at Johns Hopkins Hospital in order to provide the highest quality of care to our patients, and we are disheartened to see hospital management react in this manner," said Kate Phillips, RN, Medical Intensive Care Unit.
NNOC/NNU has filed the unfair labor practice charge with the National Labor Relations Board alleging unfair labor practices by Johns Hopkins Hospital management staff.  Nurses say on multiple dates, hospital management prevented them visiting other units on their days off to talk to other nurses who were on their breaks. The nurses say this is a clear violation of their federal rights to organize.  Furthermore, nurses say Johns Hopkins Hospital has hired anti-union consultants who are allowed free rein in the hospital to promote an anti-union agenda.
"Our patients deserve the best patient care from us but instead of investing in the nurses that provide the direct care, our hospital has diverted patient care dollars to professional union busters. It is a shame that my colleagues are subjected to misinformation and intimidation by labor consultants who roam our units falsely claiming to be neutral, " said Helen Paik, RN, Medical Intensive Care Unit.
NNOC/NNU was invited by Johns Hopkins Hospital nursing staff to assist those nurses in organizing. Nurses at Johns Hopkins began organizing with NNOC/NNU to address the chronic problem of high registered nurse turnover due to poor staffing and substandard compensation compared to other nationally recognized university hospitals. Nurses know that high turnover rates erode quality of care and overall morale.
NNOC is part of National Nurses United, the largest nurses' union in the country, representing 150,000 registered nurses.