Press Release
Johns Hopkins Nurses File New Unfair Labor Practice Charge Citing Retaliation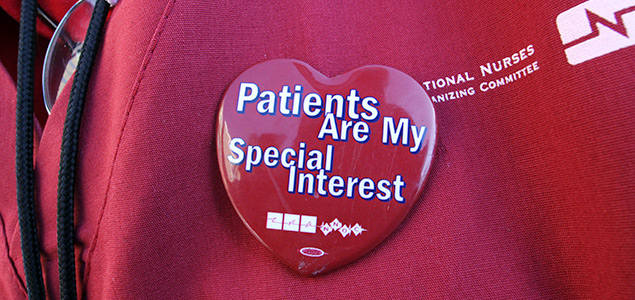 Nurses File Unfair Labor Practice Charge Alleging Johns Hopkins Hospital Violated Federal Law by Retaliating Against RNS Engaged in Protected Activities
National Nurses United/National Nurses Organizing Committee (NNU/NNOC) has filed an unfair labor practice charge with the National Labor Relations Board (NLRB), alleging Johns Hopkins Hospital violated federal law when it retaliated against registered nurses engaged in protected activities.
"It's wrong that rather than listening to nurses, Hopkins has maintained a culture of silence and retaliated against nurses when we try to advocate for our patients," said Vivian Obijekwu, BSN, RN. "As frontline caregivers, we know intimately what our patients need.  When the hospital silences nurses, they are essentially silencing our patients."
"We know we have a right to speak out to improve patient care and when the hospital violates this right, it threatens our ability to defend our patients.  As nurses we can't allow that to continue," said Kimberly Henriquez, RN, Oncology. 
One of the nurses named in the ULP is also pursuing a claim of race discrimination in addition to retaliation. The nurse, who is African American, reports that after she led a delegation of African American nurses to meet with management to promote fairness and equality in their unit, management treated her with escalating hostility. This pattern culminated in her termination earlier this month, just a few weeks after she requested FMLA, to care for her baby due in early May. 
In January, the NLRB decided to move forward with an earlier complaint against the hospital citing numerous alleged labor violations. A hearing is currently set for March 6 in Baltimore on those charges.
Johns Hopkins RNs began organizing to affiliate with NNU last year, after attempts to engage management on patient care issues were rebuffed. Management responded by investing millions of dollars in an illegal effort to thwart unionization. In December RNs released a unit-by-unit survey documenting extensive problems with patient care. To view the report visit:Johns Hopkins Hospital Patient Care Report
National Nurses United is the largest nurses' union in the country, representing 150,000 registered nurses. NNU plays a leadership role in safeguarding the health and safety of RNs and their patients and has won landmark legislation in the areas of staffing, safe patient handling, infectious disease and workplace violence prevention.