Press Release
Illinois RNs Applaud Lawmakers as They Move Gold-Standard Nurse-to-Patient Staffing Legislation to Full Assembly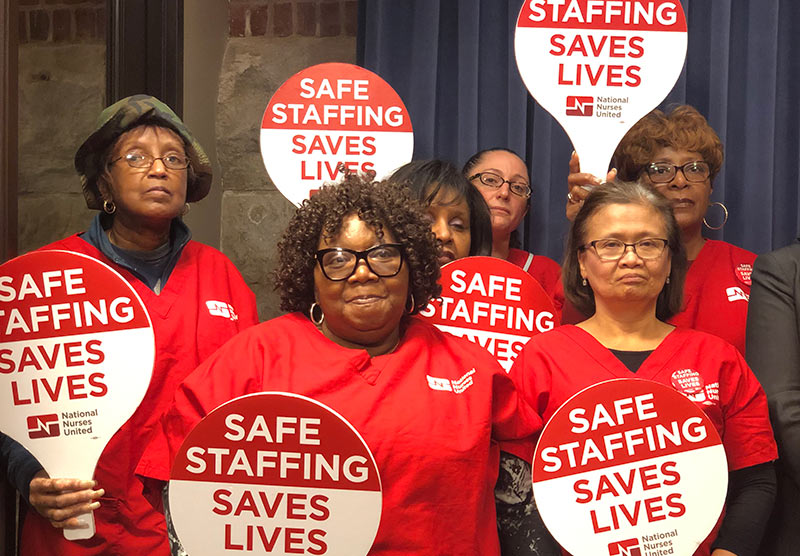 Registered nurses with National Nurses Organizing Committee/National Nurses United (NNOC/NNU) applaud Illinois lawmakers for voting overwhelmingly to move the Safe Patient Limits Act (H.B. 2604) to the full assembly. H.B. 2604 mandates minimum nurse-to-patient ratios for every hospital unit at all times.
The March 27 vote shows that lawmakers in the House Labor and Commerce Committee recognize H.B. 2604 addresses a patient safety crisis. Study after study clearly shows that unsafe staffing levels compromise patient health, and lead to preventable medical errors, avoidable complications, increased readmissions, and even death.
"We know that to provide the highest quality of care to our patients, we need time to take note of the tiniest details and to carefully monitor any changes in our patients," said Maria Bell, RN. "We also know that RNs who are stretched too thin, with too many very sick patients, are literally running to treat their patients, going without breaks, food, or even a trip to the restroom, and patient care suffers. We are pleased that through the collective voice of our union, NNOC/NNU, we are being heard by those who can make a difference. We call on all lawmakers to pass the Safe Patient Limits Act and make all Illinois patients safer." 
H.B. 2604 is sponsored by Rep. Fred Crespo, Rep. Theresa Mah, Rep. Debbie Meyers-Martin, Rep. Kelly M. Cassidy, Rep. Natalie Manley, Rep. Anne Stava-Murray, and Rep. Delia Ramirez. It is expected to come up for vote before the full assembly by April 12.
There is no federal law limiting the number of patients a nurse can be made to care for, despite overwhelming evidence that shows safe staffing levels help improve patient outcomes.
Currently, California is the only state that has mandated nurse-to-patient ratios throughout all hospital units and studies have shown that these ratios save lives. A 2010 study found that New Jersey hospitals would have had nearly 14 percent fewer deaths and Pennsylvania more than 10 percent fewer deaths if they had California's nurse-to-patient ratios in medical-surgical units.
While the proposed Illinois legislation is modelled after the California mandates, it goes even farther to become a gold standard for ensuring patient safety.  The Illinois legislation would also mandate minimum staffing standards in long term acute-care hospitals and ambulatory surgery centers.
Safe staffing is also critical for the health and safety of nurses. A 2015 study in the International Archives of Occupational and Environmental Health showed that the California safe staffing law was associated with nearly 56percent fewer occupational injuries and illnesses per 10,000 RNs per year, a value nearly 32 percent lower than the expected rate without the law.
"Nurses get into this career because they're committed to caring for their patients, but when they cannot provide the best care, because they simply don't have enough people to do the work, they become burned out and anxious because they know how easy it is to miss a small but important change in a patient's condition," said Mattie Newsom, RN. "This bill gives nurses the tools they need to provide the highest quality of care, and to be there for their patients during their most vulnerable times."