Press Release
Huntington Memorial Hospital Agrees to Rescind Illegal Firing of RNs, Proceed to New Union Election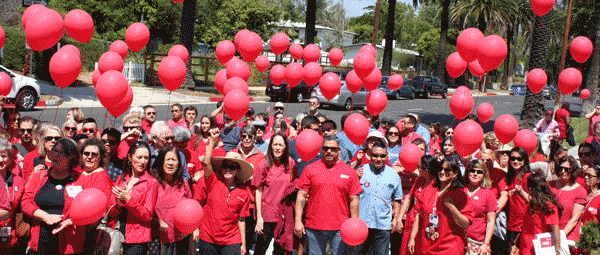 The California Nurses Association and the administration of Huntington Memorial Hospital in Pasadena reached a settlement agreement yesterday just days before National Labor Relations Board trial scheduled to begin in Los Angeles on June 6.
In the agreement Huntington agrees to rescind the terminations of RNs Allysha Almada and Vicki Lin and pay them full back pay. HMH also agrees to set aside the results of the 2015 HMH RN union election, and move forward with a new election. They also commit to abide by labor laws that protect the RN's right to organize.  
"This is an enormous breakthrough for all Huntington RNs who have worked hard to seek union representation and stood up valiantly for justice in the face of HMH administration's illegal and immoral campaign. It is a great day for the patients of the Pasadena community," said Malinda Markowitz, RN and CNA Co-President. "HMH nurses deserve a place at the table; their voices deserve to be heard to enhance patient care conditions in the hospital. The new agreement clears the way for RNs organizing efforts so they can win the protections they need to be effective patient-care advocates."
"This settlement is a huge success for Huntington nurses. This has been a long journey, but Vicki and I feel fully vindicated now that Huntington will rescind our terminations, and give us full back pay," said Allysha Almada, RN. "I've decided to decline returning to work at HMH because for the past six months I've been working at Keck USC, a hospital where RNs enjoy protection through their CNA contract. Huntington RNs deserve the same protections and benefits that RNs under CNA contracts enjoy. That's why I am committed to supporting my former HMH colleagues with their quest to win union protection. I'll be there each and every step of the way."
"Huntington RNs are thrilled to be able to move forward and exercise our rights to join CNA so we can collectively advocate for our patients and ourselves," said Terri Korrell, who has been an RN at Huntington Memorial Hospital for 42 years. "The terms of the agreement make it clear that we have the right to speak out and that the hospital's campaign to silence us must stop." 
"The nurses of Huntington Hospital, after more than a year of being subjected to intimidation and humiliation, have had justice vindicated for their efforts and courage," said Rabbi Joshua Levine Grater, a local activist and lead clergy member in the community campaign to support the nurses. "I am proud to have stood with the nurses in their effort to exercise their basic rights to form a union.  I'm glad that Huntington Hospital chose the path of reconciliation and is moving forward toward a better future for all at the hospital."
The new election will be set by the NLRB following a 60-day posting period, during which an official NLRB notice, outlining the nurses' organizing rights will be posted throughout the hospital and e-mailed to all RNs. The notice will make it clear that under federal law nurses have the right to "form, join, or assist a union," and the right to engage in activities related to that at the hospital. The notice will include commitments by the hospital to refrain from interrogation and surveillance of employees engaged in union activity and to cease unlawful interference with union access to the hospital.
The NLRB is expected to approve the agreement and postpone the upcoming trial later today. If HMH fails to comply with the agreement in the next eight months the NLRB can reissue the complaint, opt to skip a trial and enter a default judgment finding HMH guilty of the labor violations cited in the complaint. 
Huntington Memorial RNs began organizing to affiliate with CNA/NNU in May of 2014, after management rebuffed their attempts to engage them on patient care issues, including chronic short staffing, inadequate supplies and equipment and concerns about hygiene and sterilization practices at the hospital. Management responded with an illegal effort to thwart unionization. Despite being issued a formal NLRB complaint—citing over twenty instances of unlawful conduct—management continued its pattern of union-busting up through the RNs' attempted election in April of 2015. An administrative law judge for the NLRB was slated to review the numerous objections to the 2015 election as well as other unfair labor practice charges at a trial in Los Angeles scheduled for June 6th. The trial was expected to take three to four weeks.