Press Release
Huge Election Win for MountainView RNs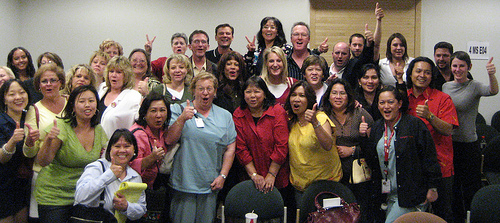 For Immediate Release
January 15, 2010
Las Vegas Nurses Vote By 61% to Join CNA/NNOC - First Representation Win Following Formation of Largest RN Union in U.S. History
Registered nurses at MountainView Hospital in northern Las Vegas voted by 61 percent Thursday night to affiliate with the California Nurses Association/National Nurses Organizing Committee. CNA/NNOC will represent 500 RNs at the hospital.
The MountainView RNs became the first RNs to unionize with the growing national nurses movement following formation of the largest RN union and professional association in U.S. history through the unification last month of CNA/NNOC with the United American Nurses and the Massachusetts Nurses Association.
"I am so excited. It is a victory for patients, patient safety, and for us, the nurses. We have our voice at last," said Alta Meyer, an intensive care RN at MountainView.
In an election supervised by the federal labor board, RNs voted 240 to 152 for representation, a huge 61 percent victory for the RNs. 
MountainView is affiliated with HCA (Hospital Corporation of America), the nation's largest hospital system. NNOC/National Nurses United leaders said that should give substantial momentum to efforts by nurses across the nation to join NNOC/NNU, which now represents unionized HCA nurses in California and Kansas as well as Nevada.
"What an incredible achievement for MountainView nurses in their quest for representation to strengthen their voice as patient advocates. We are thrilled to welcome them into the national family of nurses," said Malinda Markowitz, RN, a California HCA nurse, co-president of CNA/NNOC and NNU national board member.
"This election should provide tremendous encouragement to HCA and other nurses across our nation who also long for representation to enhance patient care conditions and advance standards for their colleagues, their families and the nursing profession," Markowitz said.
"We, as the National Nurses United, intend to blaze new horizons for healthcare for our patients and protect employee rights," said critical care RN Orsburn Stone.
Additionally, CNA/NNOC now represents RNs at five Nevada hospitals, with MountainView nurses following their colleagues who have joined NNOC/NNU at St. Rose Dominican system in Las Vegas, and St. Mary Medical Center in Reno. Nurses say that should significantly build their ability to promote patient care reforms in Nevada and raise standards for Nevada RNs.
"I can't express how excited and happy I am for all of Mountain View. I'm also so grateful to all of the nurses for their support," said Nenita Garcia, Medical-Surgical RN at the hospital.
NNU was formed in part to rapidly accelerate the organizing of non-union RNs into a direct care RN-led national movement.
In its founding convention, held last month in nearby Phoenix, NNU adopted a constitution whose principles included the goal of organizing all direct care RNs "into a single organization capable of exercising influence over the healthcare industry, governments, and employers."
NNU Co-president Jean Ross congratulated the MountainView RNs as new charter members of NNU "who will be a vital part of our national campaign to change the face of patient care, and assist the ability of all RNs to promote a better life for themselves and their patients."