Press Release
Huge 90 percent margin for union voice Shasta Regional, Redding RNs Vote to Join CNA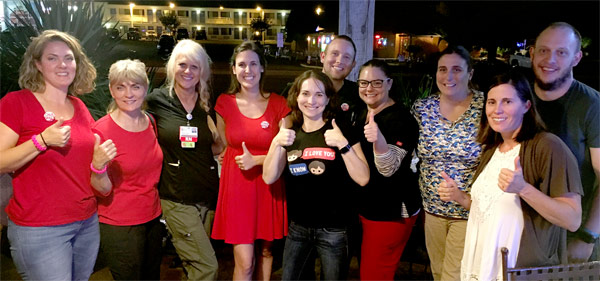 Voicing concerns about safe staffing, retirement security and other patient and economic protections, registered nurses at Shasta Regional Medical Center in Redding, CA have voted to join the California Nurses Association /National Nurses United, the state's largest nurses union and professional association.
In a secret ballot election conducted by the National Labor Relations Board, RNs voted 241 to 27, 90 percent, to be represented by CNA/NNU. The election victory is the culmination of a three-month campaign by the Shasta Regional RNs.
"We joined CNA because we want only the best care for our community's patients. In order to have the protection to advocate for them, we need to unionize with CNA," said Dani Gunderson, an emergency room RN at Shasta Regional.
"We're very pleased to welcome Shasta Regional RNs to our CNA family, to join with us in working to strengthen patient care standards and public protections for our nurses and communities across the state," said CNA Co-President Malinda Markowitz, RN.
The 350 RNs at the medical center, which is part of the Prime Healthcare system, will join with the colleagues at other Prime hospitals represented by CNA and NNU at Saint Mary's Regional Medical Center in Reno, Alvarado Hospital Medical Center in San Diego, and Centinela Medical Center in Inglewood.  
CNA also represents RNs at another Redding hospital, Mercy Medical Center Redding, part of the Dignity Health system. Overall, CNA represents some 100,000 RNs in California, part of 150,000 RNs represented by NNU across the U.S.
"The vast majority of new RNs here leave for nearby hospitals, where––because their nurses are CNA––they have fairer wages and safer working conditions," said Shasta RN Tricia Weaver, who works in the hospital's recovery room. "We need to collectively bargain here at Shasta Regional, so we can recruit and retain experienced nurses and improve patient care."
With their election secured, the Shasta RNs will look forward to electing a team of their colleagues to represent them in negotiations with hospital representatives on a collective bargaining agreement.  In addition to safe staffing, a secure retirement, and promoting RN retention, the nurses want to assure adequate equipment and supplies, increased support staff, and elevating other standards.