Press Release
House Passes Bipartisan Bill to Prevent Workplace Violence for Health Care and Social Services Workers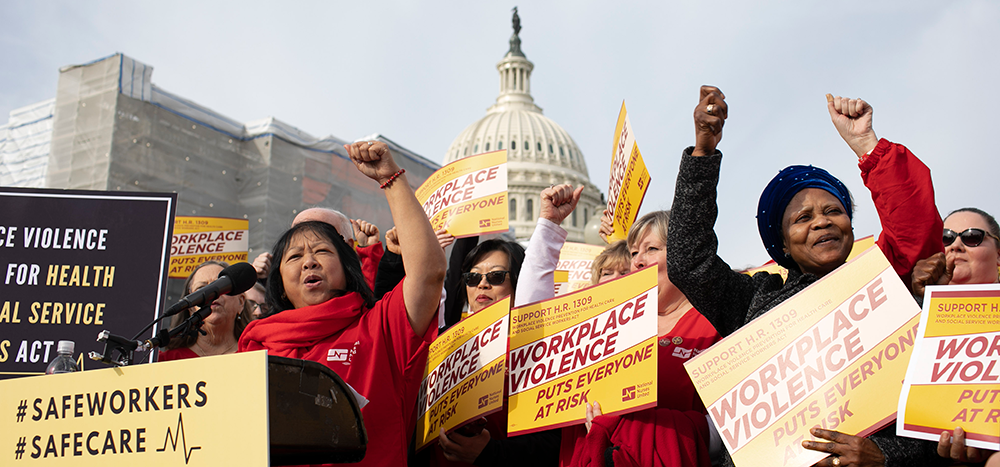 H.R. 1309 sets highest standards to protect workers
Today the U.S. House of Representatives passed a groundbreaking federal bill to protect health care and social service workers from extremely high rates of workplace violence—H.R. 1309, the Workplace Violence Prevention for Health Care and Social Service Workers Act, authored by Rep. Joe Courtney.
The bill passed with strong bipartisan support and would set the highest standards yet for protecting workers in these industries from violence on the job. National Nurses United endorsed the bill. This legislation follows the adoption by California OSHA of the first workplace violence standard for health care workers, which was the result of state legislation sponsored by the California Nurses Association / National Nurses United.
"The U.S. House of Representatives took an historic step … to get a vote, to finally recognize the skyrocketing, outrageous levels of workplace violence that America's good guys, the nurses, nurses assistants, physicians, the social workers are facing every single day," said Rep. Courtney at today's press conference after the vote. "H.R. 1309, the Workplace Violence Prevention for Health Care and Social Service Workers Act just passed by a wide bipartisan margin of 251 to 159. … The evidence is overwhelming, and the severity of the problem is absolutely sickening and gut-wrenching."
"This legislation will hold our employers accountable, through federal OSHA, for having a prevention plan in place to stop workplace violence before it occurs," Zenei Cortez, RN, president, National Nurses United. "This is literally a life or death issue. Every moment we wait puts lives in jeopardy. We all deserve to feel safe in hospitals, clinics and social service settings, which should be places of healing."
"Our health care and social services workers deserve to work in an environment free from workplace violence," said Senator Baldwin, ranking member of the Senate Employment and Workplace Safety Subcommittee. "I'm proud to see this important effort pass the House of Representatives so we can provide overdue protections and safety standards to a workforce that serves people during some of their most vulnerable moments. This bill promotes a healthy environment that is good for both workers and those they serve, so we all need to work together to take action and pass this legislation in the Senate."
What H.R. 1309 does:
Addresses an epidemic of violence:

Workers in the health care and social assistance industry face extremely high rates of workplace violence. Between 2011 and 2016, as reported in the U.S. Bureau of Labor Statistics Census of Fatal Occupational Injuries, at least 58 hospital workers died as a result of violence in their workplaces. In 2016, the Government Accountability Office found that health care workers at inpatient facilities were 5 to 12 times more likely to experience nonfatal workplace violence than workers overall.

Requires federal OSHA to create a federal workplace violence prevention standard

mandating employers

develop comprehensive, workplace-specific plans to prevent violence before it happens.

Covers a wide variety of workplaces

, including hospitals, residential treatment facilities, non-residential treatment settings, medical treatment or social service settings in correctional or detention facilities, psychiatric treatment facilities, substance use disorder treatment centers, community care settings such as group homes and mental health clinics, and federal health care facilities such as those operated by the Veterans Administration and the Indian Health Service, as well as field work settings such as home care and home-based hospice, and emergency services and transport services.

Sets a quick timeline on implementation

to ensure timely protection for healthcare

 

workers.

Sets minimum requirements

for the standard and for employers'

 

workplace violence prevention plans, based on the groundbreaking California legislation.

 

These requirements include unit-specific assessments and

 

implementation of prevention measures, including physical changes to

 

the environment, staffing for patient care and security, employee involvement in all steps of the plan,

 

hands on training, robust record keeping requirements including a

 

violent incident log, protections for employees to report WPV to

 

their employer and law enforcement, among other requirements.