Press Release
Hospice of Southern Maine Settles with Labor Board, Must Comply with Labor Law, Honor Workers' Rights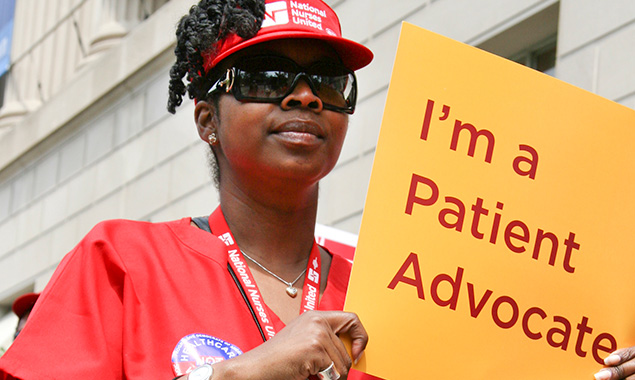 Management Must Stop Delaying a Fair Contract, Say Nurses; Patients Deserve Better
The Hospice of Southern Maine (HSM) has entered into a settlement agreement with the National Labor Relations Board (NLRB) and the Maine State Nurses Association (MSNA) requiring management to cease violating federal labor law and bargain in good faith, MSNA announced today.
HSM workers, which include RN's, hospice aides, social workers, chaplains and others, successfully unionized in May of 2017. Since then, they have been trying to reach a first contract agreement, which employees say has been at a standstill, with HSM refusing to bargain in good faith—an assertion now backed up by the NLRB ruling.
"HSM employees are certainly heartened by this ruling. As advocates for those in our care, we are fighting for conditions at HSM that best support patients and their families, at an extremely vulnerable time, and we expect HSM management to also consider this a priority—because that's what our patients deserve," said Annette Lemek, Social Worker.
The settlement requires HSM to acknowledge and remedy their violations of national labor law. Specifically, the NLRB found that HSM has been engaging in unnecessary delay in responding to information requests and has failed and refused to provide information essential for the MSNA bargaining team to negotiate. The NLRB also found that HSM violated federal labor law by making a unilateral change to RNs' schedules.
"Our community deserves safe, compassionate hospice care, provided in a safely staffed facility," said Pauli Juneau, RN, noting that staffing levels at the Gosnell House are so bad that HSM has closed six beds since 2017.
"Management needs to improve the working conditions, in order to recruit and retain the most experienced staff. There is often a waitlist, and in light of that wait, it's unconscionable that management would address short staffing and high employee turnover—by simply closing beds."
Employees say they are hopeful that the NLRB ruling will hold HSM management accountable for coming to the table in an expedited way and reaching an agreement on a fair contract.
"Time is precious for our patients. They deserve an agreement that upholds the best conditions for their care, and they deserve it now. We're duty bound to protect our patients, and so we will keep standing up and speaking out until we reach a fair and just agreement," said Polly Pelletier, RN.