Press Release
Hines VA nurses and health care worker unions to hold action and press conference during Nurses Week, noon, May 12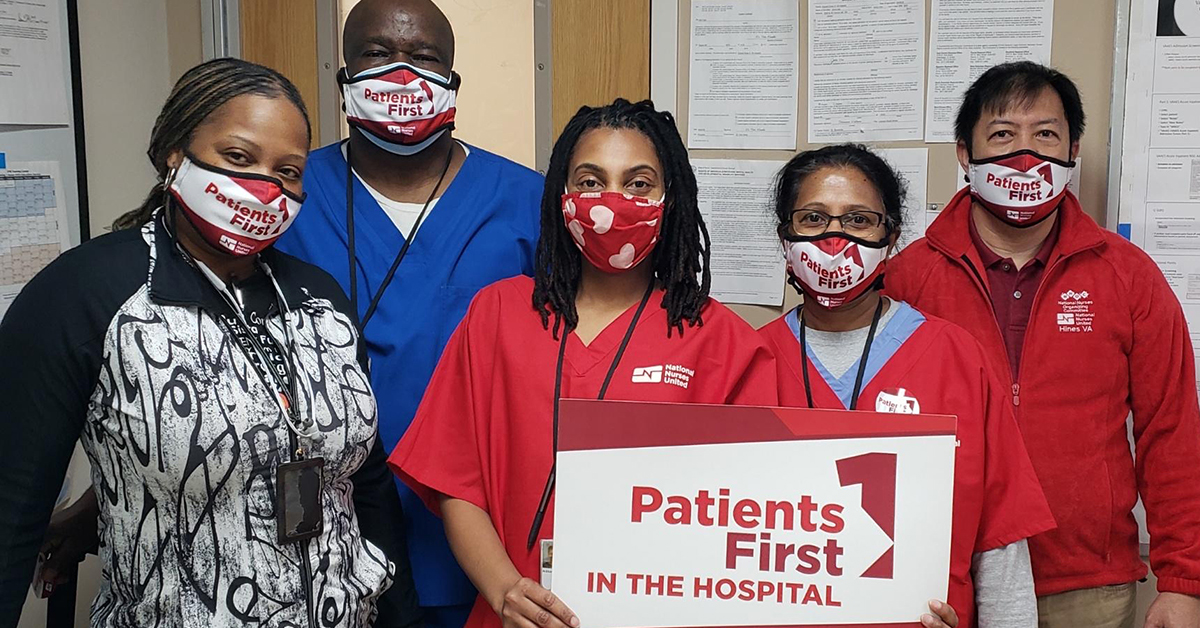 Hines VA unions demand changes to improve patient care and transform workplace that employees say is toxic and unfair
Unions that represent Chicago's Edward J. Hines, Jr. VA Hospital registered nurses, psychiatrists, physicians, license practice nurses, health care technicians, and other employees, will hold an action and press conference on Thursday, May 12, at noon, to demand that hospital management follow through on their promises to address the serious issues documented recently in a survey conducted by the VA's Office of Nursing Services, announced National Nurses Organizing Committee/National Nurses United (NNOC/NNU) today.
The participating unions representing RNs and health care employees include NNOC/NNU, Service Employees International Union Local 73 (SEIU), and American Federation of Government Employees (AFGE).
In the survey, Hines' clinical nursing staff and other employees characterize the facility's work environment as unfair and toxic. The survey shows nurses' acute concern for understaffing of nurses and nursing assistants, and a consensus regarding discriminatory management practices, including a lack of fairness and equity in promotions and pay, and a lack of training, and education opportunities.
What:

   Nurses Week rally and press conference

When:

  Thursday, May 12 - Action at noon, press conference at 12:30 p.m.

Where:

Gates of Edward J. Hines, Jr. VA Hospital, 5000 5th Ave, Hines, Illinois

Who:

    NNOC/NNU, AFGE, SEIU, elected officials and veterans (patients and supporters).
"We are honoring Nurses' Week by speaking up for our patients and for ourselves," said Maureen Tamborski, an RN in the Transfer Center. "It is essential that management welcomes our input in patient care decisions, and recognizes the key role we play as patient advocates, in guaranteeing our veterans the best care. We will not be silenced. We are joining our frontline colleagues in SEIU and AFGE, and standing with our patients and other community members, to demand that management take immediate action to transform Hines into a healthy workplace for employees and a healing environment for our patients."
"We have been asking management to address the issues raised in the survey for quite some time and in the meantime, the Covid pandemic has compounded them," said Carolene Hill, an RN in the Home-Based Primary Care service. "The toxic work environment has exacerbated the moral distress caused by understaffing. On top of this, management weaponizes processes that are in place to help employees, threatening to punish those who turn to employment assistance programs for much needed support. The psychological, physical, and moral safety of the Hines staff is paramount to ensuring the safe, quality care of our veterans."
On behalf of their members, NNOC/NNU, SEIU, and AFGE, are calling on the Veterans Administration and the Office of Inspector General to conduct a full audit at Hines VA. The unions are also demanding that the local administration immediately implement a committee, with representative membership, charged with overhauling the discriminatory hiring practices that plague the facility. Nurses say the administration's promises to create such a committee in earlier discussions with employee representatives of the union, have to date, failed to materialize.  
National Nurses Organizing Committee (NNOC) is an affiliate of National Nurses United (NNU), the country's largest and fastest-growing union and professional association of registered nurses, with more than 175,000 members nationwide.