Press Release
Healthy California Act SB 562 Supporters Ramp Up for October Actions in All 80 Assembly Districts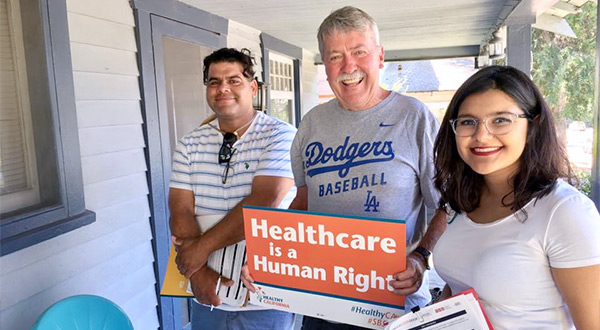 "We'll knock on doors throughout the state to listen to our neighbors' concerns about health care and connect them to the growing movement."
The California Nurses Association, Healthy California campaign, Our Revolution and #KnockEveryDoor are ramping up for grassroots actions, including canvassing, in all 80 state Assembly districts in October to engage residents with the Medicare for All movement and campaign for SB 562, legislation which would guarantee health coverage to all Californians and eliminate premiums, deductibles and other out-of-pocket health costs.
California single-payer supporters are planning the statewide actions as they celebrate Sen. Bernie Sanders introduction this week of federal legislation, S. 1804, the Medicare for All Act of 2017, which advances genuine universal care for everyone, regardless of ability to pay, gender, race, nationality, or background.
"We're very proud of the role that our organizing for the Healthy California Act SB 562 has played in building the national movement for single payer," said Deborah Burger, Co-President National Nurses United. "With our upcoming actions we'll knock on doors throughout the state to listen to our neighbors' concerns about health care and connect them to the growing movement."
The statewide actions follow campaign organizing that's been underway in many California communities prior to, and since Speaker of the Assembly, Anthony Rendon, refused to let SB 562 move forward in the state Assembly. Supporters have conducted numerous visits to their representatives in district offices, held town halls and canvassed in many cities including: Apple Valley, Arcata, Bakersfield, Bell, Corona, Davis, Eureka, Fresno, Fullerton, Garden Grove, Healdsburg, Kelseyville, Los Angeles, McKinleyville, Napa, Nevada City, Oakland, Oxnard, Paramount, Patterson, Roseville, Sacramento, San Bernardino, Santa Ana, Santa Barbara, Santa Cruz, Santa Rosa, Sonora, South Gate, Thousand Oaks, Torrance, Van Nuys, Ventura, Whittier and Woodland Hills.
Supporters of SB 562 have roundly criticized Speaker Rendon's announcement last month, that in lieu of moving the bill forward, he was creating a "Select Committee," that would hold hearings on health care in the fall. Bill advocates recently  learned that Rendon plans to reduce public participation in the Select Committee's hearings by conducting them all in Sacramento.
"Once again the Speaker is letting Californians know that he really doesn't care about their concerns or feel accountable to their support for single payer.  If his goal was, in fact to put forth 'serious proposals for healthcare for all,' he would have let the bill move forward in the Assembly rather than setting up a powerless Select Committee," said Bonnie Castillo, Associate Executive Director of National Nurses United. "Nurses have serious concerns that the decision to avoid an actual single payer bill with a Select Committee is an effort to promote insurance industry alternatives to single payer that will do little to address the substantial shortfall that exists for patients in the present system."
"By unilaterally subverting and sabotaging the democratic process, Speaker Rendon delayed the immediate and urgent relief that 15 million Californians who remain uninsured or are struggling to meet un-payable medical bills endure every day. Now is the time to stop all attempts to move backward or stand still, and instead move forward," said Castillo.