Press Release
Health Care Workers at Shasta Regional Medical Center Win Key Gains in Patient Care with Historic First Contract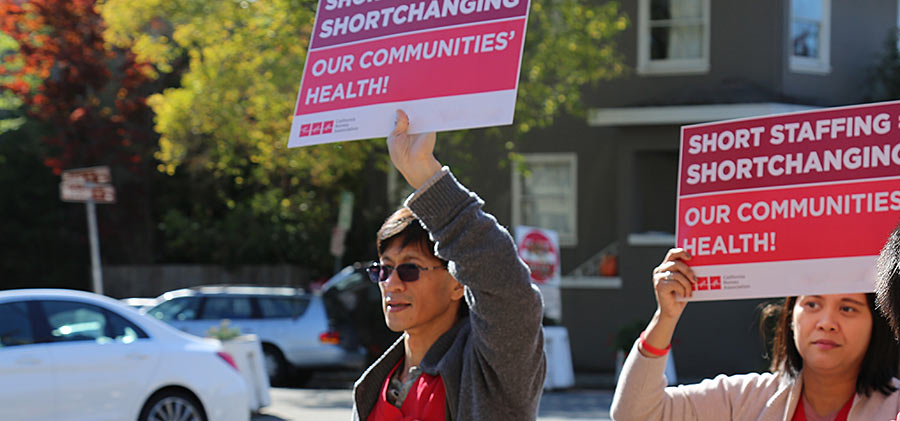 Health care workers at Shasta Regional Medical Center (SRMC) in Redding, Calif. have ratified their first collective bargaining contract with important key improvements in patient care protections, training benefits, and enhanced economic standards that will help in the recruitment and retention of experienced workers, announced Caregivers and Healthcare Employees Union (CHEU) today.
"This contract will make a huge difference in our ability to care for our patients and our community," said Frances Lloyd (Bray), a respiratory therapist. "We have won language that will improve staffing levels to meet the needs of our patients in a timely fashion and encourage other health care workers to come be part of our team. More staffing spares us from feeling obligated to work double shifts, up to 24 hours at a time, to ensure that our patients get the care they need."
The new contract includes the implementation of patient care committees that provide a structured monthly forum for health care workers to address patient care issues and concerns with hospital managers. The contract also includes a provision that allows health care workers to file forms with the hospital and the union when they feel staffing levels or job assignments put patients or staff at risk.
"I am so proud of what we have accomplished with this contract. It shows that when workers come together, we can make real change for the better in our hospital," said Lauralyn Bauchum, a patient care tech. "As patient care techs, we help bathe and walk patients, assist them to the bathroom, or with any number of individual care needs. It is important to have people who are trained to provide this care. This contract includes not only wage increases that will attract experienced workers, but also includes tuition benefits for employees who participate in training and educational programs. This is definitely a benefit for our patients."
Highlights of the agreement include an across-the-board 9 percent pay increase for all health care workers over the 30 months of the contract and more than half of workers will see a 20 percent increase in their wages over the term of the contract. The bargaining agreement also ties increases to years of experience in their field.
"I became very emotional when I realized that after 15 years working at Shasta Regional Medical Center, I would finally make enough to care for my son without help from my family," said Amanda Brown, an environmental services tech. "We are responsible for disinfecting and keeping the hospital hygienic, which is very critical for infection control. It is important that we are able to hire and retain people who take their work seriously. These pay increases will help us do that."
Health care workers at SRMC voted overwhelmingly to join CHEU in May 2018. CHEU represents 420 hospital employees, including nursing assistants, patient care technicians, laboratory technicians, and respiratory therapists. The 310 registered nurses at the hospital are represented by CHEU's affiliate union, the California Nurses Association.