Press Release
Health care workers to hold informational picket at Shasta Regional Medical Center for patient safety and safe staffing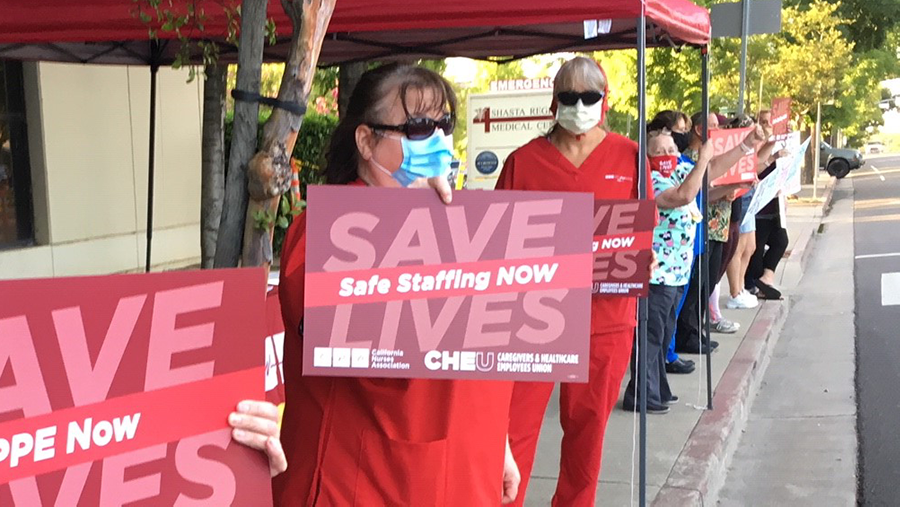 Union health care workers at Shasta Regional Medical Center (SRMC) in Redding, Calif. will hold an informational picket on Oct. 28 to demand safe patient staffing, announced the California Nurses Association (CNA) and the Caregiver and Healthcare Employees Union (CHEU) today.
Health care workers say current staffing levels at the hospital are unacceptable. Safe staffing ensures that patients get optimal care.
On Oct. 21, health care workers delivered a petition signed by 350 SRMC workers to hospital administration. On Sept. 21, health care workers sent a petition to SRMC CEO Casey Fatch that listed more than 200 staff concerns regarding patient safety and related to the current staffing policies at the hospital.  
The hospital has received hundreds of written documents of the failure of their staffing limits. The administration's response was to further reduce the staff on schedule. SRMC management has also reacted by having supervisors confront staff before health care workers record a missed meal period.
"This affects the lives and health of our patients and all hospital staff. As winter approaches, all hospitals will have an increase of patients due to Covid-19 and the flu. Decreased staff creates substandard care for patients and jeopardizes patient and staff safety." said SRMC ER registered nurse Tiffany Kraft.   
"Patients deserve the best care we can give, not a fraction of it, which is what they receive now because we are stretched so thin," said Kati Haas, SRMC nurses' aide.
Who: CNA and CHEU members, including registered nurses, respiratory therapists, nurses' aides, EMTs, environmental services, admitting, and others
What: Informational picket to inform public of management's unsafe staffing levels and to demand that SRMC CEO Casey Fatch and Prime Healthcare reverse staffing cuts
When: Wednesday Oct. 28, 4 p.m. to 6 p.m.
Where: Shasta Regional Medical Center, 1100 Butte Street, Redding, CA (on the street side of the emergency department)
"Patient care is a team effort," said Michelle Gaffney, ICU registered nurse at SRMC. "It requires health care workers with a wide variety of unique skill sets and training to make sure that patients receive the optimal level of care that they deserve. Some patients may require caregivers with more specialized training and experience to safely care for them and that standard must be upheld at all times or patient care and safety suffers."
"Staffing the hospital with the absolute bare minimum of staff and continuing to be unprepared for when the staff themselves become sick or injured was an unsafe and irresponsible practice prior to the pandemic and must stop," continued Gaffney. "It is not too much for a patient to expect that they are being cared for by someone who is well trained and supported with the resources they need to provide their patients with the safest, most optimal care possible during their stay."