Press Release
Nurses: Patient, RN and worker safety cuts a price for HCA's huge profits amid pandemic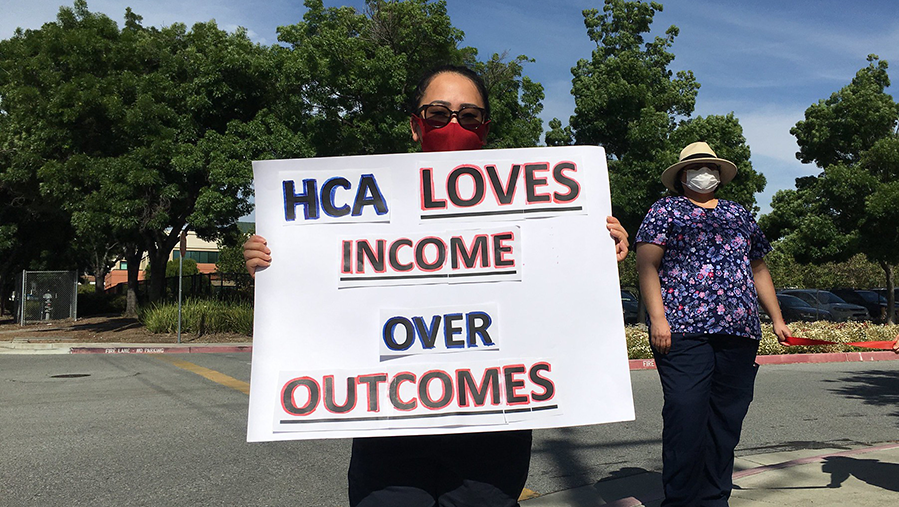 'Profits should go toward safety not stock buy backs'
HCA's announcement of $3.75 billion in profits for 2020, a 7.1 percent jump over 2019, is a clear demonstration of the financial consequences of a year of short staffing and other cuts affecting patient and worker safety despite a once-in-a-century pandemic, announced National Nurses United (NNU) today.
NNU called on HCA to reverse its plans to allocate $6 billion to purchase its own company stock and allocate those funds for improvements in patient and worker safety measures and promotions of public health programs throughout HCA hospitals and communities.
The revelation that HCA could make such enormous profits while also reporting a drop in admissions as the coronavirus pandemic was soaring "should be a red flag about how HCA is operating its patient care services," said NNU President Deborah Burger, RN.
A second indication of a key source of HCA's profits, Burger noted, was the statement by Sam Hazen, chief executive officer of HCA Healthcare, praising the "solid cost management," as a key reason for the increase in profits over 2019.
"Nurses have seen what 'cost management' means," Burger continued. "Throughout 2020, HCA nurses have reported alarming shortages in staffing, the cancelling of shifts, a failure to fill vacancies. They've experienced frequent delays in provision of the optimal personal protective equipment (PPE), re-use of single use and ineffective "decontaminated" masks, and other inadequate other infection control protocols."
"And nurses have experienced and witnessed delays or failure to ensure on-time testing for patients and nurses, and other safety cuts that have put patients, nurses, and other health care workers at risk," Burger added.
"These numbers, and what nurses have endured over the past year, are the embodiment of what it means to make higher profits your priority over safe working conditions and other protections for nurses, other health care workers, and patients," said Marissa Lee, an RN at Osceola Regional Medical Center in Kissimmee, FL.
It is also notable, Burger continued that despite a decline of 4.7 percent in hospital admissions and less emergency room visits, HCA reported a sharp increase of 10.5 percent in hospital patient revenues.
"How do you get such a big increase in patient revenues with fewer patients? One major way is by inflating your charges over your costs," Burger noted. A NNU study released in November found that HCA charges up to 18 times its costs, and on average more than 10 times its cost for its 185 hospitals, according to Medicare cost reports for fiscal year 2018, the most recent data available.