Press Release
HCA's Good Samaritan San Jose RNs to protest unsafe staffing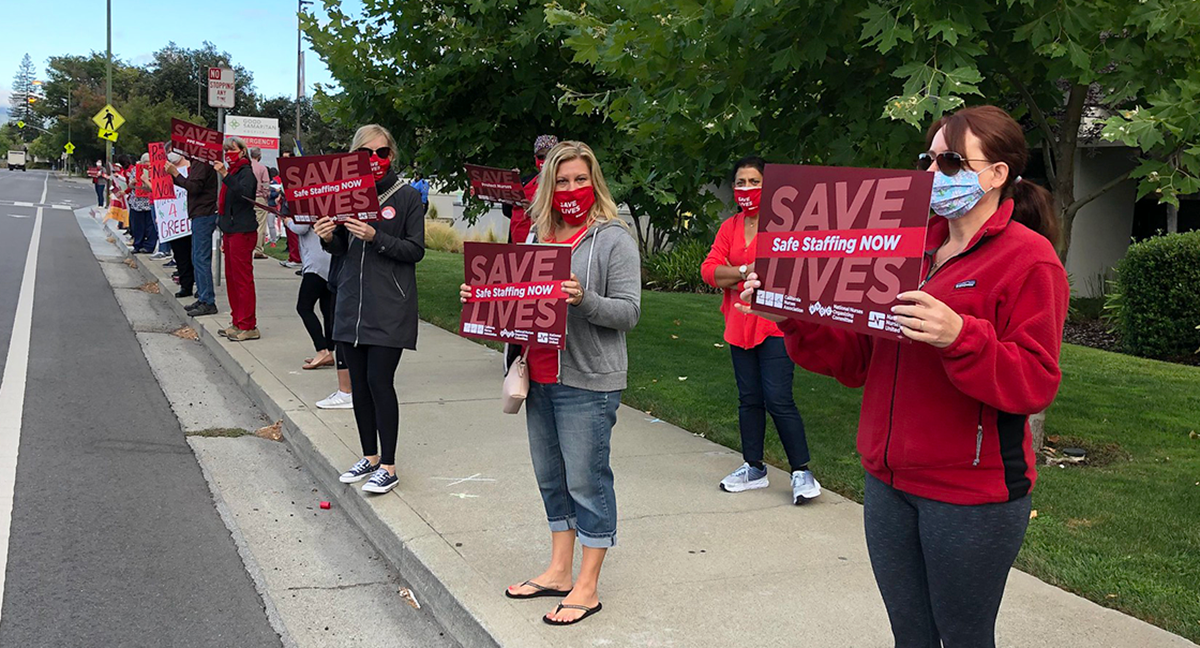 Nurses sound the alarm and say: 'Unsafe staffing is no April fools'
Registered nurses at HCA's Good Samaritan Hospital in San Jose will hold an action Thursday, April 1 to warn the public that severe short staffing in women's and children's services at the hospital is putting laboring women and newborns in danger, announced California Nurses Association (CNA) today.  
What: Good Samaritan RNs to protest unsafe staffing
When: Thursday, April 1, 2021, 3:30 p.m.–5 p.m.
Where: Good Samaritan Hospital, 2425 Samaritan Dr., San Jose
Nurses report they are assigned more patients than they can safely care for in labor and delivery, ante and post–partum care, and neonatal intensive care (NICU). Since the closure last May of women's services at HCA's other San Jose hospital, Regional Medical Center, staffing in all those areas has substantially deteriorated, nurses say.
With the pandemic far from over, nurses in labor and delivery and the mother-baby unit, where newborns are with their mother, say the hospital continues to commingle Covid and non-Covid patients, which is unsafe and risks further spread of the virus and infection of patients, nurses, and other hospital staff.  
"These are unconscionable conditions that put our patients in harm's way," said Sara Latham, a labor and delivery RN at Good Samaritan. "We fear for our patients' safety when we are forced to run from patient to patient and are unable to consistently monitor for changes in their condition and ensure they get the care they need."
Nurses also say managerial indifference is making the staffing crisis worse. Department managers are telling nurses who raise concerns that all staffing decisions are made by the hospital's chief financial officer (CFO).
Neonatal intensive care unit management told NICU RNs that they were informed by the CFO they would need to staff differently to meet financial goals. Another RN has reported being told directly by the CFO that he was comfortable making staffing decisions even though he has no clinical background. 
"Nurses are horrified that a top executive of our hospital, which is owned by the wealthiest hospital corporation in the world, puts its budget and profit goals ahead of our patients' health and safety. We are in fear of what avoidable tragedies could occur," said NICU RN Christine Weng. 
Last year alone HCA reported $3.7 billion in profits.
Dangerous conditions have especially accelerated in the NICU, nurses say. With cuts to resource and relief RNs, nurses have less time to take needed breaks to prevent fatigue and the potential for errors. Assisting with setting and monitoring IV lines and other medical intervention to prevent infections, and other essential care needs for infants are all impacted.
"This short staffing fails to account for such eventualities as C-sections, critical deliveries, or other procedures," said Jill Pfeiffer, NICU RN at Good Samaritan. "Infants in the NICU are particularly vulnerable and need optimal close care. To jeopardize the health of these infants for economic gain is morally reprehensible. 
In antepartum care, nurses say there have been days where staffing was so short they had to unsafely care for up to six patients at a time when other nurses had to rush off to assist with emergency procedures elsewhere.
And, in both labor and delivery and antepartum care, harassment and hostility from hospital management and unjust discipline, even terminations, has resulted in the loss of essential experienced RNs.
"This is a disaster waiting to happen," said Diana Rossman, antepartum RN. "We are struggling to keep our new mothers and these extremely fragile infants safe and healthy, but it is getting more difficult every day with no support, and often outright opposition, by the hospital management. The community needs to be aware of this crisis."
CNA represents more than 1,000 nurses at Good Samaritan Hospital.