Press Release
Hazel Hawkins RNs demand transparency as board of directors considers Chapter 9 bankruptcy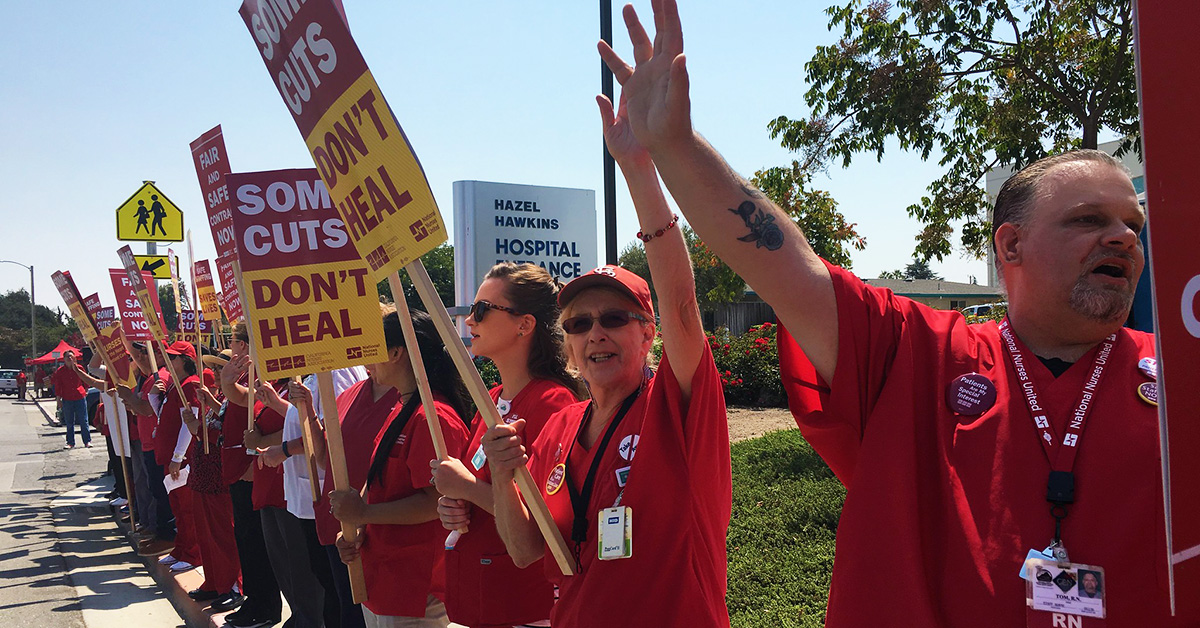 Nurses call for community support to hold administrators accountable for fiscal crisis
Registered nurses at Hazel Hawkins Memorial Hospital (Hazel Hawkins) in Hollister, Calif., are asking the public to join them in demanding that the Board of Directors of the San Benito Health Care District be transparent about the hospital's fiscal crisis as the board is set to consider filing Chapter 9 bankruptcy at a board meeting on Monday, May 22, announced California Nurses Association/National Nurses United (CNA/NNU) today.
"We are very distressed and disappointed to find ourselves back to square one with hospital administration, as the threat of bankruptcy looms large for the second time in six months," said Diane Beck, an operating nurse at Hazel Hawkins. "The nurses are committed to doing all we can to ensure that our patients have access to and receive the highest quality of care. However, we are losing faith in our hospital administrators' ability to find a path out of this fiscal crisis. We need more transparency into the finances of this hospital and a better understanding of where the money they take in is going."
What:

Nurses rally for transparency and accountability as San Benito Health Care District Board of Directors considers Chapter 9 Bankruptcy

When:

Monday, May 22, 4:30 p.m.

Where:

Hazel Hawkins Hospital, 911 Sunset Drive, Hollister, Calif.
Nurses say it is imperative that Hazel Hawkins remains a full-service hospital and maintains all current service lines in order to best serve the people of San Benito County. Hazel Hawkins is the only hospital in Hollister, a city of 43,000 people, and serves all of San Benito County.
Last November, the board declared a fiscal emergency and authorized the district to file Chapter 9 bankruptcy. In December, the hospital administrators said they only had enough money to keep the hospital open through mid-February and issued a Worker Adjustment and Retraining Notification (WARN) notice to all employees. Against this backdrop, nurses agreed to postpone a pay raise schedule to begin in January 2023 for 90 days.
In late March, the hospital rescinded the WARN notice and nurses were led to believe that the hospital was moving towards fiscal health. However, in the last month, hospital administrators have called on the nurses to give up negotiated health and compensation benefits.
"We are doing our part to fight for this hospital and this community," said Beck. "We have delayed raises and we are working in very difficult conditions in understaffed units in order to make sure our patients get the care they deserve. It should not fall on those who care for our community to shoulder this burden alone. If we are to recruit and retain experienced nurses we must ensure that our compensation is competitive and that our working conditions are safe. This is how we can provide the best care to our patients."
Over the last five years, Hazel Hawkins has received more than $20 million from property taxes collected by San Benito County. Last December, the San Benito County Board of Supervisors agreed to give Hazel Hawkins a tax advance of more than $2 million, and in January the hospital was granted a $3 million loan by the state.
"We are seeing millions of dollars being poured into this hospital, but we know very little about how it is being spent," said Beck. "We believe the taxpayers who pay into this hospital and the community that is served by this hospital have the right to demand transparency and a prudent path to solvency."
California Nurses Association represents 120 nurses at Hazel Hawkins.
---
California Nurses Association/National Nurses United is the largest and fastest-growing union and professional association of registered nurses in the nation with 100,000 members in more than 200 facilities throughout California and nearly 225,000 RNs nationwide.