Press Release
Good Samaritan San Jose nurses demand change in management of women's services department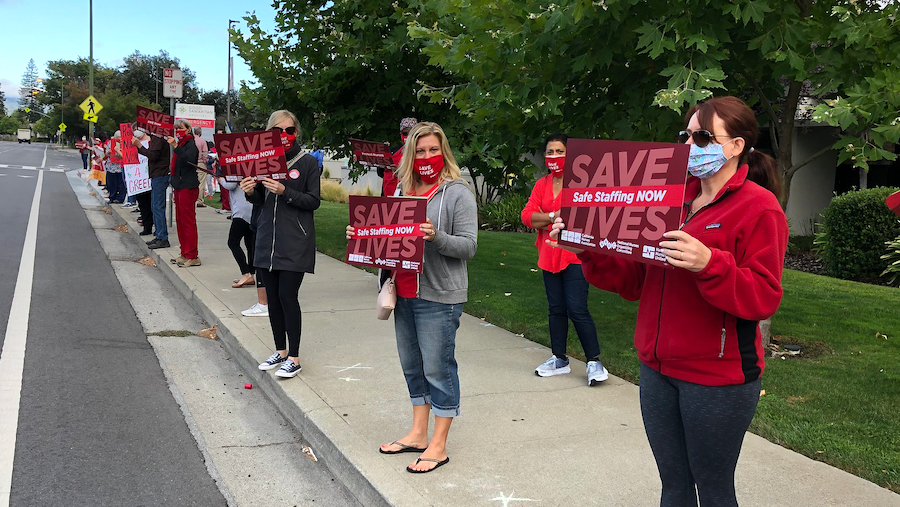 RNs in labor and delivery, antepartum, and mother-baby services vote unanimously they have "no confidence" in department director due to dangerous working conditions
Registered nurses at HCA's Good Samaritan Hospital in San Jose will hold a public action Wednesday, Oct. 14, to demand a change in management of the Women's Services program due to dangerous workplace conditions that jeopardize patient safety, announced California Nurses Association (CNA) today.
Unsafe working conditions are even a greater concern since May, when HCA closed the Women's Services program at Regional Medical Center, its other HCA hospital in San Jose, shifting birthing care to Good Samaritan and putting even more San Jose women and infants at risk.
What: Good Samaritan RNs Demand Change in Women's Services Leadership
When: Wednesday, Oct. 14, 3:30 p.m.
Where: Good Samaritan Hospital, 2425 Samaritan Dr., San Jose
The Good Samaritan RNs, who provide labor and delivery, antepartum, and mother-baby services conducted a "no confidence" vote in Stefanie Sonico, the department director, under whose direction, they said, "retention and morale have decreased and managers have been given license to use harassing and verbally violent tactics against nurses who strive to be patient advocates."
All of the 142 nurses who voted said they have "no confidence" in Sonico; there are only 155 RNs in the department.
Under Sonico, nurses in Good Samaritan's Women's Services program face a hostile work environment and what the RNs say are substantial staffing shortages, which have created severely unsafe staffing.
 
"Since our current director took over in the Women's Services departments in January, there has been a steady rise in punitive and harassing activity on the part of management and a refusal to listen to nurses concerns about the dangerously low staffing," said Lori Mayer, a Labor and Delivery RN.
 
One of Sonico's managers even physically threatened an RN for reporting her concerns over inadequate RN staffing for patients in the department. Another nurse was disciplined for questioning whether a mother infected with Covid-19 and her baby could be paired with a non-infected mother and baby in the same nurses' assignment, an unsafe practice.
 
The nurses are also protesting the termination of two longtime RNs. To date, 134 Women's Services RNs, physicians, and other caregivers signed a petition calling for reinstatement of the terminated RNs. The petition also demanded that the hospital rescind the unjust discipline imposed on a nurse activist leader.
 
"We will not accept management's efforts to silence us from advocating for our patients, especially regarding the inadequate staffing, which is unsafe for our patients," said Diana Rossman, Antepartum RN. "We have had good nurses leave our hospital because of the bullying tactics. We have brought these concerns to our Ethics Department and the hospital's upper management but have not seen an improvement. It is time for a change in our management."
 
The "no confidence" ballot cited Sonico's failure to "encourage retention and a positive work environment by staffing appropriately," and called on her to "fairly interpret hospital policies and procedures as well as hold her own managers to that same standard;" and adhere "to federal law by respecting RNs right to participate in protected, concerted activities on behalf of coworkers."
 
By voting "no confidence," the nurses said Sonico also failed to "promote honesty, integrity, and unity among Women's Services staff by modeling behavior – and ensuring her manager's model behavior – that discourages gossip, rumors, bullying, harassment and verbal assault, and any other unethical behavior."