Press Release
Global Nurses United Leaders Unanimously Support Resolution on Justice For Immigrants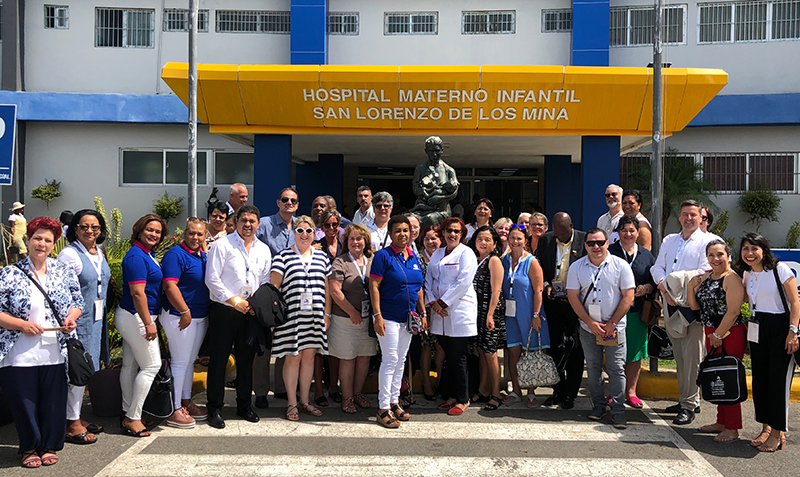 SANTO DOMINGO, Dominican Republic - Leaders of an international federation of nurse and health care worker unions from 27 countries, Global Nurses United (GNU), voted unanimously to pass a resolution supporting climate and immigrant justice –– and condemning U.S. immigration policy that violates the human rights of migrants seeking asylum.
The vote took place at a meeting of GNU members from 17 countries in Santo Domingo this week, hosted by the Dominican nurses union Sindicato Nacional De Trabajadores De Enfermeria (SINTRAE).
"Nurses and health care workers are the voice of patient advocacy and the voice of morality. We stand in global solidarity supporting our migrant patients—many of whom are fleeing violence and instability amplified by U.S. trade and foreign policy, and many of whom are forced into migration by the climate crisis and violence in their countries," said Bonnie Castillo, RN, Executive Director of GNU founding member union National Nurses United (NNU).
"At the end of long journeys on which they are literally running for their lives, entire families—including our most vulnerable patients, children—have been greeted with violence, incarceration, rights violations, and conditions overtly threatening their health and safety," Castillo continued. "Nurses and health care workers from all over the planet are coming together to say, 'Enough.'"
The resolution, put forth by National Nurses United, states that GNU members will "stand in solidarity with all like-minded activists, and unions working to counter austerity, privatization, neoliberalism, and climate change; support all immigrants so that each person receives appropriate and adequate social and economic resources, including health care; promote immigration that emphasizes the dignity of each human being and human rights for all; and condemns the current Trump administration's immigration policy which enforces brutality and inhumane conditions."
"We stand in solidarity with NNU and GNU. What is important to us is our rights to health and wellbeing," said Kerri Nuku, President of the New Zealand Nurses Organisation. "As Maori, our identity is intrinsically connected to our environment, our culture, our language, and our genealogy. We support the statement that calls for action to support accessible universal health care, takes action against climate change, and calls for freedom from exploitation and violence to enable future generations' health, wellbeing and security.
"In Maori we have a saying, 'He aha te mea nui o te ao. He tāngata, he tāngata, he tāngata,' which translates to, 'What is the most important thing in the world? It is people, it is people,'" Nuku said.
During the meeting, NNU Vice President Cathy Kennedy, RN, spoke of her own experience leading deployments of nurses to Tucson, Ariz. with NNU's disaster relief project, the Registered Nurse Response Network (RNRN)—where volunteer RNsfrom across the U.S. provided critical medical aid for asylum seekers released from federal detention.
"In times of crisis, we do what nurses do best—we bring caring and compassion to tragic situations. We answer the call to help whenever there is need. As patient advocates, we must stand for what is right," said Kennedy.
Global Nurses United is a federation of the premiere nurse and health care worker unions in 27 nations, coming together to step up the fight against austerity, privatization, and attacks on public health—and to work for nurses' and workers' rights and improved patient care for all. GNU's U.S. affiliate, National Nurses United, is the largest union of registered nurses in the United States, with 150,000 members nationwide.