Press Release
Fawcett Memorial RNs to Sound Alarm On Unsafe Conditions as Virus Surges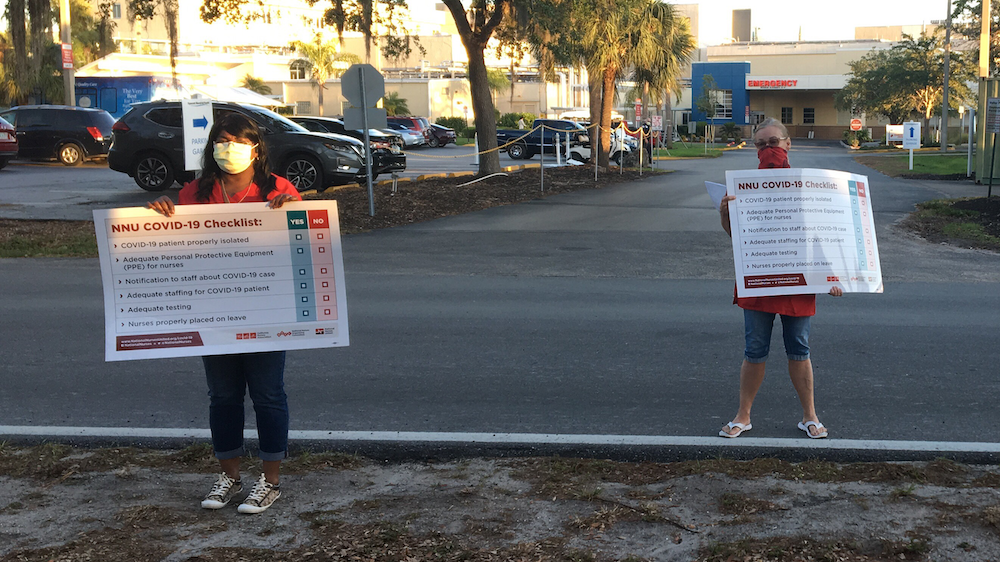 Registered nurses at HCA's Fawcett Memorial who have been grappling with dangerous levels of inadequate staffing while the coronavirus pandemic rocks Florida and their hospital, will hold a public action Thursday to alert the public and demand the hospital act to protect patients.

Fawcett is one of the Florida hospitals that has been slammed by the pandemic with COVID-19 patients needing intensive nursing care. Yet HCA and hospital administrators have continually failed to provide the staffing levels nurses need to assure they can ensure the highest standard of care for those patients, RNs say.

What: Fawcett RNs to sound alarm about unsafe staffing
When: Thursday, July 23, 8:00 a.m.
Where: Fawcett Memorial Hospital, 21298 Olean Blvd
              Port Charlotte, FL, behind the Emergency entrance

Staffing has been so inadequate that exhausted RNs have left the hospital due to the conditions, resulting in a disturbing high turnover rate. In the past year alone, many RNs have left Fawcett, the hospital has failed to hire enough replacements, and this past weekend an additional four intensive care unit RNs resigned.

Patient assignments, nurses say, are especially excessive in cardiac care units, a neurological floor and general medical care.

"Under these unsafe conditions, we cannot provide the individualized attention and care each of our patients need. The hospital should be staffing on the basis of the severity of how sick our patients are, not on HCA's profit and budget goals," said Angel Bahr, float pool RN at Fawcett.

"With the pandemic surging, and short staffing that requires us to rush from patient to patient, mistakes can occur. That is especially dangerous with the pandemic surging, and the risk of the virus spreading to other patients, our co-workers, and our families," said Lori Ajazi an intensive Care Unit RN at Fawcett.

Fawcett RNs have reached out to hospital supervisors about a half a dozen times calling for an emergency staffing committee meeting only to be ignored, notes their union, National Nurses Organizing Committee-Florida, an affiliate of National Nurses United. The RNs also did a collective march to the hospital CEO to demand action to redress their quality of care concerns.

"Because of the administration's inaction and dismissal of the warnings by its frontline caregivers, we are losing experienced RNs. That is a tragedy for our patients and our community," said Fawcett RN Cynthia Butler.

"This is a dreadful time for HCA to be lowering protective standards and eroding conditions at any hospital. With the $1 billion handout HCA received in federal pandemic aid, it has an obligation to all of its communities to guarantee patients get safe care," said Malinda Markowitz, RN, NNOC President.