Press Release
El Paso nurses to join nationwide 'May Day' actions Friday demanding COVID-19 protections for nurses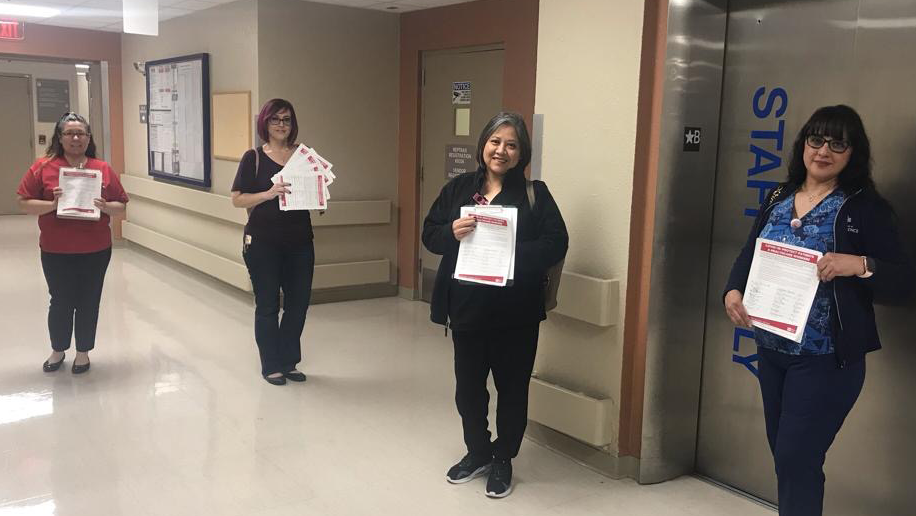 Registered nurses at three El Paso hospitals will mark Friday, May 1—International Workers Day, also known as "May Day"—with shift change actions calling for optimal COVID-19 protections.

They will be joining nurse actions taking place at 139 hospitals across the country representing more than 95,000 nurses, according to National Nurses United (NNU).

In El Paso, the social distancing protests are scheduled at Del Sol Medical Center, the Hospitals of Providence Memorial Campus, and Las Palmas Medical Center.
What:

Social Distancing Protests for COVID-19 RN, Healthcare Worker, Patient Safety

When:

Friday, May 1

Where:

Las Palmas Medical Center, 8 a.m.,

1801 N Oregon St, El Paso

Hospitals of Providence, Memorial Campus, 12 noon,

2001 N Oregon St, El Paso

Del Sol Medical Center,  6 p.m.,

10301 Gateway Blvd W, El Paso
Nationally, NNU is calling on employers and federal and state officials to provide nurses and other health care workers with the highest level of protection, including powered air-purifying respirators, and single-use of N95s and coveralls that incorporate head coverings and shoe coverings, and gloves. Nurses say their demand for optimal personal protective equipment (PPE) is underscored by the fact that more than 60 nurses across the country have died of COVID-19.

"Nurses signed up to care for their patients. They did not sign up to sacrifice their lives on the front lines of the COVID-19 pandemic," said NNU Executive Director Bonnie Castillo, RN. "On this day that celebrates the labor movement and working people, union nurses are standing up to demand the protections they need now!"

Del Sol and Las Palmas are operated by the large HCA hospital chain. In many HCA hospitals across the country, nurses and our co-workers still do not have the PPE and other safety precautions, including proper staffing, to protect themselves and their patients. At several HCA hospitals, nurses have not been informed in a timely manner of being exposed to a confirmed or suspected infected patient or other staff.

Del Sol RNs are circulating a petition to hospital management about a threat to RNs who work in the hospital's telemetry unit, where patients are on heart monitors, citing limited access to N95s and other personal protective equipment. They are also required to interact in multiple hospital areas with other staff who regularly care for COVID-19 patients, which puts them at risk of cross-contamination and infection with the virus. At least three Telemetry RNs have tested positive or self-quarantined due to exposure, they reported.

"We will be outside our hospital protesting the lack of adequate PPE for nurses and healthcare workers," said Del Sol Post-Partum RN Lizette Torres. "Currently, my coworkers on the Telemetry unit are having to care for Covid19 positive patients without N95s and proper PPE.  Several nurses and healthcare workers have been infected already. If too many of us are exposed there won't be enough healthy nurses to care for the next surge of cases."

"HCA is one of the wealthiest systems in the country, but unfortunately in this moment of crisis it has chosen profit over the safety of nurses and the community. This week our hospital decided to open the OR for elective procedures. But, this past weekend alone our county reported 70+ cases.," said Las Palmas Operating Room RN  Ashley Bartholomew.

"We want the hospital to respect our safety concerns and provide every nurse with N95s and the PPE when caring for positive and potentially positive COVID19 patients," said Bartholomew.

At Tenet Healthcare's Hospitals of Providence Memorial Campus, RNs are protesting the hospital's requirement they reuse N95 masks and gowns, a practice NNU considers to be unsafe, potentially putting nurses at significant risk of exposure. N95 respirators are designed for single use only. Reuse when caring for different patients could carry infections from patient to patient and can lead to more exposure to the nurse wearing the mask or less protection.

NNU has been calling on President Trump to step up use of the Defense Production Act to order the mass production of PPE. The Occupational Safety and Health Administration (OSHA) must also pass an emergency temporary standard to mandate that healthcare employers provide protections needed for COVID-19, say nurses.