Press Release
D.C. Nurses Reach Tentative Agreement with Providence Hospital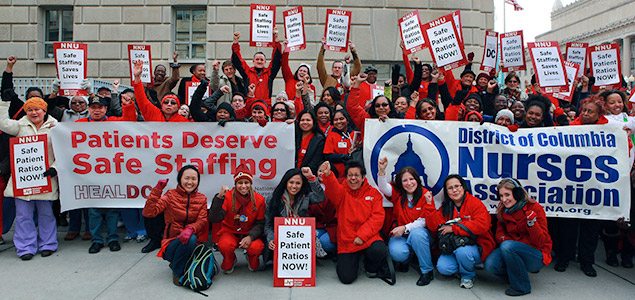 Over 200 registered nurses at Providence Hospital in Washington, D.C. have reached a tentative contract agreement, which will ensure the recruitment and retention of the most experienced nurses, National Nurses United (NNU) announced today.
"We are so proud that Providence nurses stood together to achieve this contract, which will enable Providence Hospital to recruit—and more importantly retain—highly skilled RNs, so that we can improve our staffing and provide excellent care to our community," said Kelly Fields, RN. "It's a big win for our patients."
Major contract highlights include:
Economic gains: According to nurses, Providence wages were formerly among the lowest in the surrounding area, resulting in an exodus of RNs to other facilities, and trouble hiring highly skilled new nurses. The new contract includes pay increases of up to 20 percent over the three years of the agreement.
Improved equity: The new wage scale also gives nurse credit for all their years of experience in nursing, both foreign and domestic, leading to improved recruitment and retention of experienced RNs.
More time for nurses to discuss patient care issues: The Professional Practice Committee (PPC), comprised of nurse leaders from units throughout the hospital, meets to monitor and resolve patient care issues. The new contract allows nurses more time to dedicate to the PPC.
No benefit takeaways: Providence RNs maintained their benefit package with no takeaways.
If ratified in voting Dec. 7-9, the three-year contract will run through December, 2020.