Press Release
Corpus Christi RNs to voice alarm over unsafe changes to staffing system Thursday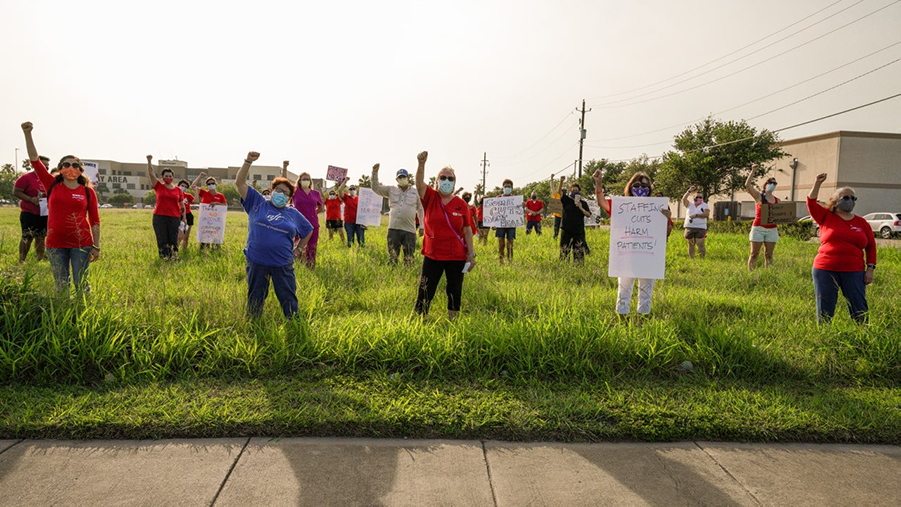 Registered nurses at Doctors-Regional Corpus Christi Medical Center will gather outside the hospital Thursday to alert the public to their concerns over an erosion of staffing standards that they warn is a significant risk to patient safety.
The hospital has imposed a new staffing pattern that would sharply limit the number of nurses able to care for patients in general medical units that will leave nurses with up to 10 patients at a time to care for, a prescription that nurses say is dangerously unsafe.
What: Nurses to speak out against unsafe staffing
When: Thursday, October 22, 6 p.m. to 7 p.m.
Where: Doctors-Regional Corpus Christi Medical Center
             3315 S Alameda, in front of parking lot along Alameda, Corpus Christi
To make matters worse, the hospital has also been reducing the support staff in the hospital, further reducing assistance for patients, "which will deprive ICU nurses the help they need to perform their critical care tasks in tending to their Corpus Christi patients especially during this period when Covid-19 is still raging," said Corpus Christi RN Kim Smith.
"The more patients that nurses are assigned to care for, the less time we have to provide the individual care each of our patients needs and deserves. It also increases the risk of medical mistakes that should not occur," said Kenia Silva, Corpus Christi RN.
The new staffing grid that would assign up to 10 patients per nurse is nearly double the current requirement. "For the longest time, the hospital has declared that it would continue to strive to maintain a 1:6 ratio or lesser for the Medical/Surgical floors. Yet, this was all lip service," said Silva.
"This staffing plan is unacceptable, and nurses are going to stand in solidarity to keep our patients, our community and our practice safe," Smith said.
 
HCA hardly needs to make cuts in protections for patients, nurses say. It is the wealthiest hospital system in the U.S. It made $1.1 billion in profits in the second quarter of 2020, and it received $1.4 billion from the CARES Act NNU affiliates represent more than 12,000 HCA RNs across the U.S.