Press Release
Corpus Christi, Brownsville RNs Approve New Pact With HCA that Strengthens Covid Protections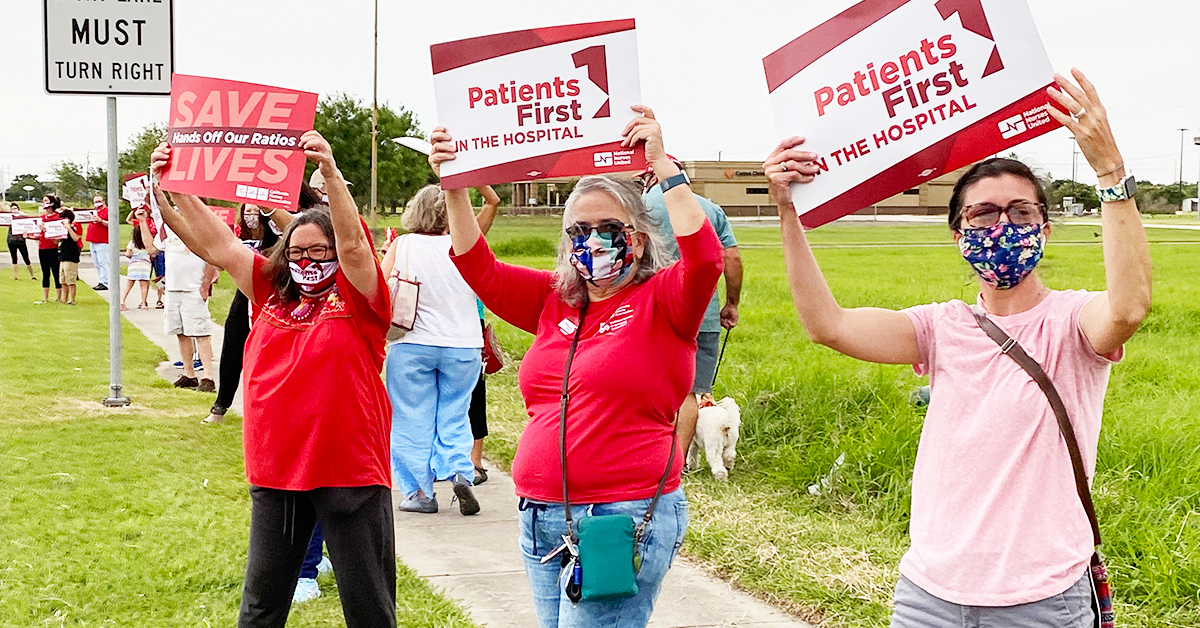 By unanimous votes, Texas registered nurses at HCA hospitals in Brownsville and Corpus Christi have ratified new collective bargaining contracts that they say will strengthen health and safety protections for patients and nurses amidst another alarming Covid-19 pandemic surge, announced National Nurses Organizing Committee-Texas (NNOC), an affiliate of National Nurses United (NNU) today.
The agreements cover 680 RNs at Corpus Christi Medical Center and 160 RNs at Valley Regional Medical Center in Brownsville.
"Nurses are very pleased to be locking in strong new contract protections at another highly concerning time when cases are rising," said Corpus Christi RN Kim Smith. "This important agreement will provide additional security for our frontline nurses and our patients."  
Texas, along with Florida, accounts for one-third of the recent Covid-19 surge cases. Locally, Corpus Christi has 169 active Covid-19 cases, 213 hospitalizations, 50 of them in intensive care. In Brownsville, there are 169 active cases, nearly 4 percent of them resulting in hospitalization (no additional data is available from county officials).
Under each agreement the hospitals will conduct universal screening of all patients, and nurses will be provided the same level of protection for caring for a suspected Covid-19 patient as for confirmed positive patients. This protection includes access to single-use optimal personal protective equipment (PPE) for every encounter with a suspected or confirmed patient. Both are significant safety precautions to reduce the spread of the virus in the hospital.
In addition, the nurses will have greater ability to negotiate with the hospital on novel infectious diseases, and department managers will be held to greater accountability on concerns raised by the nurses' patient care committee.  
Under each agreement all full- and part-time RNs will earn up to 16 percent pay increases over the three-year term of the contract. The pact also limits any employer changes to the nurses' health care coverage and retirement plans.
"Nurses have endured a lot during a year and a half into this once-in-a-lifetime pandemic," said Brownsville RN Karla Salas Torres. "We are grateful for the additional economic security for our members and our families, which will also be a strong incentive for our experienced nurses to stay at the bedside and help recruit new RNs."
Among other provisions, the contract:
Creates a new RN committee to promote diversity, equity, and inclusion on race, gender, age, and sexual orientation in hospital recruitment, retention, promotion, and training that will promote a nursing workforce that is reflective of the community. Nurse representatives will also have greater ability to report issues of discrimination and harassment in the workplace.
Establishes the right to having on-site counseling in emergency situations.
The new contracts follow similar negotiations between NNOC and HCA for RNs who have now ratified new agreements at two HCA hospitals in El Paso, and at HCA hospitals in Florida and North Carolina.
NNOC/NNU affiliates represent 12,000 HCA RNs at 20 HCA hospitals across the nation. Overall, NNU represents more than 175,000 RNs from coast to coast.