Press Release
Corporate hospital chain Alecto to close Olympia Medical Center in heart of Los Angeles during worst Covid pandemic surge yet, zero ICU capacity in county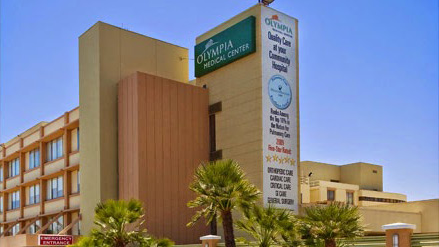 Underscoring the long-term need for greater public control of our health care infrastructure, the corporate owner of Olympia Medical Center, a 200+ bed hospital in the heart of Los Angeles, just announced it will be completely shuttering the facility in the middle of the Covid-19 pandemic -- right as infections and hospitalizations surge to their worst levels nationwide, statewide, and locally, and as Los Angeles reports zero percent ICU capacity. The hospital intends to close despite also having received more than $27.6 million in combined Covid stimulus money and advance Medicare payments.
Nearly 450 registered nurses who work at the hospital and are represented by the California Nurses Association (CNA) say they are determined to fiercely fight and prevent the planned closure, scheduled for Mar. 31, 2021, in order to preserve desperately needed health care and emergency services for their patients and the mid-Wilshire community.
"At a time when the county is so desperate to find hospital beds for the most deadly pandemic in a century, it is immoral and unconscionable to shut down a major metropolitan hospital," said Bonnie Castillo, RN and executive director of CNA and National Nurses United, the national organization with which CNA is affiliated.
"We will work with elected leaders and community members across Los Angeles County to demand Olympia Medical Center remain open as a full-service, acute-care hospital for at least the duration of the pandemic. It must not be allowed to be closed," Castillo said.
The 74-year-old hospital treats Covid patients, logged more than 25,000 emergency room visits in 2019, cares for a very high percentage of elderly and low-income patients, and is an institution within the larger network of Los Angeles-area hospitals. This week alone, the hospital was packed with some three dozen Covid-19 patients, and the hospital had to convert several non-ICU units to accommodate the overflow.
"If we close, it's going to overwhelm all the surrounding hospitals that are already struggling to care for all these patients," said Jorge Burruel, an intensive care unit RN at Olympia and the chief nurse representative, who said he has spoken with nurses at many nearby hospitals. "The ERs are full. There is not enough staff. The quality and timeliness of care is going to diminish. Olympia needs to stay open."
Alecto Healthcare Services, which owns and operates the hospital, informed RN staff on New Year's Eve that it would be shutting down in 90 days and they would all be terminated. The hospital falsely claims on its website that it is temporarily suspending services for a renovation, but UCLA Health has publicly announced it has purchased the Olympia property and that its current owners are "winding down their services over the next few months before closing the hospital."
"This heartless decision to close Olympia when the hospital is most needed is a clear demonstration of what is wrong with corporate health care, which always prioritizes profits over public health and patients," said Castillo.
Though UCLA Health claims to eventually turn Olympia into an additional hospital campus, nurses say their immediate, urgent goal is to keep the hospital continuously operating, especially during this Covid-19 pandemic. Shutting down the hospital now would cause untold death and suffering among the city's most vulnerable patients who rely on the facility. According to Medicare cost reports covering the first half of 2020, about 60 percent of Olympia's admitted patients were covered by Medicare, and almost 30 percent covered by Medi-Cal. Some 40 percent of admitted patients were Black, and some 63 percent of patients were over the age of 60.
Including Olympia Medical Center, Alecto as a hospital chain collected nearly $73 million overall in Covid stimulus and advance Medicare payments. The company has bought up rural or independent hospitals around the country, often to make deep budget cuts and then shut them down. Some $8.3 million of the $73 million in aid was for three rural hospitals in West Virginia and Ohio near the Ohio River that Alecto closed in 2019 and 2020, severely cutting that region's capacity to treat Covid patients by 530 licensed hospital beds. It is unclear what happened to the government funds it received. Nurses point out that Alecto received federal money to treat Covid patients, and they should continue to do so.
"It's a business transaction to them. They are not taking this whole pandemic into consideration," said Burruel. "They are not looking out for the best interests of the community. If they were, they would keep the place open. We nurses are ready to fight."